Nail Yakupov played his 165th game last night and scored his 34th career goal. That's 17 goals per 82 games but watching that snipe last night it's easy to get carried away and dream of 30-goal seasons. I spoke to Jason Strudwick on last night's TSN1260 post game show and he mentioned that Yak's slappers are wild and crazy but last night's snapshot was giddyup. If Nail can be more accurate, he could certainly cash a dozen power-play goals a year, maybe more.
If the Oilers can save this young man, unlock 25 goals a year, the rebuild would take one giant leap forward—providing they can get a bridge deal done for a reasonable number.
Yakupov: "Finally, it's got to go in. I'm just trying to get open. We got good guys and skill players who can pass the puck. I had a couple of shots that couldn't go through. The third one I put in. That's what I've got to do more and more every game." Source
EVEN-STRENGTH TOI (BLUE)
Andrew Ference 19:09
Jeff Petry 18:51
Justin Schultz 18:08
Oscar Klefbom 16:54
Mark Fayne 16:52
Martin Marincin 16:43
That's pretty even distribution and the most interesting item for me last night pertains to Ference: He didn't play any special teams. None. That's the kind of thing you see from rookies. Ference made it all back at evens though.
For the record (h/t @lewkc1) Klefbom & Jultz played mostly against Henrique, Zajac and Elias and were >70%CF. Klefbom is so dreamy. #dreamy

— Woodguy (@Woodguy55) February 10, 2015
Yeah, verily. Klefbom has terrific wheels and can pass the puck, plus we're seeing him engage offensively now (that's always a mixed blessing but he scored again last night). For me, Marincin also showed well last night and hopefully we see more of Martin now through season's end. Perhaps MacT will even remember his name in a media avail.
FULL NELSON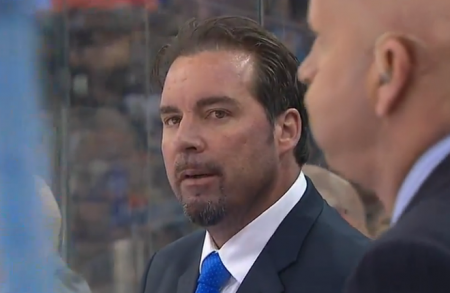 (VIA WAR-ON-ICE)
| | | |
| --- | --- | --- |
| NAME | EAKINS AND AFTER | NELSON |
| GAMES | 36 | 18 |
| CORSI FOR % (ALL) | 50.3 | 48.9 |
| PDO (ALL) | 95.9 | 98.3 |
| FENWICK FOR % (ALL) | 49.6 | 47.7 |
We'll be spending some time this week looking at the team under Nelson but early results have PDO up while Corsi and Fenwick are down under Nelson. We can tweak if you like—this team doesn't have Hall or Pouliot right now—but when we run things up and down I think the numbers are going to suggest Eakins had the better deployment and possession and the Hockey Gods prefer Nelson.
The numbers we'll remember and write our stories about? 8-8-2. It's human nature. The brain nods yes and the math makes so much sense and luck is luck is luck is luck—and yet we stare at the 8-8-2, remember 7-22-7 and good gosh almighty there's a change in the air and the good times are coming soon. Facts are a  well-balanced meal and wins are a Whopper with that redhead: No time to think!
I think there are bad days ahead, probably including tonight. That said, I can't for one damn minute get my heart to overrule my brain and walk around with a frown today. Oilers won! Klefbom's a matinee idol! Eberle looks fab and Nuge skated miles. Even Marincin had those lovely calm feet we love so much. So embrace it. Just for today. We'll go back to rain tomorrow. Just for today, it's okay to smile.
LAST 10 GAMES, SCORING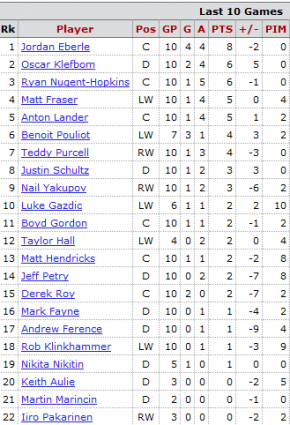 There's absolutely no evidence we should expect this kind of offense from Oscar Klefbom but it's fun to enjoy while it lasts. Jordan Eberle is really stepping up over these last 10 games and I'm fine with Nuge's output too. If he can score 50 points in a two-way role when 80% of those points are at evens? Music! Just an extremely valuable player. His 25 even-strength points ties him for No. 60 in the NHL among forwards in a difficult offensive season for the team. Third line center? Yeah. Try first-line at 21 and let's see how this looks in three years. Nuge is getting a lot of disrespect, it's our job to remember (hello, Kelly Hrudey!) and remind as the future rolls out.
Odds this morning Edmonton gets McEichel:
McDavid: 13.5%
Eichel: 20.0%
Hanifin/Strome/Bonsignore: 66.5%
LOWDOWN WITH LOWETIDE
10-1260 text, @Lowetide_ on twitter. Lowdown hits the air at 10 this morning, TSN 1260.
Jonathan Willis, Cult of Hockey and Oilers Nation. Jon will explain the Oilers.
Andrew Bucholtz, 55-yard Line. CFL free agency hits at 10, I want the Eskimos to bring back Lawrence and Curran, plus add all of the good O-linemen. What will I get? An American receiver is my guess.
Travis Yost, TSN Analytics. We'll talk about Nelson's 8-8-2 versus Eakins sexy Corsi with legs to the sky. Corn meal versus steak—what do we make of this?
Talk soon!