Tracking Oilers prospects moved from 'sundial' to 'light speed' under Todd Nelson, with Anton Lander, Oscar Klefbom, Justin Schultz and even Nail Yakupov making inroads. Martin Marincin (in photo by Rob Ferguson, all rights reserved) isn't the sexiest of the new hires but the rangy bugger has some nice things. These are important games, ladies, and it's best shown in what could be next season if these kids turn a corner.
POSSIBLE 2014-15 DEPTH CHART (OILERS)
Starting goalie
G Ben Scrivens

D Oscar Klefbom

D Justin Schultz

D Niki Nikitin
D Mark Fayne

D Martin Marincin

D Andrew Ference
No. 7 defender
C Ryan Nugent-Hopkins

C Leon Draisaitl

C Anton Lander

C Boyd Gordon
extra center
L Taylor Hall
L Benoit Pouliot
Checking LW
L Matt Hendricks
L Luke Gazdic
R Jordan Eberle

R Nail Yakupov

R Teddy Purcell
R Rob Klinkhammer
If Todd Nelson can save these six men, he'll have done a tremendous amount to improve the quality and depth of the roster. Sure, there's plenty of work to do and we have no idea what summer will bring, but extra help up the middle would be a grand addition. I'm almost sorry Leon couldn't be here for the rising.
HABS AND CONSISTENCY
I've been thinking about MacT's comments the other day, about adding a few choice pieces as opposed to grabbing a dozen Friday night and waking up the next day to mixed results. The best team from my youth to look at in terms of roster makeup and consistency? The damn Habs. Here is the Montreal roster from February 26, 1971 (and the other NHL teams, too).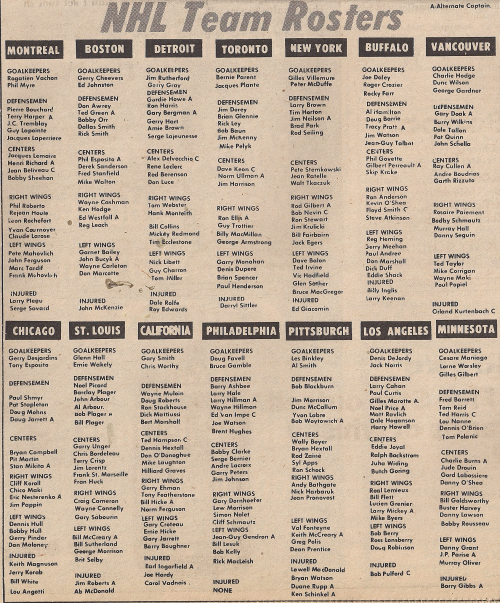 This was just a little while before Montreal recalled Ken Dryden, who would break my heart and rob Bobby Orr of the chance to win three Stanley's in a row. Guys like Jean Beliveau, Henri Richard, John Ferguson were old as the hills and twice as dusty. Yvan Cournoyer, Jacques Lemaire, Claude LaRose, JC Tremblay, Jacques Laperriere, Serge Savard,  Terry Harper and Rogie Vachon had been around for either a time or a growing to be a long time. The youth was top drawer. Phil Myre, Guy Lapointe, Pierre Bouchard, Bobby Sheehan, Marc Tardif and Rejean Houle were newer hires, and the Mahovlich boys had been acquired from Detroit in separate deals. Montreal had the best players but they also had a great deal of consistency. They would win the Stanley but encountered many problems through that spring:
John Ferguson was done. His ass was saved by his linemate, the ever so young and brilliant two-way forward Rejean Houle.
The goaltending lacked consistency and would only be saved by giant Ken Dryden.
The coach, Al MacNeil, would demote veteran Henri Richard during the playoffs, leading to what we might, conservatively, call war. Richard called MacNeil the worst coach he ever played for, and MacNeil coached game 6 of the finals at the Forum with a police guard. Seriously.
It all came together and a lot of that was due to consistency. Jacques Lemaire and Yvan Cournoyer, then Tremblay and Lapointe, they were so deep and familiar. Montreal rolled their lines and had guys like Leon Rochefort for the PK and the damnable Habs won the day. The jobs being won now for Edmonton could be owned for five years or more. Consistency. The Oilers haven't had it in for absolutely ever. The Oilers have to be smart about guys like Marincin, if they earn the opportunity then reward them. I'll stop here to say the following: not a chance in hell Sam Pollock trades Jeff Petry in this situation. Zero.
DREGER ON THE OILERS
The Oilers playing in the east means media is asking questions and in our country Darren Dreger is the one who usually answers. The latest is here and I want to quote this passage:
Dreger: "Edmonton could stand pat here, too. Remarkably, they could. Their top priority is goaltending still and a defenseman. I've asked about the availability of Boyd Gordon or, say Matt Hendricks – depth guys. They seem to be what's drawing the most interest these days. The feedback I'm getting from Edmonton is unlikely those players get moved. That sounds to me like unless somebody comes offering a top d-man or offering a good quality goaltender, MacTavish is going to do most of his shopping in the off-season." Source
I'm fine with that, sign Petry and stand pat. That would be a helluva deadline.
ESTIMATED TRADE VALUES (DEADLINE EDITION)
Boyd Gordon: I think he could fetch a pick inside the Top 50 overall—and that's in a deep draft. Gordon can help in multiple areas, he'd have significant value.
Jeff Petry: A late second or third-round pick. Petry is a younger blue but the team trading for him has no guarantee he'll sign. Strictly as a rental, I think the pick lands somewhere between No. 55 and No. 80.
Viktor Fasth: A fourth-round pick. I think he's played well enough to not only increase value but improve his odds of being dealt.
Matt Hendricks: A fourth-round pick. Hendricks has more value (imo) to Edmonton than he would if cashed but I wanted to mention it because Elliotte Friedman suggested there would be some interest (while he also said it was unlikely the Oilers would let him go).
Derek Roy: A fourth-round pick.  There's a chance Edmonton will sign him but if they do make a trade I suspect the pick will land around No. 116.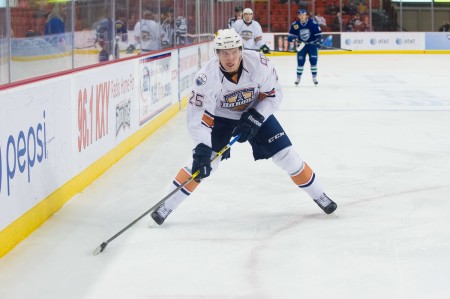 IIRO THE HERO
I really like this player. A Finn (!!!!!) he has skill, plays a rugged game and fits the MacT prospect description perfectly (late pick, little pedigree, a lot of try). In 9 NHL games this season, Pakarinen has a goal and an assist. There will be others who audition for the job this spring but Pakarinen appears to be edging ahead of Matt Fraser on the `guys we might have in our future plans`list and that's a good thing. I'm cheering like hell for him. A nice player.
YAK CITY
Today we'll have to endure talk from Habs fans about Nail Yakupov being a disappointment, while also being insulted by trade offers. Look, Yakupov is NOT the best player in the 2012 draft, Galchenyuk is and by a wide margin. I'm happy for the young man, he had a tough draft year but landed in a very good spot. Here's hoping Galchenyuk has a decade of success in Montreal and follows that with another decade in the city of his choosing.
Nail Yakupov isn't yesterday's papers, let's allow him to find his own story. In life, it isn't what happens to you, it's what you do about it. If you bet against Nail Yakupov, I'm going to suggest that bet will not pay off. It's good to know the Oilers value their young Russian more than the Habs fanbase, who today will offer 3's and 4's for a future King. In the nicest possible way, I'd like to suggest to Habs fans that reading a little of their own history may reveal a story or two about slow-developing top picks. It's a marathon, not a sprint.
LOWDOWN WITH LOWETIDE
At 10 this morning, we hit the ground running on TSN 1260. Scheduled to appear:
Dennis King, Oilogosphere Icon. I'll be happy if he just says Montreal.
Guy Flaming, Pipeline Show. I'm going to play an interview from Guy and Dean Mallard from Joey Laleggia. Must listen!
Andrew Berkshire, Habs Eyes on the Prize. Smart guy, great insight.
Brian King, NonStopSportsPicks. Eskimos in free agency, some good and some bad but Brian is a straight shooter.
10-1260 text, @Lowetide_ on twitter. Talk soon!