Todd Nelson might be the most important callup this century. Without him, Anton Lander would have one skate in Timra, Martin Marincin would be sailing the Slovak Sea and God knows who would know about the dreaminess of Oscar Klefbom. I have real concerns about the Edmonton Oilers ability to identify defensemen—we've talked about this many times before—but it may be a more noxious issue. Why did it take Todd Nelson to trust these kids in NHL games? What kind of bias has been at play here? Why are we talking about a lack of defensemen when Klefbom and Marincin look so ready? I'm asking.
The biggest rookie worry? Craig MacTavish. Does he have (coming on) two years NHL experience as a GM or one year's experience twice. This feels a lot like one of those horror movies where 'the call is coming from inside the house!"
Todd Nelson now 9-9-2. Oilers first win in OT this year. How often does Edmonton come back from down 2-0? Positive statistics. Whoa.

— Terry Jones (@sunterryjones) February 13, 2015
NELSON'S ACES
You cannot stop Todd Nelson. Last night, the following Barons played their hearts out for him:
D Oscar Klefbom 26:25 and the best player in the game (he or Nuge). Sublime talent, highlight reel stuff everywhere. Two-thirds of the earth is covered by water and the other one-third is covered by Oscar Klefbom (apologies to Garry Maddox).
D Martin Marincin 17:55 and played a solid if unspectacular game. Seems to be gaining confidence and finding the range, there's no reason at all to pull him out of the lineup and I really question the wisdom of keeping him in the minors.
L Ryan Hamilton 14:26 played well, drilled a post and could have been a hero
C Anton Lander 13:19 scored a goal, skated miles and looked brilliant doing it. Made countless big league plays.
R Iiro Pakarinen 10:21 played hard without much reward but certainly engaged the opponent and played an honest game.
And yet that's not really all of it. Nail Yakupov is far more dangerous now and that's (hopefully) going to continue; Nuge-Eberle have broken out of their funk; Jeff Petry chooses to wheel far more now; Derek Roy is stepping up and mentoring the Russian. Yesterday at practice, Viktor Fasth got emotional and coach Nelson went over to talk to him. The story of that moment is a far cry from the Hall water bottle incident and I think it may show this team's mental state: They are not walking around on egg shells and appear to be using their heads for more than a hat rack. I know Craig MacTavish is slow-playing the contributions of Todd Nelson, never mentions Martin Marincin's name and seems hellbent to send Jeff Petry out of town, but he's losing much of the fan base with this game plan. That was a fun night, one of very few I'll remember (the NYR game Nov. 9 is my favorite game of the year) beyond the first days of spring.
LAST 10 GAMES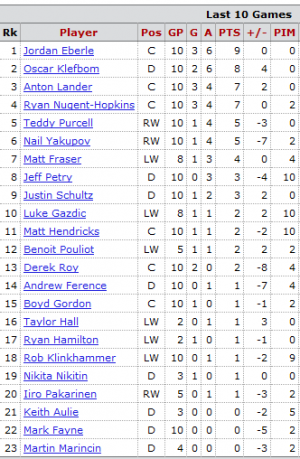 The 2008 (Eberle), 2009 (Lander), 2010 (Hall, Marincin), 2011 (Nuge, Klefbom) and 2012 (Yakupov) draft are all represented here. The Klefbom and Lander offense is truly incredible based on their resume's and one wonders how much we can expect from either player in terms of boxcars in the future. For now, it's completely justifiable to enjoy the now. Todd Nelson's impact on the roster is also obvious on this list.
NELSON'S APPROACH
Todd Nelson: "When you win a game like tonight it reinforces the message, right? We're a team, I feel we have to play fast, we have to be competitive and we have to play at a very high tempo. That's three good games in a row for us . . . we just want to keep this thing going. That's why it was disheartening in New York (a nip-and-tuck 3-2 loss to the Islanders on Tuesday). The process was great, the work ethic was fantastic, we just didn't get the result we wanted. Tonight we did, and I like the fact we stuck with it." Source
This team started 7-22-7 and are 9-9-2 with Nelson solo. I've said time and again it doesn't matter to me if the coach is a dink or an arrogant jerk but it clearly matters that the coach reaches the players and the team has success. 9-9-2 IS success for this team and the verbal (more 'we' than 'I') is perhaps a clue to how the players feel about the current coach. I understand Derek Roy and Rob Klinkhammer were added but folks the biggest change was behind the bench and it's pretty obvious things are going well. I think Todd Nelson will be the Edmonton Oilers coach in 2015-16.
@albertaoilfire Todd has been very good for the Oilers. They play with purpose & together. Lander is a solid player & showing it.

— Craig Button (@CraigJButton) February 13, 2015

Yep.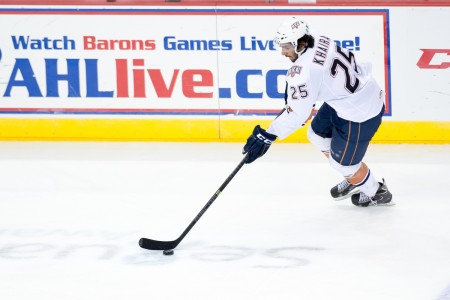 Barons are in action tonight (plus tomorrow and Sunday) so I'll have an item up at 5 about them. The OKC scoring in the last few games is interesting, including a minor surge from young Jujhar Khaira. He is 2-4-6 in his last 11 games and Curtis Hamilton has the same boxcars in his last 10 games.
TRADE DEADLINE
We're seeing fewer mentions in media about the Oilers but I don't think that has much to do with how much activity we'll see at the deadline. I suspect MacT will send away Jeff Petry and Viktor Fasth, plus there will be significant interest in Boyd Gordon and Matt Hendricks. Will he get enough return to pull the trigger? Not sure. I also think a 'hockey deal' is possible, with someone like Martin Marincin perhaps giving enough value to an NHL team to satisfy an immediate NHL need. I bet Edmonton is interested in Bruins prospect goalie Malcolm Subban but that may be wishful thinking on my part.
LOWDOWN WITH LOWETIDE
10 this morning, TSN1260 Friday on my mind! Scheduled to appear:
Steve Lansky, Big Mouth Sports. Hockey day in Canada tomorrow, it's a chance to look back on our youth and remember the game we played and enjoyed as kids. We'll also talk about the Leafs burning it down.
Neal Livingston, Tend The Farm. The Oilers look a lot like the Barons and Neal knows them (and the coach) well. We'll talk about dreamy Klefbom, the impossible Klefbom and Mount Marincin.
Darrin Bauming, TSN1290 Winnipeg. A huge week for the city, we'll talk Jets and Blue Bombers.
Corey Graham, TSN1260 Oil Kings PBP. 3-7-0 in their last 10 has opened the door a little for teams outside the playoffs. We'll talk to Corey about the BC road trip and the need for wins down the stretch.
10-1260 text, @Lowetide_ twitter and see you on the radio!

A win Saturday and things get interesting. Arizona and Toronto are reachable, Hurricanes and Blue Jackets appear to have recovered. The Oilers (imo) could finish as high as No. 26 overall.