These Edmonton Oilers are a fun team to watch this week, winning in Newark and Montreal and losing a close one in NYC. Today, it's off to the Capital and Ottawa, a team that always looks like a walking trade match from here. Both teams are outside looking in this spring, so a Hemsky trade deadline is unlikely. Damn shame, as there are some nice things in Ottawa.
#Oilers Situational Corsi, Eakins/Nelson – 5v5 SA CF%: 50.0/47.6 – PP CF/60: 97.1 (18th) / 111.6 (4th) – PK CA/60: 98.0 (15th) / 86.5 (3rd)

— Jonathan Willis (@JonathanWillis) February 13, 2015
I'll have a look at Nelson after 20 at some point but Jonathan is killing it on twitter and over at Oilers Nation. Wonderful information and a must read for Oilers fans but you already knew that I'm sure.
LOWETIDE TOP 30 2015 DRAFT
(1)C Connor McDavid, Erie Otters (OHL)

(2)C Jack Eichel, Boston U (NCAA)

(3)C Dylan Strome, Erie Otters (OHL)

(4)D Noah Hanifin, Boston College (NCAA)

(5)R Mitch Marner, London Knights (OHL)

(6) D Ivan Provorov, Brandon Wheat Kings (WHL)

(7) D Oliver Kylington, Farjestad (SHL)

(9) C Nick Merkley, Kelowna (WHL)
(12) C Anthony Beauvillier, Shawinigan Cataractes (QMJHL)
(15) R Timo Meier, Halifax Mooseheads (QMJHL)

(8) D Zach Werenski, Michigan (NCAA)
(10) L Evgeni Svechnikov, Cape Breton (QMJHL)
(21) L Lawson Crouse, Kingston Frontenacs (OHL)
(11) R Mikko Rantanen, TPS Turku (SML). 

(13) C Mathew Barzal, Seattle Thunderbirds (WHL)
(14) D Jeremy Roy, Sherbrooke Phoenix (QMJHL)

(16) C Pavel Zacha, Sarnia Sting (OHL).

(18) C Travis Konecny, Ottawa 67's (OHL)
(17) C Jansen Harkins, Prince George Cougars (WHL)

(19) C Filip Chlapik, Charlottetown Islanders (QMJHL)
(20) R Daniel Sprong, Charlettown Islanders (QMJHL)

(22) L Jake Debrusk, Swift Current (WHL)

(25) C Kyle Connor, Youngstown (USHL)
(23) D Mitchell Vande Sompel, Oshawa (OHL)
(24) R Jens Looke, Brynas (SHL).

(26) D Jakub Zboril, Saint John Seadogs (QMJHL)

(27) R Nikita Korostelev, Sarnia Sting (OHL)

(28) D Thomas Chabot, Saint John (QMJHL)

(29) R Brock Boeser, Waterloo (USHL)

(30) G Daniel Vladar, G, Kladno (Cze Jr)

Not much movement this week, the big one is Lawson Crouse who is finding the range offensively. I'll have Corey Pronman on this week to talk about the draft and we'll have an in depth chat about Crouse. Two players who are getting a lot of attention lately are Anthony Beauvillier and Timo Meier who both gain entry into my Top 10 overall this week.
NEXT CALLUPS?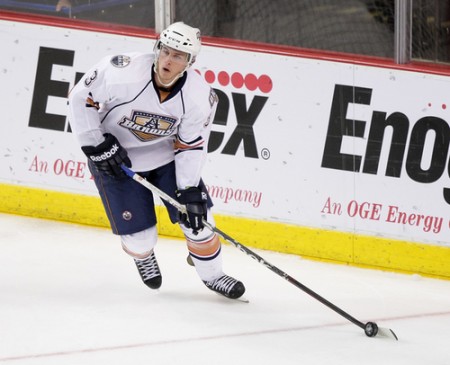 I spoke to Neal Livingston yesterday and he mentioned Brandon Davidson as the next logical defensive callup, with Curtis Hamilton and Bogdan Yakimov being the likely forwards next on the list. I think it's also possible we see Laurent Brossoit for a look-see before season's end, he was brilliant in a 1-0 loss to the Chicago Wolves last night.
HOCKEY DAY IN CANADA
Bruce McCurdy will join me today at noon on Saturday Sports Extra and we'll talk about the big stories today. We'll also talk about hockey day in Canada and what the grand game means to us. Call in if you like and share your memories.
LEON'S WHL SEASON
| | | | | | |
| --- | --- | --- | --- | --- | --- |
| PPG | NAME (LEAGUE) | GP | G | A | PTS |
| .906 | LEON DRAISAITL 2012-13 WHL | 64 | 21 | 37 | 58 |
| 1.64 | LEON DRAISAITL 2013-14 WHL | 64 | 38 | 67 | 105 |
| 1.44 | LEON DRAISAITL 2014-15 WHL | 16 | 7 | 16 | 23 |
A certain segment of Oiler fandom is bringing the crazy about Leon Draisaitl. I've read more than a few comments about Leon's struggles and doubts about his long-range future. Ridiculous. Leon is slightly off last season's points-per-game total but is still adjusting and plays on a brilliant junior team where he's sharing the TOI. This is a great spot for Leon and he's working hard, getting his points and is miles from being a distraction. This is a good kid and an outstanding prospect. If you're worried, don't. The same people who have Hall being a major factor in Oilers losses are probably fretting over this one. The sky isn't falling on either player, they're damn good.
OILERS 5X5/60 2014-15 (FORWARDS)
Taylor Hall 1.87
Jordan Eberle 1.84
Ryan Nugent-Hopkins 1.72
Anton Lander 1.72
Benoit Pouliot 1.68
Derek Roy 1.65
Teddy Purcell 1.28
Matt Fraser 1.25
Matt Hendricks 0.91
Rob Klinkhammer 0.91
Nail Yakupov 0.86
Boyd Gordon 0.79
Luke Gazdic 0.75
You'd like that top line in the 2's but it's been a bizarre year and there is still time. Lander's emergence? Music! One thing to look for in the second half of the season is a Yak City spike—he's far better than this number and seems to be feeling it with Nelson at the controls. Nail hasn't played with real swagger since Ralph and that's for sure. We know this young man can score goals and we can hope he figures it out. That would be a wonderful bullet point for the season's second half.
OILERS 5X5/60 2014-15 (DEFENSE)
Justin Schultz 0.93
Oscar Klefbom 0.78
Andrew Ference 0.53
Jeff Petry 0.50
Mark Fayne 0.29
Martin Marincin 0.24
Keith Aulie 0.00
Klefbom is just past 50 NHL games and his arrows pierce the sky at the outer limits, it makes one giddy to think of this guy after 300 games. I don't know who sent the prayers, but the dreamy kid from Karlstad was sent to answer them.