By my count the Edmonton Oilers have seven very useful players for next year: Nuge, Hall, Eberle, Pouliot, Gordon, Hendricks and Fayne. The club also has four emerging youngsters who should be able to help from opening night: Klefbom, Yakupov, Lander (rfa), Schultz. After that they have some contributors and some prospects, some suspects and some also-ran's and lordy a few never were's. I like several, from Marincin to Purcell. I think a few might not help next season, from Ference to Aulie. There are even some UFA's I'd welcome back: Roy and Klinkhammer, Jeff Petry too. I'd say Edmonton needs to add a quality center, a legit LH NHL D, and a quality starting goalie. It's the summer of less is more! I think the Oilers could compete next season if they decided it was important.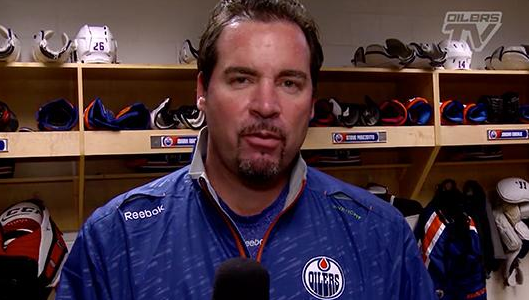 Elliotte Friedman's 30 Thoughts have some great items on the Oilers, including an insightful exchange between Todd Nelson and Nail Yakupov. I think we may get derailed on Eakins v Nelson (or Krueger v Eakins) but as fans that's not really the point. If Nelson can deliver Yakupov, music! Schultz, the same. Klefbom and Lander? Well that's simply incredible. Sometimes it's the message, other times the messenger. And sometimes the journey and timing have more to do with it than any outside source. Would Nail Yakupov be in the same space now if Dallas Eakins remained? What about Lander? Timing is everything and Todd Nelson has it this season.
#Oilers are expected to meet with BU G Matt O'Connor this week as per @FriedgeHNIC's 30 thoughts. He's looked really good for the Terriers.

— Alex Thomas (@Alex_Thomas14) February 18, 2015
The Oilers are doing a good job in college free agency this decade. Justin Schultz, Mark Arcobello, Taylor Fedun, Andrew Miller and others have found their way into the organization and had pro hockey success. O'Connor would be the first goalie to sign with the Oilers out of college since Ty Conklin  (unless I've missed someone). I'll have Alex on today's show to talk about O'Connor and the Oilers goaltending situation.
Alex Stalock of the #Sharks has allowed 5 goals on 28 shots so far tonight. Sooo…about trading Antti Niemi…

— Derek Neumeier (@Derek_N_NHL) February 18, 2015
I think the San Jose Sharks may in fact change plans on Niemi—bad goaling is death—but if they do trade him at the deadline that likely means free agency for the veteran. Let's compare Niemi's EV save percentage to Ben Scrivens over the last several seasons:
NIEMI SCRIVENS EV SP COMP

The thing about goalies is they're voodoo. Devan Dubnyk posted an .897 EV SP for the Oilers in 2013-14, this season he's running at a .932 clip for the Wild. Will Scrivens stay at .901 next season? History suggests he'll correct to career average, which puts MacT in a weird spot. Does he go out and get Niemi, using Scrivens as his backup for 2015-16? Does he sign Niemi to a big money deal despite advancing age (Niemi will be 32 in the summer)? I think we'll see Niemi or Craig Anderson in Edmonton this fall but agreed with MacT last summer and feel that same bet should be made this one. Keep Scrivens, acquire another reasonable bet (Martin Jones, Jacob Markstrom) to form the other half of the duo. Does MacT have that kind of confidence? I don't know. It's easy for me to say stay the course, quite another to be the guy with his job on the line. I imagine we see Scrivens tonight.
BAD GM'S AND GOALIES
A lot of people (including me) are disappointed in MacT these days and many are beside themselves about the goalie bet for 2014-15. I said at the time and will say again it was fine by me, goaling is an area where an astute GM can save some money and acquire league-average or better performance for middling money. It hasn't worked out that way but that doesn't mean the decision to stay away from $5 million dollar goalies was a bad one.
May I give you an example of bad decision making by a GM, and how long it can take to recover? In 1972, the player in the photo above (Daniel Bouchard) had just completed a two-year audition for the Hershey Bears and Boston Braves of the AHL. He was a Bruins draft pick, ready to march into the NHL as a backup to either Gerry Cheevers or Eddie Johnston (two veteran goalies for Boston).
Milt Schmidt was the GM and he had a lot on his mind. The WHA was raiding teams left and right that summer and Cheevers was a target. The NHL was expanding and the Bruins were going to lose good players. Schmidt decided to protect his veterans (Johnston was 90 at the time) and allowed Bouchard to be drafted by Cliff Fletcher and the Atlanta Flames. The Bruins—Stanley Cup champions that summer—entered the fall without Cheevers or Bouchard, and the results were dramatic. Johnston struggled, the club called up minor leaguers Ross Brooks (himself an older player) and John Adams and the position was horrible all year long. It got so bad Schmidt was forced to trade the first-round pick that became Ian Turnbull in March of 1973 for Jacques Plante (who was 1,000 years old at the time).
Harry Sinden came in as GM and traded for Gilles Gilbert and Cheevers would eventually return, but that was some bad decision-making by the GM. MacT may have his faults and is having a bad year, but none of these cats are long term issues and he can in fact right the ship this summer. My fear? He gets Eddie Johnston on a five-year deal.
LOWDOWN WITH LOWETIDE
At 10 this morning, we hit the ground running on TSN1260.
Bruce McCurdy, Cult of Hockey at the Edmonton Journal. We'll talk goaltending, the Bruins and the trade deadline.
Sean Beissel, Donnan. We'll talk about hockey development and playoffs.
Andrew Bucholtz, 55-yard line. Andrew wrote a brilliant article on the changing sports TV landscape in Canada.
Alex Thomas, Oilers Rig. O'Conner the goalie, Subban the goalie, tonight's game.
10-1260 on text, @Lowetide_ on twitter. Talk soon!