We've reached game 60, which allows me all kinds of new content. Exciting things like 'drafted players who must be signed' and 'college free agents Edmonton could use' and 'who did they sign from Russia when I was in the can?'. Yes folks, we're close to putting another wonderful season of broken televisions and empties behind us.
OILERS HOCKEY CARDS (FORWARDS)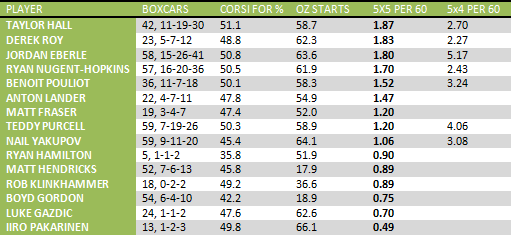 Derek Roy's Corsi for (this is 5×5) is under 50% but at even strength he's delivering pretty well offensively on the second line. The 1line is a little ragged but not awful (it would be nice to see them over 2.00/60) and Eberle's 5×4 is terrific. This team needs two scoring lines. Remember when we  talked of three? Don't worry, I'll delete the posts. Matt Hendricks has the toughest zone starts and isn't far from 50% Corsi (I haven't decided if I'll stop calling it that, so stay tuned and I welcome your input). Need Hall back, but very impressed with Eberle and it's nice to see Yakupov above 1.00 now. There's no one delivering offense at elite levels (Taylor Hall was 2.79/60 a year ago, absolute nirvana).
OILERS HOCKEY CARDS (DEFENSE)

Oscar! Rookie playing 19 minutes a night, lordy. He's also over 50% Corsi at evens but this group gets the ZS push and isn't facing the toughs (Fayne's the lucky fellow). Ference and Petry (along with Fayne) have the hard jobs with ZS's and there's no one who is delivering enough offense for us to consider them elite at evens (John Carlson is 1.57/60).
The Petry thing remains a possibly astounding story. The Oilers, so late in the day for this to happen it's crazy, appear to have reached out (we don't know at one level but it was a gesture at any rate). Let's not kid ourselves, late reconciliation is the contractual equivalent of a Hail Mary, but we are here.
Pierre Lebrun: "I would be surprised if he re-signs. I think what you heard – correct me if I'm wrong – I think what you heard was that the Oilers reached out to his agent to see if there was any interest, which is also what I heard. Whether or not that actually leads to an extension – I mean, I guess it's possible. But my sense is he's gone this long where he thought, because that's what he was being told, that he was going to be traded – why not go play some playoff hockey and then maybe circle back July 1 if the Oilers are part of your plans, right? Anyway, again. I think that it's so fresh, as far as I can understand it – in terms of the Oilers reaching out to Newport on behalf of Jeff Petry – that we'll see how this goes over the next day or two. But I still think that at the end of the day he gets traded." Source
First stats site thought: purge close numbers and get score-adjusted numbers in ASAP. http://t.co/T093cNwhM4

— Travis Yost (@TravisHeHateMe) February 20, 2015
It's very cool to see the NHL jump in to the analytics pool, I do wish they had one of the gunners ciphering and delivering this stuff. Yost nails it of course, I'd like a graph like the Vollman Sledgehammer and zone starts (may be there, can't find) but this is a fun toy and as long as the NHL is open to tweaking I'm fine with it. I can't find PDO and they've carved Corsi and Fenwick from the ledger, not sure if I'm going to follow. Seems to me if enough of us stay the course eventually the true innovators will be rewarded. I'm just hippy enough to be down on the 'man' for being a controlling asshat, so suspect I'll go with Corsi, Fenwick and PDO. We'll see. There's lots of explaining that will need to be done to those who haven't taken the time to suss it out, so expect confusion and derision to continue.
So tired of "possession" stats. Far more in whose play is "possessed." Give me emotion over stats (see: Lake Placid, 1980).

— Kevin Paul Dupont (@GlobeKPD) February 20, 2015
I think that's a good thing, to be honest. KPD is letting his audience know where he stands and telling everyone the information he's going to value and report. For me, that's intellectually honest. Either learn this stuff and apply it to your thinking, or disclose early and often you're not buying in. One side is BETA and the other is VHS and the audience will decide the winner. I'm hopeful we have a good race!
LOWDOWN WITH LOWETIDE
It'll be a fun Friday with a wide range of subjects today. Scheduled to appear starting at 10 on TSN1260:
Steve Lansky, Big Mouth Sports. What if a Canadian team wins the draft lottery?
Jeff Krushell, Krush Performance. NFL combine, spring training!
Jesse Spector, Sporting News. Some spring training stories are trickling in, and some of these gents took the winter off!
Jeff Hauser, Radio Hauser and SB Nation. NFL combine and will my Eagles do something dumb at the draft?
10-1260 text, @Lowetide_ on twitter. Talk soon!