Craig MacTavish held a media avail yesterday and answered several important questions in regard to the Oilers' future. It's important to hear the entire item, as MacT's general demeanor was more relaxed and assured than the December event. Here are a few quotes and my take on each.
MacT on the Petry situation: "We have had many conversations over the last four weeks with his representative Wade Arnott, and they've all been constructive conversations. I'll leave it at that." Source
It's such an interesting development. Readers of this blog will know that I've written on the subject nonstop over recent weeks and had certainly framed the issue in a negative light (Oilers trading Petry=bad idea). The Oilers as an organization are fairly predictable and Petry was in the 'Gilbert slide' portion of his career. It was supposed to go: Oilers head on the road, but Petry stays behind—dealt the next day. Team and player may not reach agreement but my guess is team came to a different conclusion in the last few months. I'd give over $10 to find out what happened.
If he is moved, the Oilers shopping list (starting goalie, LH D for 2nd pairing) has an added issue (top pairing RH D). We're getting into shorter lists but the players are absolute cornerstone items. MacT won't be GM long enough to fill these holes. Signing Petry is going to be very important to a lot of people in the organization, including the owner. Can you imagine trying to sell tickets to the new building next spring with fewer than 20 wins in 60 games? Lordy.
.@connorbrickley is feeeeeIin' it this weekend! Three goals. Two games. #AHL rookie goal-scoring leader. #SAvsRFD pic.twitter.com/0qysDb0gZi

— AHL (@TheAHL) February 15, 2015
MacT on the nature of deadline returns: "You would like to get a player (in a trade) who is ready to come in and fill a role. But draft choices are liquid at the draft, too." Source
Fascinating answer. I've been doing a series over at ON (here and here) and it's very interesting to look at what's bubbling under at the minor league level. If you look at Detroit (Ryan Sproul) or Florida (Connor Brickley) or any number of AHL men, it's clear the Oilers could find a reasonable option for next season—a player with a similar talent level to Matt Fraser, or Iiro Pakarinen. Is that enough for Petry? I don't think so, but some of these guys would be more valuable than another draft pick. And they can contribute right away.
MacT on Derek Roy: "Derek has given us another dimension. He doesn't self-destruct and he's meshed well with Yak. There's a chemistry. Derek isn't a needy hockey player; he thinks the game very well and puts the puck in the right areas." Source
It's an interesting decision. Anton Lander and Roy have settled things down up the middle, along with Nuge and veteran Boyd Gordon. The club has Leon Draisaitl coming along and possibly a center (Dylan Strome?) via the draft. Adding Roy would mean filling the 2C hole with a veteran, my guess (as Matty notes) is that the team will wait to see if they can shoehorn a teenager (the default move) in there this fall. Roy/Yak would have to be the soft parade line though, there's some big Corgi's barking when those two are on the ice—even in these good days.
MacT on Leon and Darnell spending next season in the AHL:  "If you go down to the American League and you're dominant down there, then when you clear that hurdle, then you're ready to come up here and it's much healthier for the team. Rather than (living with) a bunch of youthful mistakes that we've lived with for far too long."  Source
That John MacKinnon article is a must-read, MacT clearly learned a rookie GM lesson from the Draisaitl experiment and the takeaway is going to be AHL time for even the top end guys. Music! Now, sign Marco Roy, Anton Slepyshev, Jackson Houck, Ben Betker and Joey Laleggia and we'll see the best of them in 2018 fall. Finally!!
MacT on roster change this summer: "Next year, going into training camp, there's every expectation on my part that we'll have 80 per cent of the people back which hasn't been the case over the last couple of years." Source
By my count, 80% of a 23-man roster is 4 or 5 players. By position that's a starting goalie (Scrivens as backup) and a LD (Klefbom-Schultz, ?-Fayne, Ference-Nikitin), along with a LW who can play with Roy-Yakupov (unless it's Pouliot) and perhaps an extra center. Fair? I think that's Antti Niemi, Christian Ehrhoff, Carl Soderberg and Marcel Goc. Now THAT'S a summer! Alas, you never get everything you want.
PROJECTED 2015-16 OILERS ROSTER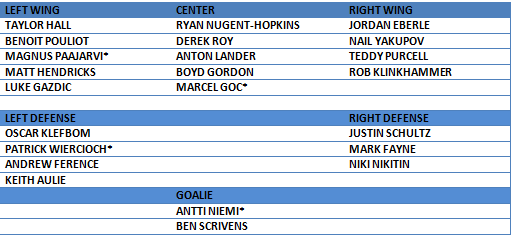 Does that team make the playoffs? The second line is the soft parade line and the fourth line is the checking line. The top line—if healthy—should be able to run with the pack and score at evens. That third line needs a Pisani, and I think Pouliot could fill the role. However, I've chosen Paajarvi for the 3line over a 2line LW option which would no doubt be more expensive. I also chose Wiercioch because he fits what MacT was describing above—I wish this was 2002 because a lefty Staios would be top drawer.
.@SeanLafortune on Marner Speed, puck possession and creativity. "his size is hardly an issue" http://t.co/C1w6YIm8FB pic.twitter.com/CSjxHylUdH

— Romulus' Apotheosis (@RomulusNotNuma) January 30, 2015
LOWETIDE TOP 30, 2015
(1)C Connor McDavid, Erie Otters (OHL) 35GP, 30-57-87

(2)C Jack Eichel, Boston U (NCAA) 28GP, 16-32-48

(5)R Mitch Marner, London Knights (OHL) 51GP, 38-65-103
(3)C Dylan Strome, Erie Otters (OHL) 55GP, 34-64-98

(4)D Noah Hanifin, Boston College (NCAA) 30GP, 4-16-20

(6) D Ivan Provorov, Brandon Wheat Kings (WHL) 48GP, 12-39-51

(7) D Oliver Kylington, Farjestad (SHL) 17GP, 2-3-5

(11) D Zach Werenski, Michigan (NCAA) 25GP, 5-14-19
(8) C Nick Merkley, Kelowna Rockets (WHL) 59GP, 17-62-79

(10) R Timo Meier, Halifax Mooseheads (QMJHL) 49GP, 36-39-75

(9) C Anthony Beauvillier, Shawinigan Cataractes (QMJHL) 55GP, 38-43-81
(15) C Mathew Barzal, Seattle Thunderbirds (WHL) 30GP, 11-25-36
(12) L Evgeni Svechnikov, Cape Breton (QMJHL) 45GP, 23-33-56

(14) R Mikko Rantanen, TPS Turku (SML) 47GP, 6-14-20

(18) C Travis Konecny, Ottawa 67's (OHL) 52GP, 24-31-55

(21) R Daniel Sprong, Charlettown Islanders (QMJHL) 56GP, 28-37-65
(19) C Jansen Harkins, Prince George Cougars (WHL) 58GP, 18-48-66

(13) L Lawson Crouse, Kingston Frontenacs (OHL) 42GP, 21-13-34
(16) D Jeremy Roy, Sherbrooke Phoenix (QMJHL) 44GP, 5-38-43

(20) C Filip Chlapik, Charlottetown Islanders (QMJHL) 52GP, 26-34-60

(22) L Jake Debrusk, Swift Current (WHL) 58GP, 34-26-60

(17) C Pavel Zacha, Sarnia Sting (OHL) 27GP, 11-12-23
(23) C Kyle Connor, Youngstown (USHL) 38GP, 19-29-48

(24) D Mitchell Vande Sompel, Oshawa (OHL) 47GP, 8-41-49

(26) D Jakub Zboril, Saint John Seadogs (QMJHL) 33GP, 8-14-22

(27) R Nikita Korostelev, Sarnia Sting (OHL) 44GP, 19-25-44

(28) D Thomas Chabot, Saint John (QMJHL) 55GP, 9-23-32

(29) R Brock Boeser, Waterloo (USHL) 39GP, 26-19-45

(NR) L Paul Bittner, Swift Current Broncos (WHL) 52GP, 24-25-49
(NR) D Travis Dermott, Erie Otters (OHL) 48GP, 6-29-35
The Oilers are headed for No. 28 overall (it'll be Buffalo 30, Toronto 29, Edmonton 28) and one suspects they will in fact draft No. 3 overall. I believe that means a decision between Strome and Hanifin, with the CHL player getting the nod. If the Penguins' pick is around No. 21-25, I think Zacha, DeBrusk, Jeremy Roy and Paul Bittner may all be in play. Remember, the Oilers traditionally leave a first round in which they have two picks with a forward and a defenseman.
OILERS RIG
The Oilers Rig is a cool blog that delivers insightful information and has a lot of fun. You've heard several of their writers on the Lowdown in the last year and I'd guess most of you make a daily visit. They have a big event tonight—Bruce McCurdy and I will talk to Dave Gordon about it at 12:45 today on SSE—and this is your invitation to take it all in (below). I can't make the event but if you can please have fun and help out a very worthy cause.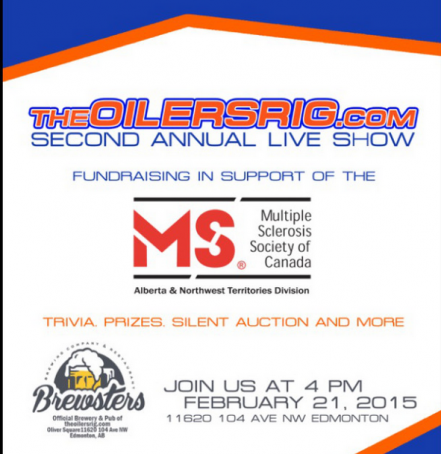 I didn't write about last night's game during today's GDT for two reasons: I'll have the Oilers Nation GDT up later today and cover a few things there, and you should brace yourself for more results like last night. Edmonton is overmatched badly against the west, even when they're healthy. They played last night without Taylor Hall, Jeff Petry and Anton Lander, plus the Perron's et cetera who have been sent away. The one player I noticed last night in a good way? Nail Yakupov. The Russian doesn't know a thing about giving up, God love him. I don't blame Nuge, Eberle, Pouliot, the Gordon line, Scrivens, any of them. Last night's effort wasn't Toronto and it wasn't Ottawa: It was the Oilers. You can't take a knife to a gun fight, no sir.
Sign Jeff Petry. Today.