Jordan Eberle has really stepped up in these Hall-less weeks and it's reflected in 5×5 scoring since January 1. A lot has changed in the weeks after Dallas Eakins, David Perron and Mark Arcobello left but kid Eberle is enjoying a strong period in the season.
5×5 SCORING SINCE JANUARY 1, 2015 (war-on-ice)
Jordan Eberle 23, 7-4-11
Derek Roy 23, 4-6-10
Nail Yakupov 23, 3-5-8
Oscar Klefbom 23, 2-5-7
Anton Lander 21, 1-5-6
Teddy Purcell 23, 2-4-6
Matt Fraser 18, 2-4-6
Taylor Hall 11, 0-5-5
Ryan Nugent-Hopkins 23, 2-3-5
Jeff Petry 21, 1-4-5
Andrew Ference 23, 0-5-5
Justin Schultz 23, 1-2-3
Benoit Pouliot 18, 3-0-3
Matt Hendricks 21, 2-1-3
Luke Gazdic 13, 1-1-2
Rob Klinkhammer 20, 0-2-2
Niki Nikitin 11, 0-1-1
Ryan Hamilton 7, 0-1-1
Boyd Gordon 23, 1-0-1
Mark Fayne 23, 1-0-1
That's a nice run by Eberle and Roy-Yakupov are doing fine now. Nuge should spike now that he's spending less time on the PK and of course nothing rhymes until Hall returns. Pouliot had that hot run but has cooled, and Jeff Petry is outscoring Justin Schultz. Oscar Klefbom has been a revelation.
Great kid! "@TheChrisWescott: #Oilers prospect Joey LaLeggia named NCHC Dman of the Week for the 3rd week in a row & 5th time this season."

— Ray Ferraro (@rayferrarotsn) February 24, 2015
Can't wait to see this young man at the pro level, Laleggia would be a Godsend as a power-play quarterback. Oilers appear to have scored pretty well in Round Five of the 2012 entry draft.
HMMMM
Nugent-Hopkins: "I know if I can chip it in and bump a guy a couple of times, maybe next time he'll slow down a little bit and I can go to the puck first. Obviously, I'm not the most physical guy, but once in a while, it helps your game to get into it physically." Source
I'd prefer a skill guy like Nuge to cross the blue under control (not always but most of the time) as we know from the Tulsky lessons that control increases opportunity and success. Hall dumping the puck in 10 times out of 10 is absolutely a misuse of talent—you've got a guy who can push back the blue, have him do it! I don't know if Todd Nelson would be that stubborn, suspect he'd see the value in a possession entry. I'm seeing a lot of dump and chose, though. It makes sense to use both, change things up and dump when there are no good options. Seems to me chipping it in for Hall, Nuge, Eberle should be done less than 50% of the time.
Majority of NHL clubs at today's Beanpot tourny…Leafs (Nonis) and Oilers (MacTavish) included. Eichel and Hanifin drawing the crowd…

— Darren Dreger (@DarrenDreger) February 23, 2015
MacT was also watching goalie Matt O'Connor no doubt, he of the solid-to-excellent resume and a possible spring signing. If the Oilers run Brossoit-O'Connor next year in Bakersfield, and Niemi-Scrivens in Edmonton, is that enough? Will that represent a clear upgrade?
PROSPECT POOL
Where do the Oilers need additional help in terms of their prospect list? Well, aside from goaltending there are a few places they could help themselves:
Goal: Laurent Brossoit, Zack Nagelvoort
Defense: Darnell Nurse, Jordan Oesterle, Dillon Simpson, Brandon Davidson, Joey Laleggia, William Lagesson, Brad Hunt, David Musil, Martin Gernat, Ben Betker
Center: Leon Draisaitl, Bogdan Yakimov, Greg Chase, Jujhar Khaira, Kyle Platzer, Marco Roy
Left Wing: Anton Slepyshev, Curtis Hamilton, Mitch Moroz, Kale Kessy, Josh Wingquist
Right Wing: Iiro Pakarinen, Tyler Pitlick, Andrew Miller, Jackson Houck, Tyler Vesel
A few centers can play wing (Chase as an example has spent significant time on wing) and I have left out several prospects in the interests of clarity. Oilers areas of need include goal, left wing, right wing and you can never have too many defensemen. The issue on wing was less an item when Hall and Eberle had Perron in the band but now we're probably looking at a winger needed for next season (Hall-Eberle, Pouliot-Yakupov, Hendricks-Klinkhammer, ????-Purcell). Leon might be the best option. Seriously.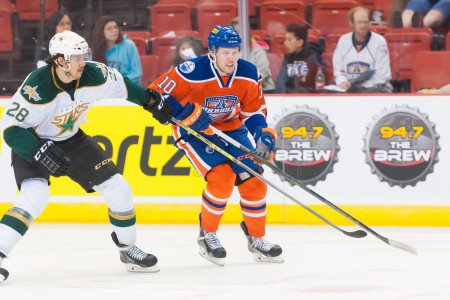 The Barons play today so I doubt we'll see a callup but a trade could happen at any time. I also think Matt Fraser may be in danger of losing his roster spot (Curtis Hamilton?) and the club could probably use a center for the Lander absence. We could see a very active transaction window this week for the Oildrop.
LOWDOWN WITH LOWETIDE
At 10, TSN 1260. The march toward madness continues! Scheduled to appear:
Jonathan Willis, Cult of Hockey. Jon talks Oilers deadline (or the unexpected virtue of ignorance).
Travis Yost, TSN. We'll talk about teams like the Bruins and Kings and their decisions at the deadline.
Scott Cullen, TSN. Can we identify the teams using analytics for deadline deals?
10-1260 text, @Lowetide_ on twitter. See you on the radio!