I like Ben Scrivens, cheer like hell for him every game. He's clearly a good human and the causes he champions are top drawer. Now, that doesn't get him off the hook for this season but it's still great to see him play so well for the Edmonton Oilers  (as he did last night). His SP went from .895 to .897, nothing really in a long season of disappointment. For one night though, it was splendid. Good for him. It's important to use the lesson of Devan Dubnyk when applying blame to Ben Scrivens. Is he an .895 goalie or a .915 man? No doubt Craig MacTavish has to find a No. 1 goalie this season but I think Scrivens is a suitable choice for the other goalie in 2015-16. Thoughts?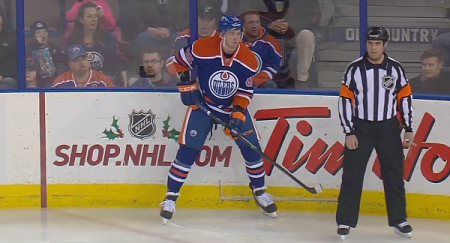 I thought Marincin—Fayne had a good night and Todd Nelson clearly agreed, as that pairing was sent out late to shut down the Wild. If the Oilers can be trusted, then a strong run here at the end of the season should elevate Marincin into the conversation for next season:
Klefbom—Schultz (most minutes, soft parade pairing)
Marincin—Fayne (tough opposition pairing)
Ference-Nikitin (lottery pairing)
One thing Nelson does that NO others Oilers coach I've seen this century do? Trust his former AHLers. He wasted no time putting Anton Lander into different spots and last night he showed tremendous confidence in Martin Marincin. That's a very encouraging item.
YOU CAN'T STOP TODD NELSON
11-12-3 now with a ragtag bunch that boasts a quality top line, some emerging defensemen (well, one) and last night Dominik Scrivens. The club is winning more under Nelson (Eakins had them 7-19-5 when MacT pulled the chute) but the possession numbers favor the Eakins group.

One thing I'm not going to do is argue who has the better roster. MacT clearly believes the Nelson group is superior and they did add Derek Roy, Rob Klinkhammer, Anton Lander and Martin Marincin—plus Oscar became Oscar (or more Oscar) as the season wore along. That said, David Perron is gone, Taylor Hall has been out for some time and there's little doubt men like Ryan Hamilton and Matt Fraser and Iiro Pakarinen aren't quite established NHLers. I'm honestly not certain who has the better 23 and it really doesn't matter in the grand scheme of things: They're not a good team. I will say that Dallas Eakins Oilers got killed by goaltending and I'll go to my grave convinced of it. So, yeah. (Numbers via war-on-ice).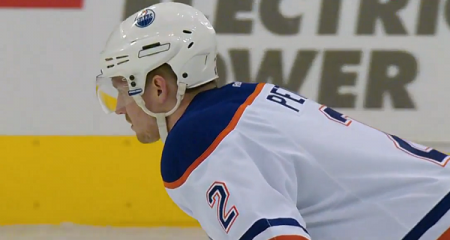 According to the Fourth Period, teams on Petry include Los Angeles, Tampa Bay, Chicago (all three teams were scouting last night) and Detroit, Boston, Pittsburgh and Anaheim have made inquiries. The report says MacT is asking for a second-round pick and a prospect, which seems dear based on prices this and last deadline.  We'll see, and it's worth mentioning no one in the credible media is suggesting there's a snowball's chance in hell the young man signs here. Source
WHAT DOES THE OILERS DRAFT LIST LOOK LIKE?
A lot of chatter surrounding the names and the order after McDavid and Eichel. The NHL draft industry appears to be fairly universal in their support of Noah Hanifin as No. 3 overall with Mitch Marner and Dylan Strome as candidates for top five overall. Lawson Crouse is a divisive figure in this year's draft, some have him inside the top five and others don't have him near that high. Red Line Report still has him outside their top 10 overall and they're the best list (imo) so that's certainly a tell from here.
Each Saturday on this blog I publish a Top 30 for the 2015 draft and on the Monday repeat the Top 10 overall. That's my list, doesn't reflect anything but a fan's opinion (it's a moo point!) but it's fun and we get to learn about the prospects together. YEARS of watching the Oilers tells me their list probably has two guys in the top six overall that fans will wonder about:
Connor McDavid
Jack Eichel
Noah Hanifin
Dylan Strome
Lawson Crouse
Pavel Zacha
I'll bet a 2-4 that list is pretty similar to the one Edmonton has in its inner laptop this morning. If the Oilers continue to win a little, and pass Arizona and Toronto (as an example), and end up picking No. 4 or No. 5? It could happen and I'm not even kidding.
LOWDOWN WITH LOWETIDE
10 this morning, we get it rolling on TSN 1260. Scheduled to appear:
Bruce McCurdy from the Cult of Hockey at the Edmonton Journal. Last night's game, the Petry thing, Marincin.
Matt Kassian, former NHL player and now at Vimy Hockey. We'll talk about his career and his new career.
Andrew Berkshire, Habs Eyes on the Prize. Smith-Pelly trade and do the Habs need Petry?
Jeff Krushell, Krush Performance. Spring training! And should seasons be shortened?
10-1260 text, @Lowetide_ on twitter. Talk soon!