One of the things the Edmonton Oilers have to do this summer is evaluate their cluster in order to make sure this is the group moving forward. It's a gifted group but there are issues for each player:
Taylor Hall: Can the Oilers count on him for 75 games a year? 65? Less?
Ryan Nugent-Hopkins: I don't know but people keep saying stuff.
Jordan Eberle: Slightly one dimensional for a $6M man.
Nail Yakupov: Does he belong here?
Justin Schultz: Can he deliver in the important role assigned?
Oscar Klefbom: Is he a top pairing defenseman in the making?
These are important issues and a mistake in any one area will damage this team's chances in the future. The club has some other pieces (Pouliot with Leon and Darnell coming) but that's the center of the cluster there. One more piece to go!
There was a second I thought MacT was going to hit the ground, but Craig was on it. #Oilers pic.twitter.com/IcoIrBs73J

— Allison Currie (@AlleyDalley) February 27, 2015
LOWETIDE TOP 30, 2015 DRAFT
(1)C Connor McDavid, Erie Otters (OHL)

3GP, 7-6-13 this week (!!!!)



(2)C Jack Eichel, Boston U (NCAA)

3GP, 0-4-4 this week



(3)R Mitch Marner, London Knights (OHL)

3GP, 3-6-9 this week



(4)C Dylan Strome, Erie Otters (OHL)

4GP, 1-7-8 this week

(5)D Noah Hanifin, Boston College (NCAA)

2GP, 0-0-0 this week



(6) D Ivan Provorov, Brandon Wheat Kings (WHL)

2GP, 1-1-2 this week



(8) D Zach Werenski, Michigan (NCAA)

2GP, 3-1-4 this week

(7) D Oliver Kylington, Farjestad (SHL) Did not play in SHL this week

(12) C Mathew Barzal, Seattle Thunderbirds (WHL)

3GP, 0-6-6 this week



(9) C Nick Merkley, Kelowna Rockets (WHL)

3GP, 0-2-2 this week

(11) C Anthony Beauvillier, Shawinigan Cataractes (QMJHL)

3GP, 2-3-5 this week



(15) C Travis Konecny, Ottawa 67's (OHL)

4GP, 1-6-7 this week



(13) L Evgeni Svechnikov, Cape Breton (QMJHL)

3GP, 4-2-6 this week

(14) R Mikko Rantanen, TPS Turku (SML)

3GP, 0-2-2 this week



(10) R Timo Meier, Halifax Mooseheads (QMJHL) 3GP, 3-0-3 this week
(17) C Jansen Harkins, Prince George Cougars (WHL)

2GP, 1-6-7 this week

(21) L Jake Debrusk, Swift Current (WHL)

3GP, 2-4-6 this week



(18) L Lawson Crouse, Kingston Frontenacs (OHL)

4GP, 4-1-5 this week

(24) D Mitchell Vande Sompel, Oshawa (OHL)

3GP, 2-3-5 this week



(22) C Pavel Zacha, Sarnia Sting (OHL)

4GP, 3-2-5 this week

(16) R Daniel Sprong, Charlettown Islanders (QMJHL)

2GP, 1-0-1 this week



(19) D Jeremy Roy, Sherbrooke Phoenix (QMJHL)

1GP, 0-0-0 this week



(20) C Filip Chlapik, Charlottetown Islanders (QMJHL)

2GP, 0-0-0 this week



(23) C Kyle Connor, Youngstown (USHL)

4GP, 1-3-4 this week



(25) D Jakub Zboril, Saint John Seadogs (QMJHL)

3GP, 1-2-3 this week



(29) L Paul Bittner, Portland Winterhawks (WHL)

3GP, 3-2-5 this week

(26) R Nikita Korostelev, Sarnia Sting (OHL)

4GP, 2-2-4 this week



(27) D Thomas Chabot, Saint John (QMJHL)

3GP, 1-2-3 this week



(28) R Brock Boeser, Waterloo (USHL)

3GP, 1-2-3 this week



(30) D Travis Dermott, Erie Otters (OHL)

3GP, 0-2-2 this week



(NR) D Noah Juulsen, Everett Silvertips (WHL)

3GP, 1-1-2 this week



Some movement on the list this week, there are a bunch of players pushing for the top 10 now (9-15 is basically interchangeable at this point imo) and there's lots of track left to go. A reminder, this is a fan's list, relying heavily on math and those young men who control the puck at junior levels. The more I stare at this problem, the more obvious it becomes: If a forward or a defenseman lacks top-end skill in junior he's not going to make it in the NHL.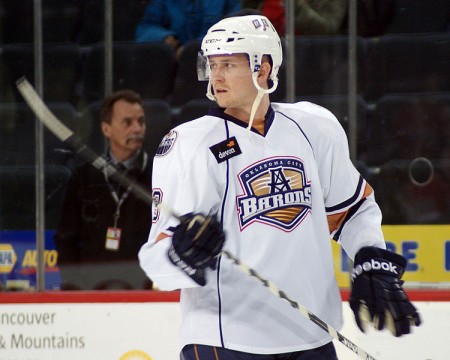 CURRENT ESTIMATED TRADE VALUES
Jeff Petry: I estimated a late second or third (No. 55 to No. 80) based on last season but it now seems (Franson and Sekera deals) we're talking about a different pay grid for rentals this year. A lot of people are saying 'first round pick or bust' but that seems too bullish from here—most felt Sekera was the better player and I'm not willing to state categorically that Lombardi gave up a blue chip prospect. I'll put the value at No. 31 to No. 60 and a distant bell prospect for Petry—and that's very aggressive and heavily influenced by recent events. If MacT gets more than that? They still should have signed him.
We should also talk about the possibility of MacT getting squeezed out at the deadline. News this morning that John Moore may be available and  the same article quotes the Flyers as looking to sell more defensemen. There's a chance the window closes enough to force MacT's hand, either in getting a lesser pick or prospect or in signing his defenseman. Teams still likely interested based on what we hear: Detroit, Tampa Bay, Montreal and possibly Anaheim.
TONIGHT
The Blues typically manhandle Edmonton, home or away. The big wingers grind our Chorney's into a fine white powder, walk away with two points and fill our IR for weeks. Bastages! I have no idea what the Blues will do at the deadline but they don't look like Stanley winners from here. Men I'll be watching: Klefbom, who'll need to skate miles and keep his head up; Marincin, who faces the grittiest group of big wingers this side of the Pecos.
UP THE ANTTI
Are the Oilers going to get a goalie this deadline? They grabbed two last season and there are rumors a-foot that Chicago is making Antti Raanta available. If true, I really like the idea in that it probably means MacT isn't planning on blowing his brains out on Antti Niemi in free agency. Stay the course, MacT, you weren't wrong last summer it just didn't work out. There's a difference. Stay the course. And sign Petry, please.