The Edmonton Oilers are absolutely in contention for No. 30 overall, due partly to the difficulty of their schedule. This is a poor roster but not close to Buffalo's; the Sabres are likely good enough to grab 6 or 7 points now through season's end. Edmonton? They play Pittsburgh tonight, Columbus tomorrow and Toronto on Monday. If they can lose them all in regulation, my bet is the Sabres will be within two points. This isn't over.
NUGE AND NAZEM
I really like the idea of a 1-2 punch like RNH and Kadri. I don't know the actual issues facing him but it seems to me it would probably be worth at least exploring the idea of acquiring the young Leaf.
| | | | | | |
| --- | --- | --- | --- | --- | --- |
| PLAYER | 5X5/60 | 5×4/60 | 5X5 CF % | ZONE START | QUAL COMP |
| RNH | 1.73 | 3.30 | 50.4 | 62.4% | toughest |
| KADRI | 1.77 | 2.05 | 49.9 | 46.2% | 4th toughest |
This is a nice combination for the top two lines. A little too similar maybe but skilled and they can deliver in less than ideal circumstances. Throw in Lander plus Gordon and the Oilers weakness at center looks much better. If you're worried about Leon, don't. He can start at LW and by next season—when they deal Boyd Gordon at the deadline—the club has next man up. I like the idea.
GRAPHS!
Emmanuel Perry is one of the countless brilliant minds bringing the game alive using analytics and allowing us to see things in a new way. He was kind enough to supply me with a graph of Nuge and one of Kadri to show how they're doing in possession against above and below average competition.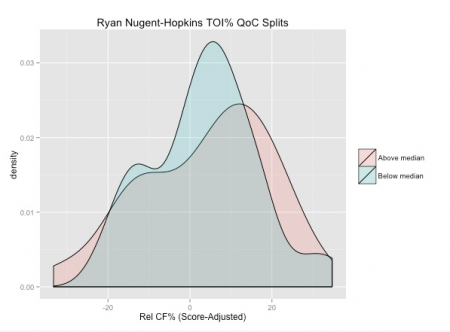 This (as I understand it) shows Nuge's peformance against above and below average competition. Nuge performs well against both but in this case quoting Emmanuel "he's performing better in terms of S.A Rel CF% in games in which he faced a higher-than-median TOI% QoC". Nuge is good, very good at 21. At 24? It should be grand!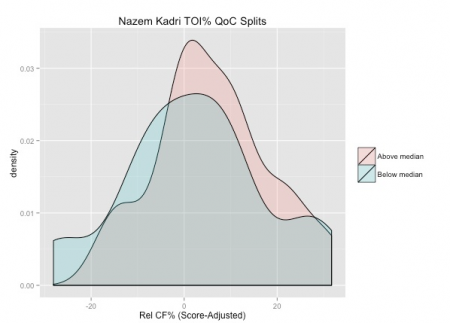 Here's Nazem Kadri, same discipline. Kadri is a bona fide NHL center, established. Again, no idea what the pricetag might be but it's certainly worth a call. These two added to Lander and Gordon? Giddyup.
Nikita Nikitin says he was in good shape at the beginning of the year and is not sure why Craig MacTavish suggested otherwise. #Oilers #NHL

— Derek Van Diest (@SUNdvandiest) March 11, 2015
These things happen when teams are losing. Nikitin has to be a buy out option this summer, or at the very least someone they'll shop to a KHL team ala Diabolical Lou. If Craig MacTavish sees him as a legit Top 4D option, we should see marked improvement in his performance in these next games. There has been no evidence so far Nikitin can help in a feature role.
Taylor Hall's boating license struggles keep me grounded. Carry on with your days.

— Catherine Silverman (@CataCarryOn) March 11, 2015

Hall is back skating (this is via Jason Gregor at ON) and it appears we'll see him for as many as 10 games before season's end. ANY game with Taylor Hall in it is extreme entertainment, what a fantastic hockey player.
MACT'S 2014 SUMMER
It didn't go well, ladies. Craig MacTavish had a long shopping list—Oilers' GMs routinely face five or six significant issues each summer—and looking back there wasn't much that got solved in a satisfactory manner.
A veteran top pairing defenseman. Oilers acquired Mark Fayne and NikI Nikitin. Neither has proven to be top-pairing option, although Fayne has been facing the toughest opposition all season long. A couple of Vollman Sledgehammer's show where Fayne is being used (toughest opps and no real ZS help) and the second Vollman shows Fayne's handling is drastic compared to his own past.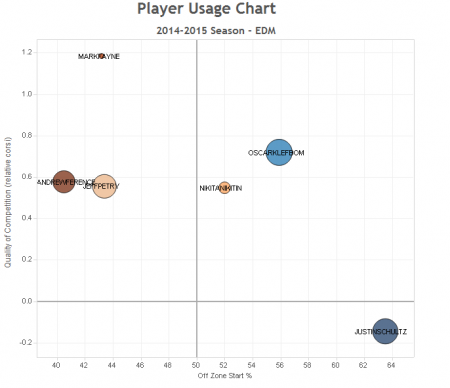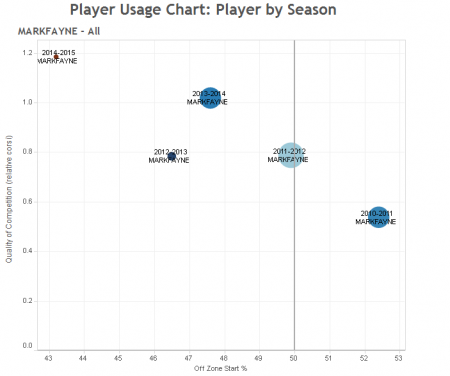 A 2line C with experience and the ability to play a two-way game. MacT never really got this one covered, although Derek Roy was acquired after the season was dead to help on offense. I will say that Anton Lander gives us hope for a two-way "Reasoner type" for the future.
A legit two-way winger who can score 12-15 goals. I really liked the Pouliot add, for me the issue was solved here until Perron was dealt. Pouliot's offense is marginal for Top 6F—he's never scored 20 in a season and Perron has done it three times—but I really like Pouliot as a player.
Find a way to get value, or make use of, Sam Gagner. I'm satisfied with Teddy Purcell, many don't feel the same way. He is fourth in team scoring this year and is an actual NHL player. I'll complain about him the moment Edmonton has six better wingers.
Improve the bottom 6F's. That has happened as the season wore on, Lander and Klinkhammer give the team some nice additions (to Gordon and Hendricks). I thought Pouliot would thrive in this area but that hasn't really happened (certainly since the Perron deal). I'll give credit here, it's better, even if it did cost a perfectly useful offensive winger to do it.
Get Petry signed long term. Fail.
Sign Schultz but DO NOT break the bank. Credit here but it's still too much money and of course we run the risk MacT will overpay Schultz long term this summer.
The major items (veteran top-pairing defenseman and two-way 2C) didn't get done and that my friends had a major impact on the season. I'll give credit for getting Pouliot and Purcell but many of the good things we can hold on to this morning (Lander's emergence, Klefbom's progress) are more about youngsters developing than any kind of team building by the general manager. MacT will need a far better summer this year and the list will be just as extensive:
No. 1 goalie. This team needs someone who won't kill them opening night and in the first four weeks of the season. In Jesus' name, amen. Lordy.
Top-pairing defenseman. The need that has no solution.
Second-pairing defenseman. If you're going to trade Jeff Petry and Martin Marincin isn't part of the future, then yes, two legit defensive solutions are required in one summer. Again!
2C with two-way ability. I like Derek Roy but the more we see his work inside the defensive zone the more obvious it becomes a more capable player is required. I don't know the sins of Kadri but he would be a terrific option for this team.
Todd Nelson as coach. I know they're going to be whale hunting all summer but Mike Babcock isn't coming here and unless Todd McLellan shakes loose then the guy in place now is probably the better man. He's not perfect—he needs to get with Dellow and find out what the Roy line is doing wrong—but this fellow is bringing along several kids at a good pace and that alone has enormous value. Get good players, keep good players. That's from the Bill Torrey-Al Arbour song book and many of those good players started as New Haven Nighthawks.
LOWDOWN WITH LOWETIDE
This morning at 10, TSN1260. Scheduled to appear:
Dennis King, Oilogosphere Icon. Oilers-Penguins, NFL Free Agency, Raptors.
Anthony Mingioni, CenterIce Philly. NFL Free Agency, Flyers season and summer.
Travis Yost, TSN Analytics. He'll gush over the Buffalo Bills, I'll ask him about fixing the Oilers this summer.
Jeff Krushell, Krush Performance. Blue Jays injuries, how many times can you tear your ACL and remain a high-performance athlete?
10-1260 text, @Lowetide_ on twitter. These are fabulous guests, I'm thrilled they're joining us. Talk soon.