We're in the transition period now, where 'will Nuge hit 50 points again'? might be followed by 'will they get that college goalie?' during conversation. Edmonton Oilers fans may want Antti Niemi, Brent Seabrook and Antoine Vermette this summer but should be hoping to see Martin Jones, Cody Franson and Carl Soderberg or Erik Condra—the team is in rebuild mode again 2015 summer. Find and sign men in their 20's, you need them here for the long haul. Acquiring a 33-year old defenseman makes no sense when the playoffs are so far down the road. Stay. the. course. If the Oilers had an experienced GM this process could be hurried along a little but the idea of trading for Corey Crawford or Jonathan Quick this summer makes me cringe. Rock, meet hard place. Take your medicine, stay healthy. This is going to take awhile.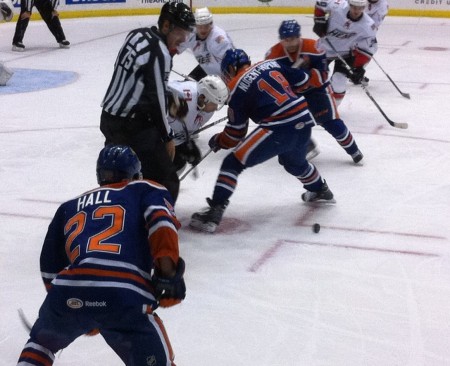 FUN THINGS ON THE WAY
Taylor Hall's return.
RNH hitting 50 points AGAIN!
Matt O'Connor signing, improving depth at the weakest position.
Patrick Hersley getting a two-year deal.
Anton Slepyshev signing. Maybe they'll sign Yaroslav Dyblenko too.
Junior signings of kids like Kyle Platzer, Ben Betker, Jackson Houck and Marco Roy.
At the end of the season I'll run the RE (suggestions for artist? I'm leaning toward Eric Clapton—which would include Yardbirds, Cream, etc—but it's early days) and of course it'll be a cracking time leading up to the draft. I have to say though, not having the playoffs to look forward to is a bitter pill. I think that's the toughest thing about this spring, realizing that (with the Perron and Petry trade for basically picks) we are still so far away from the playoffs.
The Edmonton Oilers are not pointing all of their cannons at the 2016 playoffs, folks. It's not worth stopping the presses, we already know that in this little corner of the internet. The 50-man list will have names added but they are building toward a new tomorrow that may or may not include Taylor Hall. We're sailing to the hinterland, from the hinterland. Again. "Get good players, keep good players" we always say but today, after all these years of saying it and Edmonton trading those same players, that phrase sounds like that ancient Chinese curse. "May you live in interesting times" goes the saying. The proper response? "Take the gas pipe".
BUTTON'S LIST
Here's the March Button list, with my rankings in brackets. Craig Button was a very successful scout and scouting director and the list is very imaginative. I'm especially fascinated by his ranking of two USHL kids inside the top 10 overall.
Connor McDavid, Erie (OHL) (1)
Jack Eichel, Boston University (NCAA) (2)
Dylan Strome, Erie (OHL) (4)
Mitch Marner, London (OHL) (3)
Ivan Provorov, Brandon (WHL) (6)
Zach Werenski, Michigan (NCAA) (7)
Kyle Connor, Youngstown (USHL) (22)
Noah Hanifin, Boston College (NCAA) (5)
Brock Boeser, Waterloo (USHL) (32)
Timo Meier, Halifax (QMJHL) (15)
Button's track record during his time as a scouting director and personnel director in Dallas is impressive, as the team drafted Jarome Iginla, Derian Hatcher, Jere Lehtinen, Jamie Langenbrunner, Marty Turco and Brenden Morrow. He was good. Now, last season he had Zachary Fucale in the top 10 (No. 9 iirc) so he's not perfect but then again we're less than one year gone from draft day. I do know USHL players are getting drafted in more prominent spots as the years go by:
2014: No. 15, Dylan Larkin (USNDT) to Detroit Red Wings
2013: No. 25, Michael McCarron (USNDT) to Montreal Canadiens
2012: No. 9, Jacob Trouba (USNDT) to Winnipeg Jets
2011: No. 15, J.T. Miller (USNDT) to NY Rangers
Hmm. They look like they belong, no? Huh.
@Lowetide_ Hi Allan, Thought you may be interested in this article http://t.co/ghUIVZ3tsK

— Erik Burgess (@TheWhiskyKiwi) March 13, 2015
Oilers have drafted some fascinating characters over the years, none of their stories are more interesting than that of Tony Hand. The legend is finally hanging them up, but like James Brown leaving the stage, one imagines an encore is probable. Hell, he probably starts a 50-year run at old timer's games later this month!
"We'd like to see Davidson again. I'd like to see Andrew Miller. I'd like to give Curtis Hamilton an opportunity…" -MacT #BaggedmilkRecap

— OilersNation (@OilersNation) March 2, 2015
At this point, there's no good reason to keep Miller, Hamilton or Davidson on the farm. Edmonton has only one callup but injuries etc could force the issue. If I had to choose one from the group? Miller. He's had the best season.
LOWDOWN WITH LOWETIDE
A busy, fluid morning for the show we're still casting about for guests. Scheduled to appear:
Steve Lansky, Big Mouth Sports. How mad ARE the Leafs at Kadri? Is there a window of opportunity to acquire him? WHAT did he DO?
Chris Peters, CBS Sports. We'll talk about the college free-agent signing window, Matt O'Connor and the quality in the USHL today.
Paul Almeida, SSE. Paul will have a strong opinion on the Oilers not trading for Johnny Boychuk back in the fall.
I'm hoping to get an NFL guest to talk free agency, suspect the Eagles are done and that's fine by me. 10-1260 text, @Lowetide_ on twitter and it's FRIDAY!!!