Darnell Nurse played last night, good news for Oilers fans. The big man (who is really a kid, but you tell him, the guy is 6.04, 205 and has a nasty streak) will likely have a long run in the OHL playoffs and could catch on for the AHL playoffs if there's more hockey there. The Edmonton Oilers will turn him pro this fall and will do their absolute best to send him to the AHL for one season. I don't give them a snowball's chance in hell of making it happen.
Dylan Strome or Mitch Marner? I answer a fascinating #2015NHLDraft question http://t.co/Ycri7VCrrf

— Scott Wheeler (@scottcwheeler) March 11, 2015
LOWETIDE TOP 30, 2015 DRAFT
(1)C Connor McDavid, Erie Otters (OHL) Has anyone produced like this as a 17-year old? Ever????
(2)C Jack Eichel, Boston U (NCAA) Franchise center caught in a generational draft.
(3)R Mitch Marner, London Knights (OHL) There's just too much, folks. Big offense.
(5)D Noah Hanifin, Boston College (NCAA) Best of a deep crop of two-way defenders.
(4)C Dylan Strome, Erie Otters (OHL) Big center, crazy skill. What an outstanding draft.
(6) D Ivan Provorov, Brandon Wheat Kings (WHL) Incredible offense but he can also defend.
(7) D Zach Werenski, Michigan (NCAA) Another fine two-way teenager. Lordy.
(8) C Mathew Barzal, Seattle Thunderbirds (WHL) Exceptional talent, may end up top 5 on final list.
(8) D Oliver Kylington, Farjestad (SHL). Complete defenseman, someone is going to get a major talent.
(11) C Nick Merkley, Kelowna Rockets (WHL) Wonderful play-making center. Size an issue.
(13) L Evgeni Svechnikov, Cape Breton (QMJHL) Exceptional combination: Skill, size, speed, shot.
(14) R Mikko Rantanen, TPS Turku (SML) Skill winger with size, safe pick.
(10) C Travis Konecny, Ottawa 67's (OHL) Skill player with a complete skill set.
(12) C Anthony Beauvillier, Shawinigan Cataractes (QMJHL) Terrific player, highly skilled. A wizard with the puck.
(15) R Timo Meier, Halifax Mooseheads (QMJHL) Impressive scoring winger.
(16) C Jansen Harkins, Prince George Cougars (WHL) Range of skills, wonderful two-way player. Love this player-type.
(22) C Kyle Connor, Youngstown (USHL). He's on the list because of terrific skill, moving up because he may have turned a corner.
(17) L Jake Debrusk, Swift Current (WHL) Two-way winger with speed, posting better-than-expected offense.
(18) C Pavel Zacha, Sarnia Sting (OHL). I think he's Michal Handzus 2.0.
(19) R Daniel Sprong, Charlettown Islanders (QMJHL) Fine offensive winger, there are a bunch in the first round.
(23) L Lawson Crouse, Kingston Frontenacs (OHL) Strong winger with skill. Scouts adore him.
(20) D Mitchell Vande Sompel, Oshawa (OHL) Puck-moving defender of considerable quality.
(24) D Jeremy Roy, Sherbrooke Phoenix (QMJHL) Talented offensive defenseman, right-handed.
(25) D Travis Dermott, Erie Otters (OHL) Smart two-way defender. Might be underrated at this number.
(27) R Nikita Korostelev, Sarnia Sting (OHL) Impressive range of skills, a fine offensive prospect.
(NR) D Ryan Pilon, Brandon (WHL) Two-way defenseman with significant offensive ability.
(NR) R Brock Boeser, Waterloo (USHL) Scoring winger hanging around bottom of the first round all year.
(28) D Noah Juulsen, Everett Silvertips (WHL) Two-way defender, smart player. A little shy as a skater.
(NR) C Andrew Mangiapane, Barrie (OHL) Older player, undersized. Don't care. Wonderful skills. Not bragging but I had him at No. 52 on my list last season.
(29) L Paul Bittner, Portland Winterhawks (WHL)  Big man with skill, marginal first rounder in a deep draft.
 Oilers should end up with two names on this board, maybe three. If they can walk away with Eichel, Harkins and Roy? Music. I don't think they'll trade a pick for an NHL player, Edmonton talks that talk (just ask Matty) but never, ever walks that walk. Braydon Coburn, Corey Schneider, hell it goes all the way back to the turn of the century. On the draft floor, things change. The value of the pick is higher for other teams but also for the Oilers. If Harkins is available at No. 22 (Pens' pick) and the Oilers walk to the podium, do not be surprised when they make the selection.
If Mike Reilly gets to FA, whether he signs with CBJ/other team, has second pair, offense-tilted dman upside. @gretzkytokurri — Corey Pronman (@coreypronman) March 10, 2015

Elliotte Friedman wrote about Reilly and the Oilers' connection to him, so he's someone to keep in mind along with the goalie Matt O'Connor. We should also remember that Joey Laleggia is a helluva pro prospect and Edmonton needs to sign him as well.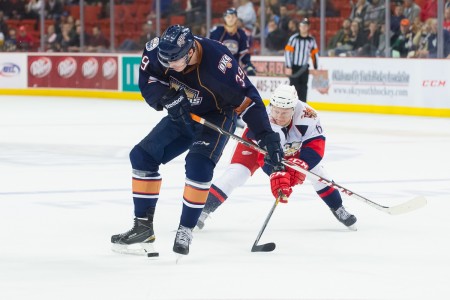 Bogdan Yakimov. All Barons' photos by Rob Ferguson, all rights reserved
One thing about that 2013 draft I keep coming back to: That was the draft MacT knew well. It's early days of course, in terms of evaluation, this looks like it could be a very good draft. Darnell Nurse was a star at the WJ's and is having a solid OHL season; Yakimov is turning it on as an AHL rookie (3-3-6 in his last 6GP); Anton Slepyshev posted a good KHL season; Kyle Platzer had a bona fide impact year and Greg Chase recovered from a bizarre start to the year. That's a lot of good-looking prospects. The 2014 draft seemed to be dictated by that crazy 'college control' thing the Oilers employ in order to avoid difficult signing decisions but that first draft MacT had as GM is tracking well.
Interesting fact: current #OKCBarons Brad Winchester & Jason Williams each have 1 Stanley Cup playoff goal, from the same game 4/23/06.

— Jim Byers (@jim_the_lip) March 13, 2015