The Edmonton Oilers host the Toronto Maple Leafs tonight, in what may be the first game of 'you take it, no thanks' hockey between the two teams. GMs on both sides of the ice won't be actively cheering for a regulation loss but that result would be very helpful. The current standings have the Leafs and the Oilers in the impact player area and a little luck might change the destiny of one of these once proud franchises.

This is the treasure map, ladies. Toronto must shoot blanks for 12 more games in an effort to own the No. 4 option heading into the lottery. That seems easy enough—they look like the concept of the game escapes them many nights. Edmonton has mastered the ability to lose actual motor skills on the ice and have a legit shot at No. 30 overall. Although the prize is larger for the Edmontons, it's also true that Arizona no longer serves solid food to their troops and have taken their boots. This could get bloody before April. If I'm a betting man, the season ends:
No. 30: Buffalo
No. 29: Arizona
No. 28: Edmonton
No. 27: Toronto
which will be followed by New Jersey winning the draft lottery.
PLAYERS CARDS, FORWARDS (STATS.HOCKEYANALYSIS, BEHIND THE NET, WAR ON ICE)
| | | | | | |
| --- | --- | --- | --- | --- | --- |
| PLAYER | BOXCARS | CORSI FOR % | OZ STARTS | 5X5 PER 60 | 5×4 PER 60 |
| TAYLOR HALL | 42, 11-19-30 | 51.1 | 58.7 | 1.87 | 2.70 |
| JORDAN EBERLE | 68, 18-34-52 | 50.7 | 64.7 | 1.83 | 5.90 |
| RYAN NUGENT-HOPKINS | 67, 19-28-47 | 50.4 | 62.9 | 1.74 | 3.88 |
| DEREK ROY | 33, 8-9-17 | 48.4 | 61.8 | 1.67 | 3.16 |
| BENOIT POULIOT | 45, 14-8-22 | 50.5 | 60.5 | 1.50 | 3.31 |
| ANTON LANDER | 25, 5-7-12 | 47.6 | 53.7 | 1.32 | 6.70 (woi) |
| MATT FRASER | 27, 3-4-7 | 45.4 | 50.4 | 1.30 | |
| NAIL YAKUPOV | 68, 11-14-25 | 45.6 | 64.2 | 1.09 | 2.77 |
| TEDDY PURCELL | 69, 9-19-28 | 49.7 | 59.1 | 1.07 | 3.82 |
| ROB KLINKHAMMER | 28, 1-2-3 | 48.6 | 36.5 | 0.83 | |
| BOYD GORDON | 64, 6-6-12 | 42.4 | 19.8 | 0.82 | |
| LUKE GAZDIC | 31, 2-1-3 | 45.8 | 60.4 | 0.82 | |
| MATT HENDRICKS | 62, 7-8-15 | 44.9 | 19.7 | 0.81 | |
| IIRO PAKARINEN | 17, 1-2-3 | 48.0 | 61.1 | 0.38 | |
| RYAN HAMILTON | 14, 1-1-2 | 38.5 | 43.5 | 0.36 | |
These numbers are always interesting but never moreso than the final days of the season. Eberle has done fine work late season and the Nuge has done some recovery work, too. Anton Lander's first real crooked numbers are here, he's okay at 5×5 and crazy 5×4 (that's via War-on-Ice which is cheating but he doesn't show up yet at StatsHA). I'd love to see Yakupov hit 35 points before the end of the year but this little run has been fun no matter the rest. We all talk about the good works of Gordon's line but I wanted to point out that Teddy Purcell hasn't been playing with Gretzky/Kurri and he has 28 points on what has basically been the third line.
PLAYERS CARDS, BLUE (STATS.HOCKEYANALYSIS, BEHIND THE NET, WAR ON ICE)
| | | | | | |
| --- | --- | --- | --- | --- | --- |
| PLAYER | BOXCARS | CORSI FOR % | OZ STARTS | 5X5 PER 60 | QCOMP |
| JUSTIN SCHULTZ | 68, 5-22-27 | 50.2 | 63.4 | 0.84 | No. 7 |
| OSCAR KLEFBOM | 47, 2-12-14 | 49.8 | 56.1 | 0.69 | No. 5 |
| MARTIN MARINCN | 28, 0-1-1 | 48.5 | 45.5 | 0.14 | No. 1 |
| NIKITA NIKITIN | 34 3-5-8 | 48.5 | 52.0 | 0.47 | No. 3 |
| MARK FAYNE | 69, 2-6-8 | 45.9 | 43.3 | 0.35 | No. 2 |
| KEITH AULIE | 21, 0-0-0 | 45.6 | 42.8 | 0.00 | No. 6 |
| ANDREW FERENCE | 66, 3-9-12 | 45.0 | 40.8 | 0.59 | No. 4 |
This is sorted by Corsi for, Oilers are interesting because the ZS push and soft parade go to Klefbom-Schultz who are the only pairing at 50% Corsi (or so). Is that more impressive than Ference, who gets the tough ZS's, has a less than tragic Corsi, and manages to post a 5×5/60 in the range with Klefbom? The Schultz pairing needs to deliver more next season with 60% ZS's and soft competition. That's kinda nuts, you can't get a better situation in the NHL. When we talked earlier this year about Justin Schultz being the hill they die on, we were at least partly kidding. Now? I'm not so sure. Coach killers come in different packages.
LOWETIDE TOP 10, 2015 DRAFT
(1)C Connor McDavid, Erie Otters (OHL) Has anyone produced like this as a 17-year old? Ever????
(2)C Jack Eichel, Boston U (NCAA) Franchise center caught in a generational draft.
(3)R Mitch Marner, London Knights (OHL) There's just too much, folks. Big offense.
(5)D Noah Hanifin, Boston College (NCAA) Best of a deep crop of two-way defenders.
(4)C Dylan Strome, Erie Otters (OHL) Big center, crazy skill. What an outstanding draft.
(6) D Ivan Provorov, Brandon Wheat Kings (WHL) Incredible offense but he can also defend.
(7) D Zach Werenski, Michigan (NCAA) Another fine two-way teenager. Lordy.
(8) C Mathew Barzal, Seattle Thunderbirds (WHL) Exceptional talent, may end up top 5 on final list.
(8) D Oliver Kylington, Farjestad (SHL). Complete defenseman, someone is going to get a major talent.
(11) C Nick Merkley, Kelowna Rockets (WHL) Wonderful play-making center. Size an issue.
I think the Oilers will select someone in the top five as listed here, Corey Pronman mentioned last week hearing Edmonton liked Marner a bunch and that's fine by me. Tonight's game is bizarro world really, the Oilers are best served by losing and yet this is a very winnable game. If the Oilers are slated to draft No. 3 and Edmonton No. 5, would the Oilers moved down two spots if Bernier was available in a deal? Kadri? I doubt it. The pick this summer could alter this franchise's destiny for 15 years. Epic. Giants walk among us—and they're babies!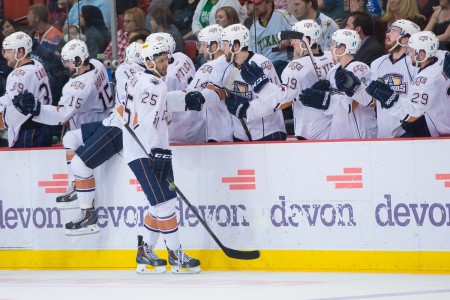 THE 50-MAN LIST (AN ATTEMPT)
I was asked about this yesterday and will attempt to compile the current list (with RFA/UFA noted). This is an important list because the sheer number of potential contracts coming online is enormous. Blame the 2013 draft, the aggressiveness of Bob Green, the new GM. There will be blood!
G Ben Scrivens (signed to one more year at $2.3M)
G Viktor Fasth (UFA)
G Richard Bachman (UFA)
G Laurent Brossoit
G Tyler Bunz (RFA)
G Frans Tuohimaa (RFA)
D Nikita Nikitin (signed to one more year at $4.5M)
D Justin Schultz (RFA)
D Mark Fayne (signed to three more years, $3.625M cap hit)
D Andrew Ference (signed to two more years, $3.25M cap hit)
D Oscar Klefbom (one more year of entry-level deal, $1.244M cap hit)
D Martin Marincin (RFA)
D Keith Aulie (RFA)
D Brad Hunt (RFA)
D Jordan Oesterle
D Brandon Davidson (RFA)
D Dillon Simpson
D Martin Gernat
D David Musil
D Darnell Nurse (Slide rule, but not for next season)
C Ryan Nugent-Hopkin
C Derek Roy (UFA)
C Anton Lander (RFA)
C Boyd Gordon
C Leon Draisaitl
C Bogdan Yakimov
C Jujhar Khaira
C Travis Ewanyk
C Kellen Lain (RFA)
L Taylor Hall
L Benoit Pouliot
L Matt Hendricks
L Luke Gazdic
L Matt Fraser (RFA)
L Ryan Hamilton
L Curtis Hamilton (RFA)
L Jesse Joensuu (UFA, he's gone for sure at season's end)
L Mitch Moroz
L Kale Kessy
R Jordan Eberle
R Nail Yakupov
R Teddy Purcell
R Rob Klinkhammer
R Iiro Pakarinen
R Tyler Pitlick (RFA)
R Steve Pinizzotto (UFA)
R Greg Chase (Slide rule, but not for next season)
R Andrew Miller (RFA)
I believe that's correct. Now, the important stuff is how many UFA and RFA's are on this list and who is coming back. Here's a very quick glance at the nuts and bolts (Oilers currently at 46 if my math is correct, remember the slide rule deals don't come into play until the new league year).
5 UFA's: Viktor Fasth, Richard Bachman,Derek Roy, Jesse Joensuu, Steve Pinizzotto.
13 RFA's: Tyler Bunz, Frans Tuohimaa, Justin Schultz, Martin Marincin, Keith Aulie, Brad Hunt, Brandon Davidson, Anton Lander, Kellen Lain, Matt Fraser, Curtis Hamilton, Tyler Pitlick, Andrew Miller.
2 Slide Rules: Darnell Nurse, Greg Chase.
So, if Edmonton cast out all of their RFA's and UFA's they would have 30 players under contract for 2015-16. We all know they won't do that, I would suggest the following players will be signed:
C Derek Roy (UFA)
D Justin Schultz (RFA)
D Martin Marincin (RFA)
D Keith Aulie (RFA)
D Brad Hunt (RFA)
D Brandon Davidson (RFA)
C Anton Lander (RFA)
L Matt Fraser (RFA)
R Tyler Pitlick (RFA)
R Andrew Miller (RFA)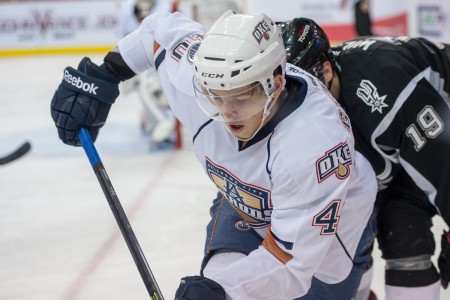 So that gets us to 40. Now, your mileage may vary but that's not important right now. We can quibble about that later, let's have a look at the players who could/must be signed and see how quickly this thing rolls from 40 to 50:
D Joey Laleggia (must be signed, he's a college senior, or he's a free agent)
R John McCarron (must be signed, he's a college senior, or he's a free agent)
L Daniil Zharkov (no idea about his signing restrictions but team does own his rights)
C Marco Roy (he's done in junior and not yet signed. Window is closing)
L Anton Slepyshev (I believe they retain his rights even if he doesn't sign but this is the natural spot)
R Jackson Houck (signs or re-enters)
C Kyle Platzer (signs of re-enters)
D Ben Betker (signs or re-enters)
G Matt O'Connor (Oilers are apparently very interested)
At least one Euro free agent (D or G is my guess)
It doesn't take long to get to 50, folks. Edmonton's 2015-16 50-man list will see major turnover. I don't think Curtis Hamilton, Matt Fraser, Tyler Pitlick, Andrew Miller, Brad Hunt are locks for the 50. We haven't even discussed men like Josh Winquist or the Jones boys OR the NHL free agent acquisitions. Major change coming to the 50 man.
 LOWDOWN WITH LOWETIDE
10 this morning, TSN 1260. We start the week with the Leafs in town but also with a new champion in our city! Scheduled to appear:
Scott Burnside, ESPN. We'll talk Kings, Blues and the exhaustion shown by teams like Chicago and Boston.
Corey Graham, Oil Kings PBP. Memorial Cup champions made it back to the playoffs! Facing Brandon? Gack!
Scott Cullen, TSN. Scott bring us the thinking man's guide to tonight's Oilers—Leafs game.
Ryan Marsh, Oil Kings Coach. Mr. Marsh was a Golden Bears coach for the last national title, we'll discuss the feeling of winning it all!
10-1260 text, @Lowetide_ on twitter. I'm surrounded by champions!