The Edmonton Oilers' lottery chances received a major push last night as the Buffalo Sabres collected two points in the tumult and turmoil battle for No. 30 overall. They will NOT write book about this race, ladies.

Man, what a race!!! All of Arizona, Edmonton and Buffalo have a chance to finish at No. 30 and the spot is worth literally millions. Each GM has a chance to turn certain professional extinction into a long, rich career as a successful executive. Building with 6's and 7's is one things, jacks and kings another, and the prize this year comes from the vault beyond the J's and K's! THIS is the good stuff.
Arizona winnable games: Buffalo, Buffalo
Edmonton winnable games: Columbus, Philadelphia
Buffalo winnable games: Arizona, Arizona, Columbus
The prize is so damn incredible! Edmonton could draft anywhere 1-4 at this point and have a chance at No. 1 if Eberle will just calm his stick!
Make that 10 of their last 19 for #Oilers PP. Anton Lander from Eberle, who is on fire. 4-0 EDM.

— Chris Wescott (@TheChrisWescott) March 17, 2015
Anton Lander is enjoying a nice run with the Oilers and hopefully it turns into a regular slot in the batting order for next season. Edmonton's important openings for 2014-15 include up the middle (G, D, C) options and among players trying to make it from the AHL to NHL Lander is probably the most ready to make the leap. It's worth looking back on his original scouting report from 2009:
Bob McKenzie: Lander is a two-way checking forward with excellent outside speed. He can make plays at full speed and controls the puck with a lot of confidence. A very unselfish player, Lander is always aware of where his teammates are and makes good crisp passes. He is a hard working forechecker, keeping his feet moving all the time. With a strong quick release wrist shot, he often uses d-men as a screen off the offensive rush. Lander drives the net hard with and without the puck and doesn't quit on the puck until the whistle goes. Reliable and disciplined, he brings a consistent effort to the rink every game and always improves his team's chances of winning a game. Will adapt and play any role given by coach."
The lesson of Lander is patience. Wait five years and then wait another. I'd like to see the Oilers go get Magnus Paajarvi in the summer (maybe add Vladimir Sobotka in the deal) and see what speed can do on the bottom six F. Lander's situation is encouraging for sure and it looks like he's definitely part of the plan for next season. Swedish Poster dropped by this blog to pass along something from the media across the pond on Monday night/Tuesday morning: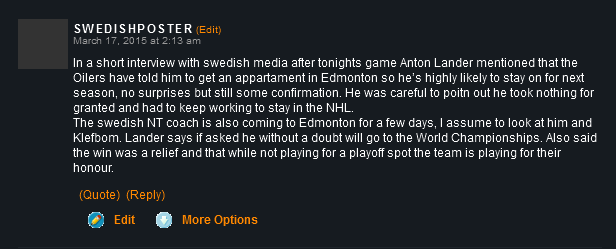 http://t.co/uDUjT2N3PT #nhl Magnus Paajarvi Is a Waiver-Wire Steal After St. Louis Blues Drop the Forward pic.twitter.com/NXVIquGqLf — WordLink #NHL (@NHLbyWordLink) December 29, 2014
Could it happen? Suspect not. However, Edmonton's off-season list does involve improved depth and Paajarvi has about three seasons worth of NHL games behind him. If your 12-13-14F group this past fall was Jesse Joensuu, Will Acton and Bogdan Yakimov, maybe picking up a speedy two-way winger isn't the worst idea.
 RECALL TODAY?
As of this writing, no recall from OKC. Andrew Miller would seem to be the obvious choice but there's also Bogdan Yakimov (two goals last night) and the club may want to see Curtis Hamilton, too. Iiro Pakarinen and Tyler Pitlick would also be in the picture without injuries. Is Taylor Hall ready? THAT could impact the race for No. 30 in a big way.
News out of GM meetings is NHL salary cap projects to $71- or $72-million. That's with the inflator from players.

— James Mirtle (@mirtle) March 17, 2015

This is (potentially) a very big deal and could be the beginning of a very lucrative summer for the Edmonton Oilers. If the cap is $72 million this coming season, some teams are going to have trouble getting under. There will/should be some Leddy/Boychuk deals during the off season even at $72 million. IF the player don't use the inflator the NHL may go ahead anyway but that brings the very touchy escrow subject into the fray. If the cap were to end up around $68 million? Teams like the Oilers would have an absolute field day.
OILERS ESTIMATED ROSTER AND CAP 2015-16 ($59.219M—est)
| | | |
| --- | --- | --- |
| LEFT WING (13.575M) | CENTER (9.85M-EST) | RIGHT WING (15.375M-EST) |
| TAYLOR HALL (6M) | RYAN NUGENT-HOPKINS (6M) | JORDAN EBERLE (6M) |
| BENOIT POULIOT (4M) |   | NAIL YAKUPOV (3.5M-EST) |
| LEON DRAISAITL (.925M) | ANTON LANDER (.850M-EST) | TEDDY PURCELL (4.5M) |
| MATT HENDRICKS (1.85M) | BOYD GORDON (3M) | ROB KLINKHAMMER (.625M) |
| LUKE GAZDIC (.800M) |   | TYLER PITLICK (.750M) |
|   |   |   |
| LEFT DEFENSE (6.319M-EST) |   | RIGHT DEFENSE (11.8M) |
| OSCAR KLEFBOM (1.244M) | | JUSTIN SCHULTZ (3.675M-EST) |
| ANDREW FERENCE (3.25M) | | NIKITA NIKITIN (4.5M) |
| MARTIN MARINCIN (.900M-EST) | | MARK FAYNE (3.625M) |
| JORDAN OESTERLE (.925M) | |   |
|   | |   |
|   | GOAL (2.3M) |   |
|   |   |   |
|   | BEN SCRIVENS (2.3) |   |
Even with fairly substantial renewals of Yakupov and Schultz (no idea what their deals will look like) Edmonton will have about $10M to play with before buying out a Nikitin or offloading a Ference. It's possible for the Oilers to take on two big contracts if the price is right. Possible targets? Chicago, Los Angeles, NY Rangers. There is great opportunity but also great danger. I'm thinking McDonagh and maybe the end up with Girardi. There should be an enormous opportunity to add a terrific top pairing defenseman, starting goaltender or veteran center. Maybe two of the three. This could be a key development for the Edmonton Oilers.
LOWDOWN WITH LOWETIDE
10 this morning, TSN 1260. We're changing format a little today, hour one will be a round table discussion focused on opinion.
Bruce McCurdy

(Cult of Hockey) and

Darcy McLeod

(Because Oilers) join me at 10 for a one-hour discussion of all things Oilers. We'll go in depth on surprises and disappointments, job performance, what can and should be changed and look forward to a very big summer.
Andrew Buchultz, 55-yard Line. Lots of changes in the CFL this off season, including a brand new commish! We'll talk to Andrew just after 11.
Dan Auchenberg, Vimy Hockey. Quick turnarounds, confidence and the power of success.
10-1260 text, @Lowetide_ on twitter. It's going to be a blast!