In his last 17 games, Nail Yakupov is 7-8-15 for the Edmonton Oilers. In those 17 games, he has 49 shots on goal, or close to three a game. Most Oilers fans want to discuss Todd Nelson's impact on the young Russian but I think it's important to acknowledge the player—our Nail has turned a corner.
Craig MacTavish: "He was rarely making a real positive decision with the puck, and now he very rarely makes a negative decision with the puck. He's got confidence. He's making more plays with the puck. He's doing things that he didn't do at the junior level, like getting pucks in deep when he needs to. He's getting to the forecheck. He's turning pucks over in the forecheck. He's hitting. And he's got a lot of confidence in his offensive game. The coach has trust in him and it's easy to have that trust and build that trust when you're seeing the type of execution he's delivering. So you give him the opportunity that he wasn't frankly deserving of before. He is now." Source

 NAIL'S SPLITS (WAR-ON-ICE)
| | | | | |
| --- | --- | --- | --- | --- |
| PLAYER | 5X5/60 | 5×4/60 | 5x5CORSI FOR% | 5×5 CF REL |
| YAK OCT-DEC | 0.8 | 2.4 | 47.6 | -2.9% |
| YAK JAN-MAR | 1.7 | 5.5 | 44.1 | -4.0% |
He's 45.9 since February 1 but there's zero doubt based on the numbers that Nail is:
Going the wrong way in the shot differential battle
Scoring at double (or more) the rate since the new year
I don't have the answers (beyond his shooting percentage being 14.3 in the last 17 games) but at some point we'll have to re-visit the Corgi's and find out why they won't bark for Nail. David Staples' scoring chances from last night suggests Nail is helping contribute to scoring chances but gives up a lot going the other way too, which is completely reasonable based on what we're seeing. More chances for are cashing, folks, and it's a long road without the puck. Same as it ever was.
For now, honestly, I'm just enjoying the fact this young man is having success. A lot of people misunderstand Nail's relationship with the fanbase: We love the kid, have from the start. It may have something to do with being protective about a young man so badly misunderstood.
Pretty happy to see the overall perception of our boy Nail Yakupov has improved. These were from Jan 2013. #oilers pic.twitter.com/JqMkDTOtN4

— Sunil Agnihotri (@sunilagni) March 18, 2015
I think Nail Yakupov is a man of integrity, who was thrilled to play with 'my captain' and has devoted himself to getting better and contributing to the Edmonton Oilers. What do I think of Nail Yakupov? Wish the Oilers had 10 more just like him.
THE NEW MATH!

The Coyotes committed to the lottery in the instant Dubnyk was traded and I wouldn't be at all surprised to see them lose 12 in a row at the end of the year. Of all the teams in the lottery window, Arizona has the fewest points from the last 10 games (3) and Buffalo the second-most (8). It may be first, third or fourth as selection options for Edmonton at this point.
LOWETIDE TOP 10, 2015 DRAFT
(1)C Connor McDavid, Erie Otters (OHL) Has anyone produced like this as a 17-year old? Ever????
(2)C Jack Eichel, Boston U (NCAA) Franchise center caught in a generational draft.
(3)R Mitch Marner, London Knights (OHL) There's just too much, folks. Big offense.
(5)D Noah Hanifin, Boston College (NCAA) Best of a deep crop of two-way defenders.
(4)C Dylan Strome, Erie Otters (OHL) Big center, crazy skill. What an outstanding draft.
(6) D Ivan Provorov, Brandon Wheat Kings (WHL) Incredible offense but he can also defend.
(7) D Zach Werenski, Michigan (NCAA) Another fine two-way teenager. Lordy.
(8) C Mathew Barzal, Seattle Thunderbirds (WHL) Exceptional talent, may end up top 5 on final list.
(8) D Oliver Kylington, Farjestad (SHL). Complete defenseman, someone is going to get a major talent.
(11) C Nick Merkley, Kelowna Rockets (WHL) Wonderful play-making center. Size an issue.
If the draft goes McDavid (New Jersey), Eichel (Buffalo) and Marner (Arizona) one suspects Edmonton selects Hanifin. It might be interesting to cast about and see what is available for that selection, though. It's also possible the Oilers attempt to trade up to the top two overall but I can't imagine anyone saying yes to dealing away McEichel. There's bad PR and there's 'something you'll be remembered for until 100 years after you're dead' and trading out of the top two this year seems like a strong candidate for the latter.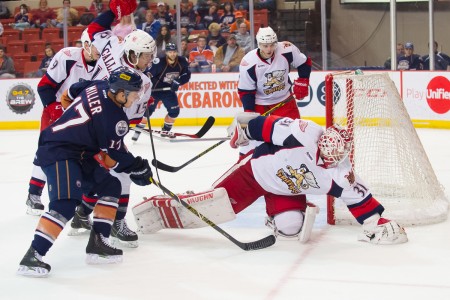 Andrew Miller made his NHL debut last night, looked good to me. Damn near scored in his first shift, showed good speed and some chem with Lander and certainly earned another game. We're at a point now where the speed of Ryan Hamilton and Matt Fraser is a legit concern, so Miller really stood out last night. He's a smaller guy and there were times when vapor lock overpowered him but that's going to be true of anyone in their first NHL game. I like him, would like to see him in more games.
Hobey Baker Top 10 is announced: https://t.co/rfGNp4fqZZ pic.twitter.com/GDLi0euKUm

— Chris Peters (@chrismpeters) March 19, 2015
Joey Legs has a chance has a chance. I don't think he'll win (Eichel) but the fact he's in the top 10 from college players this year suggests Edmonton did a dynamite drafting job him in the fifth round in 2012. I known the Oilers scouting department is responsible for everything bad ever, from the current state of the Oilers to the trouble in Ukraine, but would like to point out that there are successes from the 2009-2013 drafts. Anton Lander, Martin Marincin, Oscar Klefbom, Tobias Rieder, Yakupov, Laleggia and a lot of the 2013 draft are showing well. Bob Green being added to the group is a fine thing in my opinion but it'll also be interesting to see how these MacGregor drafts turn out. There's a lot of talent there, some of it will find its way to the NHL. We wait.
LOWDOWN WITH LOWETIDE
10 this morning, TSN 1260. Scheduled to appear:
Dennis King, Oilogosphere Icon. Nail The Great, Bettman's league, bet on Gonzaga?
Jeff Krushell, Krush Performance. The worry over head injuries is having an impact on major league sports. Is it just the beginning?
Matt Henderson, Oilers Nation and Hockeybuzz. What to do with Hall when he returns, what to do with Nikitin now that he's returned?
The rest of the list is a moving target, we'll talk football and March madness if other guests come through. 10-1260 text, @Lowetide_ on twitter. Go Zags!