It's clear now that the Edmonton Oilers plan to use Niki Nikitin in a feature role now through the end of the season. The big man received a ton of playing time last night and the numbers tell a fascinating story. Here's a look at Edmonton's blue from last night.
 NELSON'S BLUE, LAST NIGHT
| | | | |
| --- | --- | --- | --- |
| PLAYER | EV TOI | 5×5 CORSI FOR % | EV OZ STARTS % |
| JUSTIN SCHULTZ | 22:01 | 26-22 (54%) | 77 |
| OSCAR KLEFBOM | 22:31 | 18-21 (46%) | 75 |
| MARK FAYNE | 14:19 | 9-17 (35%) | 36 |
| NIKI NIKITIN | 21:03 | 21-23 (48%) | 35 |
| MARTIN MARINCIN | 12:48 | 15-12 (56%) | 22 |
| ANDREW FERENCE | 2:27 | 1-3 (25%) | 0 |
Whenever a defender goes down early it means we go back to the era of the 'extra' defenseman. If you grew up in the sixties and seventies, you knew all the 5D because they (mostly) couldn't skate and shuffled around the league. Anyway, the pairings going into last night were Klefbom—Schultz, Nikitin—Fayne and Marincin—Ference. When Ference went down, Todd Nelson found a way to get Marincin ice time but it came at the expense of Mark Fayne.
I think that's a tell. The Oilers clearly want Niki Nikitin to play big minutes (at one point he played over 2 minutes in one shift last night, it was a Belov moment) and last night he did in fact play over 21 minutes at even strength. The results? Not bad, although visually Niki reminds one of the first Igor Ulanov games (99-00, after he came from Montreal). Niki Nikitin is one year away from NHL extinction, suspect we'll see him in Edmonton this summer training for 2015-16.
I believe I just heard the Oilers broadcast say that MacTavish sees Schultz and Klefbom as their top pairing next year.

— Dustin Nielson (@nielsonTSN1260) March 24, 2015
I think we can safely say Edmonton (should they continue along these lines) will waste the 2015-16 season casting about for a defense that works. I like Klefbom and do believe Marincin can help a team but the more I see of Justin Schultz the more convinced I become there's slim hope for this player as a significant piece to a winning team. The Edmonton Oilers need to get away from him as soon as possible. Whatever his offensive ability, and it is there, the young man simply doesn't have the acumen to play NHL defense.
SOLVING THE BLUE
In word and deed Craig MacTavish has been telling us what the Oilers' future looks like on defense: Tall trees who are mobile (Klefbom, Nurse) and aggressive along with explosive offensive talents (Schultz, Hunt). If the Oilers plan to run Klefbom—Schultz as their No. 1 duo (they aren't going to be getting tragic ZS's) then it's the top tandem in name only—the toughest minutes will go to others.
Martin Marincin is a strong candidate to fill one of the four tougher minutes roles and I do think he can help a team. Edmonton needs to add two quality NHL defensemen (veterans in their 20's) into the mix if they have any hope of turning north next season. Who are these men? Well, one of them could be Jeff Petry but we know Edmonton isn't convinced of him (despite a stronger track record than they guys they currently employ).
VOLLMAN SLEDGEHAMMER (NYR, NAS, CHI, LAK)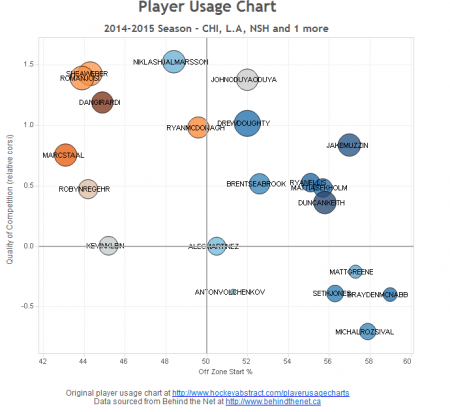 We're looking for players who can help immediately and play in the upper left quadrant (upper right only if necessary, remember we're giving the ZS push to Klefbom—Schultz). Who do you like here? Shea Weber? Dan Girardi? His bubble is green (-8.32 Corsi on, this is Corsi Rel, Qual Comp by the way) and that's not really what we're looking for here. Hjalmarsson? Sure! They're not trading him.
I think Ryan McDonagh, Marc Staal, Kevin Klein and Johnny Oduya are reasonable targets here. I've chosen teams with cap issues plus Nashville because this might be the ideal time to trade Shea Weber. Shea Weber. He's an obvious candidate because the Predators could cash him now for the back half of his career and make out like bandits. I think I'd try to target McDonagh with Kevin Klein as a backup plan.
You know that some of these names are going to cost a pretty penny, right? Part of me thinks the Oilers should stay the course but I don't think they have any time left. This city will explode if the defense doesn't tighten soon. They must get a stud defenseman and a quality starting goalie this summer.
It's going to cost you, Oilers nation. Get ready to say goodbye to something you love. Just saying.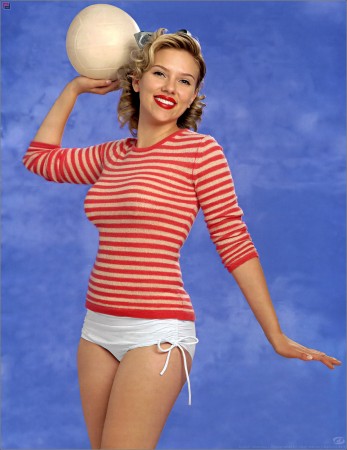 LOWDOWN WITH LOWETIDE
10 this morning, TSN 1260. Scheduled to appear:
Jonathan Willis, Cult of Hockey and Oilers Nation. Where will Edmonton get their defensive help? Who will it be? What will it cost?
Todd Cordell. His brilliant work on CHL prospects in terms of advanced metrics is very insightful. We'll talk Leon and Strome.
Travis Yost, TSN. How is Ottawa doing this? Is it too late to trade for Wiercioch?
Guy Flaming, Pipeline Show. We'll preview the Oil Kings—Wheat Kings series that begins Thursday on TSN1260.
10-1260 text, @Lowetide_ twitter. Talk soon!