Among the items Edmonton's hockey fans rarely discuss: Things that worked out. It's a small list compared to the disaster list but there are good things. Dreamy Oscar flew up from Oklahoma territory and stole the heart of (apparently) every red blooded girl from the north country—and based on the comments section on this blog a few males are swooning too. Good defense will do that to both sexes in this city, we're starved for calm feet and a winning smile. There are other good things here, too.
Last Oilers thought (for maybe forever): Benoit Pouliot has quietly had a very nice season. At least that signing worked out!

— Travis Yost (@travisyost) March 19, 2015
It's true, Mr. Pouliot is a terrific player and for a club that needed size and skill in a useful package, an absolute Godsend. How much has he impacted the team? Well, it's tough to tell by the boxcars (he was injured) but if you look at the overalls Pouliot shines.
OILERS FORWARDS STORY (HOCKEYANALYSIS & BTN)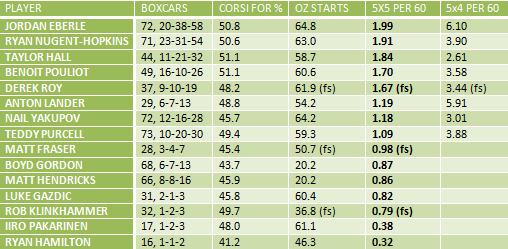 His goal-scoring total puts him past 25 in a full season and he is one of four forwards over 50% in 5×5 shot differential. Is he the fourth most productive forward here? I think he is. I always wanted him as a Pisani for the 3line but the trading of David Perron moves BP into a feature role. The numbers suggest he'll cover that bet. Impressive.
TODD NELSON, TODD NELSON
Only a 'real high-level candidate' will unseat Oilers' coach Todd Nelson this offseason. http://t.co/uPEJz4lGIs pic.twitter.com/hVxQMBjmKv

— theScore (@theScore) March 24, 2015

We've discussed Todd Nelson at length on this blog and endorsed him as the 13th coach (well, he's already the 13th coach) in Edmonton's NHL history. He passed George Burnett and Bugsy Watson on the win list, give him a little more time and he'll pass Pat Quinn and Ralph Krueger. Did you know there are only three coaches who have won 100 or more games with the Oilers? Glen Sather, Ron Low, Craig MacTavish. John Muckler won 100 if you include regular season (75) and playoffs (25). Muckler WON 25 playoff games with the Oilers! MacT won 19, Low 10. Sather? 89! 89 and 34, that was Slats in the playoffs. Bugger. What a ride.
Friedman: It's no guarantee, but it's very clear he's put himself deep into the conversation. The Oilers are determined to wait until after the season before making any decisions, but it's going to take a real high-level candidate to push him out.  Source
McLellan. Babcock. Hitchcock. Julien. There aren't many and for the life of me I can't imagine any of them coming to Edmonton with the Oilers being in such a state. Can you? The one unknown in all of this is Bob Nicholson. Well, Nicholson and Katz but the owner hasn't done anything through all of this, why stop now?
TOP 20 PROSPECTS AND THE 2015 DRAFT
Lots of chatter in the last few days about what the organization needs in this draft, specifically in regard to wingers. The thought process for several posters appears to be the club is set for a long time at wing. Appearances can be deceiving. Not long ago, Edmonton had six legit options at the NHL level but even that doesn't indicate cover. NHL teams lose players to injury, trade players (Perron being an example) and erosion strikes too. Consider Edmonton's depth on the prospect list by position:
Goal: Laurent Brossoit is the only legit prospect in the system at this time. A major area of need that will be addressed this summer.
Defense: Darnell Nurse is one of the best prospects in the system, the only negative being he's probably a year away. After that, there's a long list of kids who are working their way up (Dillon Simpson, Jordan Oesterle, Brandon Davidson) and an encouraging college draft pick (Joey Laleggia). The recent graduations of Oscar Klefbom and Martin Marincin from prospect status mean the club should pay attention to this position during the summer.
Center: Leon Draisaitl leads the way here but is not alone. The big Russian Bogdan Yakimov continues to develop in the AHL, Kyle Platzer had a quality OHL season and Jujhar Khaira looks like he may develop into a depth winger. The late development of Anton Lander is a pretty big damn deal for this team at the position.
Left Wing: A real area of weakness. Anton Slepyshev had a solid KHL season but is not yet signed. After that, there are some prospects, suspects and distant bells but no one you'd bet money on being a productive NHL player.
Right Wing: Iiro Pakarinen has the look of a guy who could contribute, plus Tyler Pitlick showed some flashes before being hurt again. Greg Chase may end up playing RW and I like his future.
The top wing positions in the NHL will be covered by Taylor Hall, Jordan Eberle, Benoit Pouliot, Nail Yakupov for the immediate future but things can change. One of the things Craig MacTavish may have to do in the next few months is give up something dear for a stud defender. Where is the organizational depth? If the Oilers draft Mitch Marner, no one should be surprised. Center is not the greatest area of need at this time, even among the forward positions. We can project the 2016-17 C position from here (Nuge, Leon, Lander, 4C) and with the trading of Perron the depth on both wings is pretty much two and out as soon as Teddy Purcell's contract expires.
LOWDOWN WITH LOWETIDE
Today on the show, we touch on several things. TSN1260, 10 this morning. Scheduled to appear:
Bruce McCurdy, Cult of Hockey. Oilers—Avalanche, can these two teams ever turn north?
Nathan Dempsey, Vimy Hockey. Ask the Coach, we talk passing the puck.
Jesse Spector, Sporting News. Baseball!
Jeff Krushell, Krush Performance. NFL Rule changes.
10-1260 text, @Lowetide_ on twitter. We'll have fun!