The Oilers should have a terrific group of rookie pro's and prospects in Edmonton and Bakersfield this fall, owing to a top five overall selection and their last two first-round selections playing in junior. The organization is hinting now that all of the kids will begin in the minors but given the history one doubts those notions have sustain.
My feeling is this: The Oilers should make both players earn their NHL entry but there's every chance both will be among the better options available in the fall. GM Craig MacTavish is boxed in with expensive veterans who aren't delivering (Nikitin, Ference, Nikitin, Nikitin) and that means openings galore for Nurse. I imagine the two veterans will see IR a lot in 2014-15 (Nikitin rented a suite a barely left) and of course it's important to remember NHL teams employ far more than seven defenders during an 82 game season.
TIME ON ICE, OILERS BLUE 2014-15
Justin Schultz 1766
Mark Fayne 1327
Andrew Ference 1321
Oscar Klefbom 1248
Jeff Petry 1236
Niki Nikitin 825
Martin Marincin 705
Keith Aulie 395
Brad Hunt 214
Brandon Davidson 132
Jordan Oesterle 88
Darnell Nurse 34
David Musil 19
The only prospects from the AHL who haven't seen action are Martin Gernat (injured) and Dillon Simpson (probably at the airport). Edmonton will likely play 9 men more than 200 minutes this season (Davidson should get close that number before season's end) and there's no reason to believe we'll see anything different next year (there were 11 one year ago).
2015-16 PROJECTED BLUE
If we proceed with what we believe (MacT's big moves this summer will be the acquisition of an expensive veteran goalie and a leader on defense farther up the Nikitin-Ference food chain), let's see if we can keep Nurse in the minors for most of the season.
Justin Schultz (a lock for big minutes next season)
Paul Martin (Jon Willis mentioned him on the Lowdown not long ago, Vollman's sledgehammer loves him)
Mark Fayne
Oscar Klefbom
Martin Marincin
Niki Nikitin
Andrew Ference
Keith Aulie
Darnell Nurse
Brad Hunt
Brandon Davidson
Jordan Oesterle
David Musil
Joey Laleggia
Dillon Simpson
Martin Gernat
Ben Betker
Or thereabouts. I think Nurse may get sent down but don't expect his AHL time to be more than 20 games. If you look at that depth chart, and know Edmonton's management values toughness combined with speed, can we seriously build an argument that sees Nikitin, Ference and Aulie healthy and effective enough to ban Nurse from the show? Not a chance.
OILERS SIGN PLATZER
Our friend Rom (in previous thread) informs us the Oilers have signed Kyle Platzer so we'll look for the news (with a link) and I'll have something on him later. Platzer went off offensively this season but should be a solid two-way center at the pro level. I think Greg Chase will end up playing the wing, meaning the Oilers will add Leon Draisaitl and Platzer to the pro C depth chart—making it look like this for next year:
C Ryan Nugent-Hopkins
C Anton Lander
C Boyd Gordon
C Leon Draisaitl
C Bogdan Yakimov
C Jujhar Khaira
C Travis Ewanyk
C Kyle Platzer (newly signed)
C Kellen Lain (RFA)
Platzer's signing is interesting for another prospect, Marco Roy. Edmonton will see him at the Memorial Cup and there's speculation he needs to have a strong finish to earn a contract. I've looked at his EV scoring and based on anecdotal information (good two-way C, intelligent) I think Roy should be signed at the end of the Mem Cup.
Edmonton Oilers signing Greg Chase scores hat trick in WHL series clincher: Saturday's 3 Stars (Buzzing The Net): http://t.co/ESXChkBAcF

— Sports in Canada (@SportsinCanada) April 5, 2015
Young Chase is already signed but won't be heading to OKC yet, as he's on to face Leon Draisaitl and the Kelowna Rockets. As mentioned above, one suspects he'll find his way as a gritty, agitating winger with skill:
R Jordan Eberle
R Nail Yakupov (RFA)
R Teddy Purcell
R Rob Klinkhammer
R Iiro Pakarinen
R Tyler Pitlick (RFA)
R Greg Chase
R Andrew Miller (RFA)
John McCarron and Jackson Houck are possible additions. Miller looks very good in the NHL—far better than expected—and with Pakarinen and Chase available next season Pitlick may have a hard time claiming an NHL job.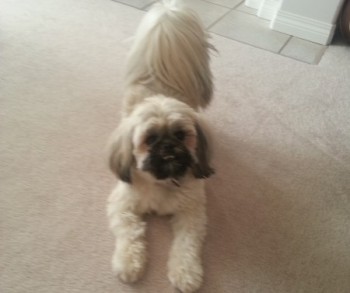 HAPPY EASTER!
Ziggy is sleeping next to me, she came downstairs an hour ago, stole the warmest blanket and will now lollygag until Jo takes her for a walk. We'll have turkey later, I'll get back from the station (first edition of Soccer Sunday, 11 this morning! Tune in if you can, no pressure) in time to help with the prep of the bird (which involves me lifting the turkey into the cooking bag and complaining bitterly about it. I'm a real catch, there's little doubt) and by two o'clock this afternoon this house will smell like heaven. The kids are sleeping, both are heading back (or in) school, so we seem to have some purpose in our step on that front. I'm good, in fact having a blast with the radio work and the writing gigs. We remain grateful for your continued generosity and hope you're looking forward to the RE series and draft coverage.
MUSIL
I was happy to see the young man make his debut, he's been mentioned as a poor or wasted pick. David Musil didn't do one damn thing to earn the slings and arrows but he received them on line just the same. Too bad, based on all we know he's a terrific young man and adjusted to pro hockey far more quickly than had been anticipated in some circles. I hope he makes it and finds a way to shove it down the throats of those who couldn't find it in their hearts to separate the draft pick from his number. It would be a valuable lesson for all of us.