The Edmonton Oilers are 16-22-6 under Todd Nelson solo but the last three games could easily be losses and the verbal on the streets contains a significant amount of ire over recent performances. I would remind everyone that David Musil, Brandon Davidson, Keith Aulie, Niki Nikitin, Justin Schultz and Oscar Klefbom are charter members of the Oilers defense. If you're mad at the coach, or mad at the players, you're doing this wrong.
Oilers under Eakins plus MacT/Nelson: 76-123 GF-GA (-47)
Oilers under Nelson solo: 112-149 GF-GA (-37)
A lot of that is power play and Eberle has been healthy, plus Nuge has taken a step forward and there was a spike in the goaltending for a time. Is it enough for us to consider Todd Nelson as coach next year? The strong performance of Lander and other youngsters (a note to all who view this as a shot at Dallas Eakins: There's little doubt in my mind Eakins lost his job because bad goaltending, poor shooting percentages and misery on the power play. This is not a condemnation of Dallas Eakins, a person can endorse Nelson without that endorsement representing piling on of Eakins. I'm stating this so that when you dm me about being a turncoat I'll have explained my pov on the front end) perhaps allows us to think about Nelson as head coach in the coming year. If that happens, his young cluster may look like this:
Defense: Oscar Klefbom, Darnell Nurse, Martin Marincin
Center: Ryan Nugent-Hopkins, Leon Draisaitl, Anton Lander
Left Wing: Taylor Hall, Benoit Pouliot
Right Wing: Jordan Eberle, Nail Yakupov
If the Oilers can add a defenseman and a winger, plus draft one or two winners this summer, maybe they can start to contend in 2016-17. I think Nelson could be a big help in developing one or two more Barons into useful NHL players. That's a big deal. The other possibility that seems reasonable is Todd McLellan and Antti Niemi moving north from San Jose in the same summer but for me that's a long shot. I don't think it's reasonable to entertain Mike Babcock coming here, your mileage may vary.
OILERS FORWARDS, 2014-15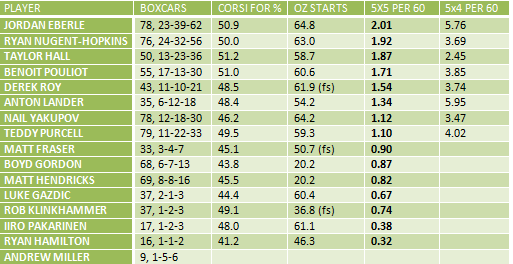 Andrew Miller's numbers are getting caught in the 'Drew Miller' player card so I cannot update (this is via stats analysis). The ZS's are also older (BTN hasn't updated since G63 or is going through some issues) so this isn't exactly the situation but does give us some idea about what's going on. Jordan Eberle recovered to have a nice season, Nuge too although it looks over now. Hall's injuries are a real worry now, I don't think he's in the Wendel Clark ward of worry but there's some grey hairs forming for sure.
Pouliot is a gem, pure and simple. I like the group of forwards (after the three) that includes him, Boyd Gordon, Anton Lander, Nail Yakupov, Teddy Purcell and Matt Hendricks. I'll even give you Rob Klinkhammer although he can't score at all (or is in a terrible slump). So, that's nine and if they sign Roy we have ten. Nelson can maybe unlock Pakarinen for the Matt Fraser role and we're close to laughing. I don't think the forwards are the issue here, especially with Lander's emergence. I'd love to see Magnus Paajarvi back next season.
VIDEO: View the #OKCBarons Plays of the Week from two road games against @CheckersHockey > http://t.co/zDG3da8Akl

— Oklahoma City Barons (@okcbarons) April 6, 2015
That was a helluva pass from Josh Winquist to Ryan Hamilton for the goal. He's a very nice player and if we're choosing between AHL LW's for the 50-man list (and signing) he has my vote to get on board. A scout told me he has a big brain and speed issues are the concern but I'll take it. Oilers need more skill in OKC and that was a skill pass, my friends.
HALL AT CENTER
Hall: "I enjoyed it last game, it would have been nice to get some production. But I felt more comfortable there then I had in the past when they played me there." Source
Such a dynamic player, if he could ever make the move to pivot the Oilers would have a goldmine. Having said that, the need to move him isn't as great, with Leon likely on the roster next season and Dylan Strome maybe a year away. Edmonton should have a strong C depth chart in the final two seasons of Hall's contract.
Joey LaLeggia officially signed to an ATO with the #OKCBarons today. He will wear number 26. #Oilers

— Eric Rodgers (@ericrsports) April 7, 2015
The Barons play tonight (I'll have updates for you) and enter a busier time (games tonight, Friday, Saturday and then three next week to end the season) so we'll see Laleggia and Kyle Platzer (who also signed) for a few games. I wonder if Curtis Hamilton gets a call to the Oilers this week? He and Laurent Brossoit are the last names MacT mentioned who haven't had a lash at the big leagues.
LOWDOWN WITH LOWETIDE
Today we rock the casbah with a strong lineup, beginning 10 this morning on TSN 1260. Scheduled to appear:
Jonathan Willis, Cult of Hockey. John will procure our defenseman and goalie for 2015-16 and help MacT at the same time. No pressure!
Jeff Krushell, Krush Performance. Live from Spain! Spain is east of Newfoundland. Jeff will help us with early days of the MLB season.
Kirk Luedeke, Red Line Report. We're going to drill down on Noah Hanifin and his future, as well as a fascinating goalie prospect named Matej Tomek.
Travis Yost, TSN Analytics. The Ottawa Senators are a compelling story, we'll touch base on an exciting week of NHL hockey (not in Edmonton, but other places).
10-1260 text, @Lowetide_ on twitter. Stay tuned!