The Edmonton Oilers continued their audition recalls this afternoon by calling Laurent Brossoit and Curtis Hamilton to the majors for the first time. The two prospects are the last remaining of a group the organization stated a desire to have a look at before season's end.

Brossoit was beaten by David Musil earlier this week for the honor of being the first Oil King to play as an Oiler but he should get a chance to play one of the final games this season. Brossoit's year has been epic in proportion, one expects he may sleep all summer. His totals (49GP, 2.65 .916) include almost constant employment in net since Bachman was recalled to Edmonton. Brossoit is the best goaltending prospect in the system, was acquired by the current GM and has an enormous opportunity based on the current depth chart. I have him ranked as the No. 16 prospect in the system, he'll be climbing in the June ranking.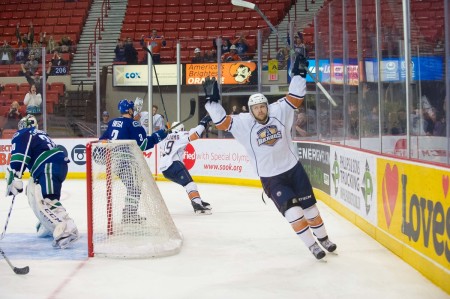 Curtis Hamilton also gets a recall after his best (and healthiest) pro season. Hamilton's 2015-16 likely involves another AHL winter and it may not be as an Oilers farmhand—the crossroads decision for the big club will no doubt be tied to names like Matt Fraser, Josh Winquist, Marco Roy and Jackson Houck. That 50-man list gets crowded in a hurry. Hamilton has had injury issues as a pro, credit to the Oilers for being so patient with him, but it's an open question in regard to his being part of the organization in the fall. That might be part of the reason for this recall, although it's not quite clear what they'll see in one or two games. Hamilton's season was easily his best and the splits between pre and post Christmas are interesting:
Pre-Christmas: 27GP, 6-10-16 .593
Post-Christmas: 33GP, 6-7-13 .394
I ranked Hamilton No. 19 on the winter list. If he plays for the Oilers in the final two games, he will be No. 6 from the 2010 Oilers draft:
Taylor Hall 297
Martin Marincin 83
Tyler Pitlick 25
Brandon Davidson 10
Tyler Bunz 1
The last Oilers draft that produced six Oilers? 2003, the year of Marc Pouliot, Colin McDonald, J-F Jacques, Kyle Brodziak, Zack Stortini, the breakable Mathieu Roy, and Troy Bodie. The best of the bunch? Seventh-round selection Kyle Brodziak.