Tyler Pitlick scored a goal in his return as the Edmonton Oilers defeated the Los Angeles Kings at Rexall last night. Pitlick started this season completely aware of the issues facing him and expressed just that when he was recalled at the beginning of December.
"For me, it's do or die if I'm going to stick." – #Oilers Tyler Pitlick on this opportunity

— Chris Wescott (@TheChrisWescott) December 1, 2014
I've always liked Pitlick's game but he's not an offensive option. I thought he might grab that fourth-line role but the injury came and then Rob Klinkhammer arrived and was signed so it looked bleak. A couple of months on and Klinkhammer's offense is more of an issue (although he's more durable) so we'll see. I'm cheering for him.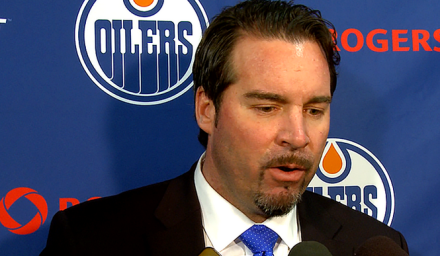 Nelson is now 17-22-6 and back to being Edmonton's modern Fonzie. I don't know if he gets the job full time this summer but  think he should be considered for the opportunity. The guy can fix a power play and Stu MacGregor is probably at a point where he can drop by the office without worrying about a pink slip thanks to Nelson. Will the Oilers go with him for 2015-16? We wait.
 OILERS BLUE 5X5 CORSI LAST NIGHT (via hockeystats.ca)
Justin Schultz 13-14 48% (OZS: 58)
David Musil 15-17 47% (OZS: 25)
Oscar Klefbom 16-19 46% (OZS: 50)
Martin Marincin 12-20 38% (OZS: 23)
Keith Aulie 7-14 33% (OSZ: 25)
Brandon Davidson 7-16 30%  (OSZ: 20)
David Musil's numbers look pretty good from here in game two, don't know where he'll land on next year's depth chart but his has been a valuable look at the young man. Klefbom had a nice night, Schultz wasn't too wobbly and Marincin plus Davidson had some angry zone starts. Aulie was lauded for big hits and fights but for me Davidson and Musil are guys who may pass him for work as early as this fall.
Anton Lander's progress as an NHL player is one of my favorite things about this lost season. Along with a clear step forward by Nuge, the C position looks much better. Lander's line (Matt Fraser and Tyler Pitlick) didn't have a lot to recommend it before last night's game (Pitlick had been out since the beginning of the year and Fraser hadn't scored in a long time) but the trio gave the Kings fits:
Corsi for 5×5/60 (via hockeystats.ca)
Matt Fraser 12-3 80% (OSZ: 33)
Anton Lander 10-3 77% (OZS: 40)
Tyler Pitlick 10-3 77% (OSZ: 40)
Imagine a world where Anton Lander can grab two C-list players and cobble together enough runs to score at .5 points-per-game next season and take on less than wonderful zone starts at the same time? Added to the Boyd Gordon 'working in the coal mine' trio of gritty veterans, that's a helluva rhythm section. We're not talking Charlie Watts/Billy Wyman but they can keep the beat and you can dance to it. The Nuge line and the Roy/Draisaitl/Hanzal line could do some real damage given that kind of support.
Anton Lander, under Todd Nelson, has taken full advantage of an opportunity given. Why is this one taking while previous auditions didn't? Well, one of the problems early came from quality of linemates (Ben Eager and 'oops, we signed him again!' Lennart Petrell were a memorable gift in year one) and he was also put into a role where one dimensional (defensive) play was the only option. You fail, you can't make amends—and every youth fails because it's the NHL.
PATIENCE AND PRUDENCE
The lessons of this season are many but the most important (imo) is staying the course with the youngsters. I like to count arrows, good and bad, and when it comes to prospects it's important to have many going in a good direction (because it's impossible to have all of them turn out). Among the 40 men I discussed during the winter Top 20 prospects process, the positive arrows for this season are abundant:
No. 1: Leon Draisaitl. Positive arrow despite NHL time that (once again) came too soon.
No. 2: Darnell Nurse. Positive arrow includes WJC and impressive run with SSM that continues.
No. 3: Oscar Klefbom. Graduated to the NHL, already one of (if not the) best D on the Oilers.
No. 4: Bogdan Yakimov. Impressive camp, building AHL resume before injury.
No. 5: Iiro Pakarinen: Looked crazy good, one of the underrated signings by MacT.
No. 6: Greg Chase. Strange beginnings but a nice ending to junior career.
No. 8: Dillon Simpson. He's been healthy and learning on the job in OKC.
No. 9: Kyle Platzer. Exceptional final season in junior, rewarded with a contract.
No. 10: Tyler Pitlick. He looks like a player I swear. If he could only stay healthy.
No. 14: Joey Laleggia. Signed a pro contract, Hobey candidate.
No. 15: William Lagesson. Enjoyed a solid campaign in Dubuque.
No. 16: Laurent Brossoit. Emerging as a legit goaltending prospect.
No. 17: Anton Slepyshev. After Christmas he turned a corner.
No. 21: Brandon Davidson. Made NHL debut and he's been solid. Could grab an NHL job next year (7D).
No. 22: Jordan Oesterle. Impressed enough to get an NHL cup of coffee.
No. 23: David Musil. As with Oesterle, earned an NHL audition.
No. 26: Ben Betker. Big man played well this season.
No. 28: Tyler Vesel. Impressed this season, looking forward to next year and more playing time.
No. 29: Andrew Miller. Fantastic step forward in AHL and a quality NHL audition.
No. 36: Josh Winquist. I think they may have found one in the Bob Green pile.
That's a lot of progress in one season. Added to Lander, Marincin and a few others at the NHL level, the development side took solid steps forward this season. That's a big damn deal and should bode well for the future. It is vitally important for Craig MacTavish to stay the course here and to build on the progress of Lander, Marincin and others. Starting over again with a new coach may be detrimental to development and the Oilers need more players, pretty much everywhere.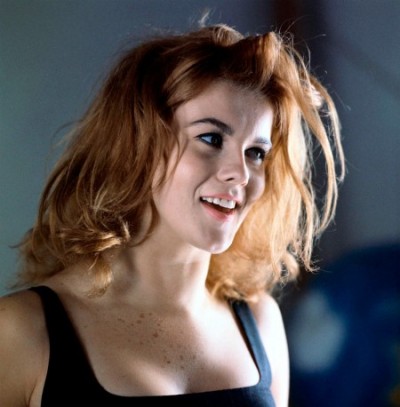 LOWDOWN WITH LOWETIDE
Wednesday already and time flies when you're having fun. Scheduled to appear, 10 this morning on TSN 1260:
Bruce McCurdy, Cult of Hockey at the Edmonton Journal. We'll talk about last night and the progress shown by the department of youth.
Nathan Dempsey, campus director at Vimy Hockey. First NHL game memories, what does it take to establish yourself at the highest levels and how do you overcome being slotted as a one dimensional player?
Scott Cullen TSN. The plan is to talk about the amazing NHL playoff race, but I love talking baseball with Cullen so don't be surprised if we dip a toe into that world too.
(tentatively) Eric Rodgers, Tend the Farm. I want to find out about Laleggia, Platzer and the playoff race.
10-1260 text, @Lowetide on twitter. Notice there is no underscore, my thanks to Woodguy for the tip that brought me home. 🙂