Get good players. Keep good players. Sign Mark Fayne, sign Benoit Pouliot, make good bets. It sounds so easy and yet there always seems to be a Niki Nikitin thrown into the fray. Add that to the two major issues I have about this season (no center until the Roy deal, no attempt to address goaltending all year) and it's very difficult to cobble together coherent thought about this management group doing constructive things this summer. How do we begin a conversation about the summer's doings when the list includes 'get Jeff Petry back?' and 'the list this summer is pretty much the same as last summer'? HOW can we begin the process of guessing the moves of summer when the men pulling the levers appear addled?
It's a tough spring, folks, leading to an impossible summer.
MACT'S SUMMER 2014 LIST
A veteran top pairing defenseman.  (Nikitin was the salve but there was a nasty, predictable reaction).
A 2line C with experience and the ability to play a two-way game.  (Derek Roy arrived much too late and isn't a two-way C).
A legit two-way winger who can score 12-15 goals.  (Benoit Pouliot, a brilliant addition).
Find a way to get value, or make use of, Sam Gagner. (Teddy Purcell, I'm going to give MacT credit for getting Purcell although your mileage may vary).
Improve the bottom 6F's. (Lander, Klinkhammer and a bunch of extra's like Pitlick and Pakarinen helped out. There seems to be enough depth to consider the issue heading in a good direction).
Retain as much of the young cluster as possible, understanding that the player who represents #1 on this list might cost a young D who will one day fill that role. (MacT kept them all).
Get Petry signed long term.  (MacT failed in this area, completely).
Sign Schultz but DO NOT break the bank. (Punted the problem down the road, to this summer).
I'll give MacT a passing grade on points 3, 4, 5, 6. He failed on 1, 2, 7 and 8. What's more, there are a bunch of things that need to be added, partly because of what he failed to do last season (Petry, etc).
MACT'S SUMMER 2015 LIST
A No.1 goaltender. (Most obvious solution is Antti Niemi).
A veteran top-pairing defenseman. (Niki Nikitin is the answer).
A replacement for Jeff Petry. (Martin Marincin is right here!)
A 2line C with experience and the ability to play a two-way game. (Derek Roy).
Trade Justin Schultz. (You're kidding, right?)
Well, the list is shorter than a year ago, but Holy Jesus that's Mount Everest.
PROJECTED OPENING NIGHT ROSTER FALL 2015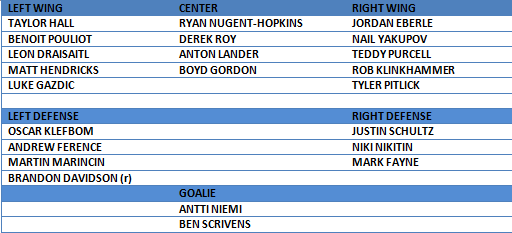 WHAT DO TO ABOUT MACTAVSH SUMMER 3?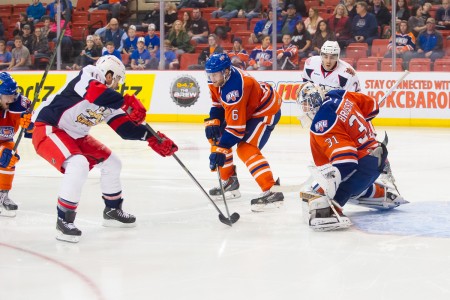 The OKC invasion continues tonight, as Laurent Brossoit and Curtis Hamilton join the crew. The number of players who have dressed for both the Barons and Oilers this season is very large:
C Anton Lander 36GP, 6-14-20
D Oscar Klefbom 58GP, 2-17-19
R Andrew Miller 9GP, 1-5-6
D Martin Marincin 39GP, 1-3-4
R Steve Pinizotto 18GP, 2-2-4
L Luke Gazdic 38GP, 2-1-3 (rehab)
R Iiro Pakarinen 17GP, 1-2-3
D Brad Hunt 11GP, 1-2-3
L Ryan Hamilton 16GP, 1-1-2
R Tyler Pitlick 15GP, 2-0-2
D Keith Aulie 29GP, 0-1-1
D Brandon Davidson 10GP, 1-0-1
D Jordan Oesterle 6GP, 0-1-1
D David Musil 2GP, 0-1-1
C Will Acton 3GP, 0-0-0
C Bogdan Yakimov 1GP, 0-0-0
L Curtis Hamilton 0GP, 0-0-0
G Richard Bachman 6GP, 2.84 .911
G Laurent Brossoit 0GP, 0.00 .000
That's a lot of Barons for one season. I think the sure keepers for the future are Lander, Klefbom, Marincin, with guys like Miller, Pakarinen, Pitlick, Hunt and Davidson coming along. Just getting started but part of the future? I'll count Musil, Yakimov and Brossoit. One other interesting fellow? Richard Bachman. I don't think they sign him for OKC but he's an interesting goaltender and if the club retains him it's fine by me.
I think that's where it's at for me as a fan at this point. I've looked at the available free agents, I've experienced the 'sign a famous goaltender' solution and none of it rhymes for me. I'd rather see the Oilers bring back Nelson, continue to develop these kids ala Lander and Klefbom, and this time next year maybe they've solved one or two of these impossible problems.
Nurse, Brossoit, Marincin, Draisaitl, Yakimov, maybe add that college goalie. I'm not in the mood to see another Nikitin brought on board for too many seasons and too many dollars. Whatever free agency brings in terms of benefit, the Oilers aren't fishing where the best fish are, so I would like Darryl Katz to take away the purchase order forms and cut off the money line. Please and thanks.
WHAT DOES THAT MEAN FOR TAYLOR HALL?
Five years in and Hall plus Eberle haven't had a sniff of the playoffs. What's more, that beautiful contract is wasting away because the team that finally procured jacks and kings can't figure our the sixes and sevens and nines. I know there's concern that Hall will one day throw his arms up and ask out, and that's a legit concern because it could happen.
The key for me is this: If Craig MacTavish goes out and sinks the team's cap future by signing Antti Niemi and Mike Green, we're looking at being cap screwed through 2020. I don't think it's possible to ask Hall, Eberle and Nuge to stay. Craig MacTavish is boxed in, he doesn't have the experience to get himself out and the assessment of talent by this organization at the pro level is wayward in the extreme.
Tell me I'm wrong. No sir. The play here is to draft and develop. Surely Darryl Katz has friends who live in Edmonton who are beginning to grumble on the other end of the line. There are no palace gates to storm, there are no easy fixes and once they lose the lottery I suspect management will have run out of ideas. When free agency comes, keep your powder dry, Mr. Katz. The answer isn't more millions, the answer is the first two sentences of this post: Get good players. Keep good players. Oh, and fire your friends.
LOWDOWN WITH LOWETIDE
Fun show this morning, plenty of Oilers talk. 10 on TSN 1260:
Dennis King, Oilogosphere icon. We'll talk Oilers at the end of another losing season and about the summer. We'll also chat baseball!
Eric Rodgers, Tend the Farm. We'll talk Brossoit and Hamilton, plus Laleggia, Houck and Platzer.
Andrew Bucholtz, 55-yard line. New CFL rules should make 55-48  games the norm beginning this season.
A couple of other irons in the fire, we'll see how this thing goes. 10-1260 text, @Lowetide on twitter. Talk soon!