The Edmonton Oilers signed Nail Yakupov to a two-year deal this morning, $5 million (or $2.5M per season) and clearly we're looking at a brand new day for player and team. Gone are the moments when the relationship looked terminal, gone are shots across the bow from his Russian agent and gone are the first three difficult seasons.
MacT: "No denying Yak has turned the corner. Our growth is going to be internal growth and incremental growth, and Yakupov is part of that. I don't think it's good strategy to trade developing players. Yak has been rewarded with a 2-year contract." Source
According to @NYP_Brooksie, #NHL cap set to fall to $68.2m next year (from $69m) if NHLPA doesn't take 5% escalator; $71.6m with escalator

— Mike Colligan (@MikeColligan) April 11, 2015
 OILERS CURRENT ROSTER AND CAP NUMBER (ESTIMATE)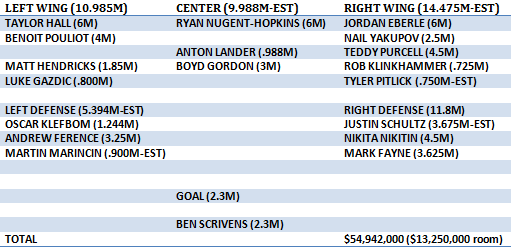 This allows the club to spend more in specific areas (goal, center and wing) and may allow them to grab a useful defenseman from a team looking to lose salary. $13M won't go far—if they sign Niemi or trade for Phaneuf then expect Leon Draisaitl on the wing and Derek Roy at center for $1.5M but there is the financial freedom to do some damage this summer.
MACT'S SUMMER WORK LIST
A No.1 goaltender. (Michal Neuvirth).
A veteran top-pairing defenseman. (Andrej Sekera).
A replacement for Jeff Petry. (Cody Franson)
A 2line C with experience and the ability to play a two-way game. (Carl Soderberg).
PROJECTED ROSTER 2014-15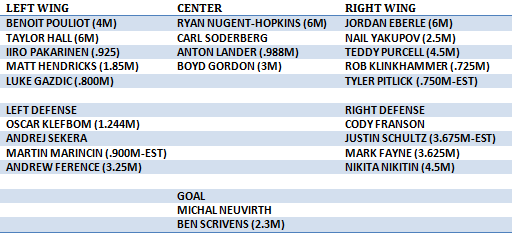 The lines and pairings are a little way out there but it's an interesting group. If the goalie bet takes (I honestly don't know but several smart posters swear by Neuvirth) the added blue line help should be a Godsend. Soderberg can move around a little (if they signed Roy too, Soderberg could move over to the Pakarinen spot) and I really like the center depth here. Will this happen? No. However, I always like to create a list and see how close the GM gets over the summer. One suspects this may be the final summer MacT gets a chance to move the mountain. His media avail today suggests he is learning a few lessons as he gains experience.
"We've got to make some additions (on the blueline)… Make no mistake, we have the assets to go out and acquire proven players." MacT

— Edmonton Oilers (@EdmontonOilers) April 13, 2015
It's impossible to know really, but there should be more defenders of note available through trade this season. If the club can find someone who can play all three disciplines at the deep end of the pool, music! Even if they attract a puck mover who can stand in there a little, I'm cool. I don't think anyone should discount Darnell Nurse making the team this fall. Oh those Oilers.
"They're going to determine their own level. I don't want to put a ceiling on them." MacT on @drtwofive and @Drat_29 destination next year

— Edmonton Oilers (@EdmontonOilers) April 13, 2015
For me, this is the proper approach and shows some growth in terms of MacT's verbal at media avails. He's not saying anything, which has tremendous value. There's no sin in sending either man down but if Nurse outplays Nikitin and Ference, or Draisaitl shows enough, well, keeping your options open is a wise choice.
MacT on goaltending: "We know that's an area we have to have intense focus on. We could go after a free agent or make a trade. The Pittsburgh pick is better than when we traded for it, and might get us a better goalie." Source
I'm not especially fond of this idea. MacT has been loose with trading picks for goalies and it hasn't worked out well. I'd wager the goalie received for a first-round pick (bet it's Talbot) could be matched in terms of quality for a lesser price. That draft pick is going to have extreme value on draft day and the goalie isn't going to be the most difficult get (defense) in my opinion.
MacT on next year: "Another developmental year with modest growth. Don't expect the draft choices to come in and move the dial. To forecast a point total would be useless at this point." Source
Sweet Jesus he's figured it out. Under promise, over deliver. Or at least I hope so.
"We're going to see what that landscape looks like and then we're going to make a decision." MacT on #Oilers head coach next season

— Edmonton Oilers (@EdmontonOilers) April 13, 2015
I think Todd McLellan might be the next coach of the Edmonton Oilers.
WHAT DOES IT ALL MEAN?
It's impossible to know based on today. MacT sounded reserved, he didn't promise one damn thing really and he basically thanked fans for last year and promised a giant cup of the same next year. Either he's crazy or he's lying, for once.
A final note on Nail Yakupov. I love this kid. He's from a world away and shows more charity to strangers than I do to friends. He signs a bridge deal before anyone could even think about the tough summer of negotiation ahead (I wrote about this being a tough contract) and he didn't get (that) much of a bump for the second year to be included (I'd guess less than $1M, your mileage may vary).
I don't want to oversell the young man, he's got lots of work to do (as we'll discuss in the RE) and much of that will be learning to stay on the proper side of the puck and to calm the hell down all over the ice. For today, I think we can all (if we choose) manage a small smile because this is a terrific young man who has miles to grow. I'm very happy Nail Yakupov signed this deal today.