I'll admit my brain was off the grid for most of last night and into the early hours of morning. I am smart enough to realize that last night was a major event but it's difficult to grasp the enormity of the situation in a single breath. The Edmonton Oilers went to the draft lottery expecting to get a major piece of the puzzle, and instead received a franchise-altering gift only the hockey Gods can bestow—and even then it's a once in a generation thing. This is mind boggling, this is incredible.
It's going to take some time, this time.
Hall—McDavid—Yakupov
Pouliot—Nuge—Eberle
Pisani type—Lander—Purcell
Hendricks—Gordon—Klinkhammer
Is that about right? You could hire Derek Roy and have him play 3C on a line with Yakupov and maybe play Purcell on another line but I like the dynamite combination of the top two lines. Oh well. We have plenty of time. Needless to say, the RE series (back up tomorrow) will take on some new meaning. Holy hell.
We're going to have to have another glance at the free-agent list, one suspects there may be a few people interested in catching a ride on the Oilers rocket in the next few months. Hell boys, I don't know how much torque this ramrod will have when it comes to procurement, but a call that includes 'we're looking for someone to pass the puck to Hall and McDavid' probably gets attention.
GOAL AND DEFENSEMEN WHO CAN PASS THE PUCK
The Oilers' winning of the lottery means that second pick in Round 1—and all other picks this and next year—need to be made available to address the following:
Puck-moving defensemen with significant NHL experience
A starting goaltender who is a lock for success in 2015-16
What does that look like? I don't know those answers but MacT has to find them. The hockey Gods gave him the biggest gift in a decade and wasting it means professional exile.
MACT'S SUMMER WORK LIST
A No.1 goaltender. (Michal Neuvirth).
A veteran top-pairing defenseman. (Andrej Sekera).
A replacement for Jeff Petry.
A 2line C with experience and the ability to play a two-way game. (Carl Soderberg).
Win the lottery. (check mark).
I added that last one for fun, but there's still plenty of work to be done and no time to waste. The defense is so much worse than the forward group it's absolutely incredible. You could justifiably turf everyone but Klefbom, Fayne and Marincin in my opinion, bringing in capable veterans if available. Goalie too, badly need a real one (I have Neuvirth here based on miles of conversation on this blog, your mileage may vary).
I've kept the 2C on this list because, despite McDavid's presence, a two-way C like Soderberg would come in handy and he can play the wing. I had Cody Franson as the Petry replacement but someone (bookje?) made some solid comments on Franson so I'm going with Nikitin as a placeholder—this should inspire us to find a better name.
PROJECTED 2015-16 OILERS LINEUP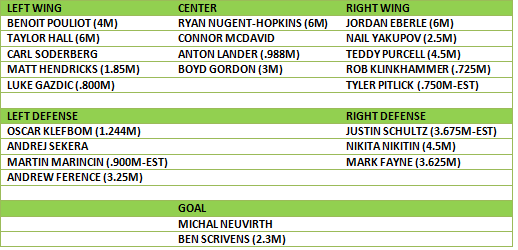 Oilers fans are going to be universally hated online because of last night, but that was the case in the 1980's and frankly I enjoyed it. Screw 'em. We were this little northern town that SOMEHOW bilked the NHL out of a brilliant kid from Toronto's own backyard (similar to Orr and Boston a dozen year's before) and even when he entered the NHL, 99 had some naysayers. So, let them talk, the Oilers won this lottery over incredible odds. Let them make all the snide remarks they want, because none. of. it. matters. The war is over. Leafs fans have been quite vocal in the last 12 hours (from what I'm seeing and reading), but they're going to get a fantastic player and their build is just beginning. I would submit to you that Edmonton is in fact a better spot for McDavid, as he'll step onto the ice with two quality linemates (Hall and someone) from the start. The Oilers have work to do but it's focused in two specific areas, which (hopefully) cuts down on the mistakes by management.
And you're damn friggin' right management has made mistakes, they're all over hell's half acre, but that doesn't mean the fanbase should be made to suffer. Bask in the warmth of the sun, ladies and men. As it turns out, No. 97 is in fact available. It's a beautiful Sunday.
The Oilers had only a 0.5% chance of winning all four lotteries they did, via @THWMark. Huge anomaly, even with the poor seasons.

— James Mirtle (@mirtle) April 19, 2015
This is luck, there's no other way to explain it. The kind of luck the hockey Gods bestow after a long period of kicking a fanbase squarely in the nuts repeatedly and with extreme prejudice, I'd guess. My WORD everything feels better this morning.
Hey @cmcdavid97 left shot black tape left side

— Taylor Hall (@hallsy04) April 19, 2015
Music! Stand back, I don't know how big this thing is going to get. We are so much closer to returning to the days when giants once again walk among us. Some sweet day just got one helluva lot closer.
SOME WORDS FROM OUR NEW BOY KING
McDavid: "It would be a dream come true. It would be a great situation to be in. They've had a couple tough years but the support they receive is amazing and I think that speaks volumes to the fans support they have in Edmonton. And obviously the group of guys they have there is pretty special. If it happens to be me they select with the pick, it would be a tremendous honour to step in with a group of talent like that."
More McDavid: "If I'm selected there it would be amazing. It would be a an absolute honour. Why would there be any disappointment. Edmonton won and it would be an absolute honour. I guess if it is Edmonton I'll be getting a coat." Source

You are already adored on all the avenues in Edmonton, young man. We cannot wait to see you in orange and blue. And for God sakes someone tell Darnell to play nice in that big series between SSM and Erie. I still can't believe this. What's better than this? Seriously. I'm at a loss. THIS is as good as it could possibly get for long suffering Oilers fans. Drink deep. Enjoy. Go a little loopy. You, Oilers fan, have every right to enjoy your good fortune.
Don't let anyone tell you otherwise.