After nearly a decade of walking around waiting for anvils to fall on us ala Wile E. Coyote, the news these days is absolutely crazy. It seems every morsel of information involves something that lies between fantastic and impossible. And so it goes.
The news that Mike Babcock is future shopping was met with glee by Oilers fans—that in itself is a surprise unless you haven't been paying attention to the spring of the impossible dream. Edmonton is IN the Babcock sweepstakes and the McLellan race and Todd Nelson is getting an interview too. I don't think there's a bad fit in the bunch, Babcock has the appeal of being No. 1 candidate so yeah, let's see how this rolls.
The main point is this: Life as we knew it is over. Come down from the trees, the war is over and the only loud noises are the ringing in your ears from all those awful nights.
Ken Holland: "When we went to Grand Rapids (last weekend), spent four hours together in the car, we had a great talk. I told Mike that we'd like to re-sign him, we want him back. He would like the opportunity to explore any possibilities that are out there for him. Certainly, we are a possibility." Source
He's gone. The only question: Where?
BU free agent G Matt O'Connor expected to decide within the next 48 hours which one of 4 NHL teams – EDM, NYR, OTT, VAN – he'll sign with.

— Bob McKenzie (@TSNBobMcKenzie) May 8, 2015
This would be a very good thing for Edmonton. Their depth chart needs to be four (quality) deep and with only Ben Scrivens and Laurent Brossoit on the depth chart there's plenty of room for more competition. For those thinking that four is too many, remember the idea isn't just to have a No. 1, but also develop a future starter and to trade excess for value elsewhere. At one point in the early 1970's, the Montreal Canadiens had Rogie Vachon, Phil Myre, Ken Dryden, Chico Resch and others under their control. Too many goalies doesn't exist.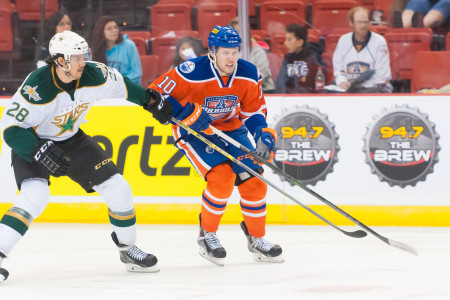 Curtis Hamilton scored a huge OT goal last night deep into the lid-lifter against the Utica Comets. The teams get together again tonight and the Barons have a chance to take a big lead early in the series. I'll update the scores as they come in and I'm sure several of you are watching online and will update (it's appreciated). Same lineup as last night, so no Darnell Nurse.
Chasing History – Connor McDavid @ErieOtters 42PTS – 6th best all-time playoff total heading into #OHL Final #OSHvsER pic.twitter.com/1CrYk2UfrJ

— OntarioHockeyLeague (@OHLHockey) May 8, 2015
Also in action tonight, Connor McDavid. I'll update, suspect there will be plenty of video (but no game) as well. Leon and Kelowna play Brandon too, so it should be a fun night for hockey fans.