Elliotte Friedman, the nation's biggest newsbreaker, has become as important to a Saturday night as a full liquor cabinet. He told us the news about the Oilers and their pursuit of Todd McLellan on Saturday, and added to the prose during his 30 thoughts yesterday.
Friedman: The Oilers aren't commenting about their situation, but several sources both in North America and attending the World Championships say Edmonton is concerned about waiting for Babcock and not getting him. As a result, they are working on closing a deal with Todd McLellan. At this point, it's as much up to the coach as it is to the Oilers, but at least one other team pursuing McLellan was hearing Saturday that a deal was close, if not done. Whatever the case, Edmonton is making it known they will close on him rather than wait to talk to Babcock. Source
Terry Jones quoted Hall and Ebs the other day, and they seem impressed with McLellan's style:
Hall: "That's definitely a possibility. You don't know what he's thinking but I saw Peter Chiarelli. I don't know if they interviewed but he's a great coach. I have a ton of respect for what he teaches and I've learned a lot so far."
Eberle: "In a short term event like this, sometimes the coaches can be a little light hearted, but so far McLellan has been on track and on the ball every step of the way. He showed us what he's all about when we went down by three to Sweden and he kind of rallied us. I have nothing but positive things to say so far. Hopefully he's one of the candidates. I look forward to see what's going to happen there."
My read on all of this? You don't need a telegram, Sam. Let's get McLellan and Jay Woodcroft in here right away, so Peter Chiarelli can move on to addressing the defense and goaltending. Besides, it's been several days since this: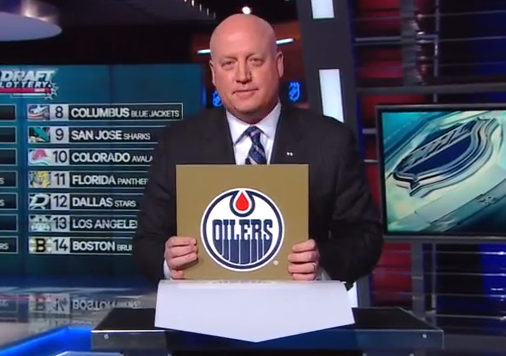 Does Connor McDavid need a two-way veteran mentor? Someone like Justin Williams? I'm not sure he will need that player if the Oilers can get the phenom into good offensive situations—plenty of O-zone starts and Taylor Hall on the port side. Tyler Seguin had Michael Ryder with him as a rookie along with men like Blake Wheeler, Mark Recchi and Chris Kelly. A combination of size, skill and experience.
Taylor Hall played more (Hall played 954 EV minutes as a rookie in 2010, Seguin 792) and had less experienced help (Eberle & Gagner, although Horcoff did play with him about 30% of the time at 5×5). Would Hall and Justin Williams be a better plan? Or is Hall—Yakupov the way to go?
I have seen the future of the Edmonton Oilers, and it's name is Connor McDavid. Music!
PROJECTED FIRST ROUND (LOWETIDE EDITION)
 C Connor McDavid, Erie Otters (OHL) Fantastic talent.

 C Jack Eichel, Boston U (NCAA) Franchise player.

 R Mitch Marner, London Knights (OHL) Brilliant offensive player.

 D Noah Hanifin, Boston College (NCAA) Complete skill set, money passer. Best D available.

 C Dylan Strome, Erie Otters (OHL) Big C with skill, tremendous value.

 D Ivan Provorov, Brandon Wheat Kings (WHL) Extraordinary ability to move the puck out.

 C Mathew Barzal, Seattle Thunderbirds (WHL) Quick, skilled, dangerous. Smart.
 R Mikko Rantanen, TPS Turku (SML) Creative, responsible, great passer.
 D Zach Werenski, Michigan (NCAA) Terrific offensive defender.

 R Timo Meier, Halifax Mooseheads (QMJHL) Tremendous talent, NHL-ready?

 R Nick Merkley, Kelowna Rockets (WHL) Strong two-way skills.
 R Evgeni Svechnikov, Cape Breton (QMJHL) Big, strong and skilled.
 C Anthony Beauvillier, Shawinigan Cataractes (QMJHL) Small, elite skills.
 D Jeremy Roy, Sherbrooke Phoenix (QMJHL) Offensive D, has ability as a defender
 D Mitchell Vande Sompel, Oshawa (OHL) Undersized two-way defender. Substantial skills.
 C Jansen Harkins, Prince George Cougars (WHL) Two-way center, skilled.
 C Kyle Connor, Youngstown (USHL) Smart two-way forward.
 C Travis Konecny, Ottawa 67's (OHL) Impressive player with range of skills.
 R Daniel Sprong, Charlottetown Islanders (QMJHL) Quick, skilled first-shot scorer
 D Oliver Kylington, Farjestad (SHL) Great wheels, solid defender.
 L Jake Debrusk, Swift Current (WHL) Goal-scoring winger with speed.

 R Blake Speers, SSM Greyhounds (OHL) Two-way W, good speed. Terrific player.
 C Pavel Zacha, Sarnia Sting (OHL). Big, physical center with average offense. Solid U18's.
 G Daniel Vladar, Kladno (Czech 2) 8GP, 1.97 .933
 D Ryan Pilon, Brandon (WHL) Two-way defender with size and speed.

 C Joel Eriksson Ek, Farjestad (SEL) Skill C with size, speed.
 C Andrew Mangiapane, Barrie (OHL) Brilliant offensive player.
 L Lawson Crouse, Kingston Frontenacs (OHL) Power forward with vague offensive skills
 C Filip Chlapik, Charlotteteown Islanders (QMJHL) Two-way C, range of skills

 R Jeremy Bracco, USNTDP (USHL) Small forward with fast hands, great skill.
Oilers could walk away with McDavid, Roy and Speers. I suspect we'll see an early day two selection sent away for a goalie or a defenseman, but dare to dream. I hope the analytics people are hammering Chiarelli and staff with slide rules and Bunsen burners.  We'll be able to tell you know. If the Oilers are drafting Blake Speers or Zach Senyshyn, if they call out Tyler Soy or Jesse Gabrielle, then we'll know the math people have found their way into the decision room.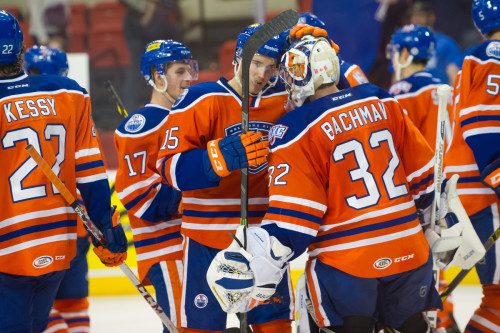 Game three of the Barons-Comets series goes tonight, the next three will be home games for Oklahoma City. I won't have a GDT up (the RE series moves to afternoons most of this week) but will post updates in the comments section of the 5 o'clock item. One of the things I wonder about Peter Chiarelli so far? No confirmation (that I've seen) on his seeing a Barons game. There's plenty of talent playing (or possibly playing) on that roster, one would think that a chance to see Martin Marincin and others is worth a plane ticket and a day.
As for Darnell Nurse, he may get the call tonight or later this week:
Chris Westcott: But as the black aces took to the ice on Sunday at the Cox Convention Center in Oklahoma City, Nurse was not among them. With three games at home over the next four days, Nurse could see his first American Hockey League post-season action of the year as early as game three on Monday.
Barons' coach Gerry Fleming: "We'll talk about it tomorrow. He's looked good, he's performed well. So we'll evaluate it tomorrow."
Westcott's excellent article is here. So far this playoff season, the Barons have been running the following blue:
Brad Hunt: 5GP, 0-3-3 with 15 SOG
Jordan Oesterle: 5GP, 1-1-2 with a PP goal
Martin Marincin: 5GP, 0-2-2
Brandon Davidson: 5GP, 0-0-0 with 17 SOG
Dillon Simpson: 5GP, 0-0-0
David Musil: 3GP, 0-0-0
Joey Laleggia: 2GP, 0-0-0
Musil missed some time attending his Grandfather's funeral but is back and has played both games against the Comets. Who would draw out of the lineup? My guess is they dress seven D unless someone is suffering from an injury. The Barons blue has been productive this spring, Marincin's presence is clearly a big help. Who should Nurse be paired with? I'll go Musil, although Davidson might be a good choice as well.
LOWDOWN WITH LOWETIDE
We're back! 10 this morning, TSN 1260. Scheduled to appear:
Scott Burnside, ESPN. Ducks—Flames went to OT, McLellan as an Oilers coach.
Scott Mitchell, Calgary Sun. We'll talk CFL draft, Scott will have a mock draft up later today.
Dennis King, Oilogosphere Icon. Flames season ends, Oilers offseason rocks on with McLellan possibly close.
Bob Weeks, Score Golf. A fabulous playoff at the Players.
10-1260 text, @Lowetide twitter. See you on the radio!