Sportsnet is reporting this afternoon that the Edmonton Oilers will name Todd McLellan coach of the team, possibly as early as Tuesday (tomorrow). The report is here. McLellan is a bona fide NHL coach, one of the best available in many years and the handling of this hiring (targeting McLellan before Mike Babcock was on the market) suggests McLellan was their No. 1 target for coach.
Earlier this week, I spoke to Derek from Fear the Fin, and he offered some excellent insight on the Oilers new coach:
Derek/Fear the Fin: "I think this is a great hire for Edmonton. I think the main thing you can expect from McLellan—especially with the personnel he's now going to have in Edmonton—the power play is going to be fantastic. The Sharks have routinely the best power play in the league in terms of shot metrics and conversion percentage."
Derek/Fear the Fin: "He plays a bit of a conservative system in the neutral zone, there's a lot of dump and chase hockey but it works unlike your average dump and chase team because they play a very aggressive forecheck. It's the two-on-two offensive forecheck the Kings and the Blues have had a lot of success with. The defenseman on the strong side will pinch to keep the puck in the zone and the extra forward (high forward) will cycle back to cover him on the point."
Derek/Fear the Fin: "For most of his (San Jose) tenure it was pretty much a puck mover with a stay-at-home type on the blue line. We saw a bit of a shift the last few years as the Sharks acquired more puck-moving guys. For the most part I think he's going to look to shelter more offensive types with a defensive defenseman."
Read up on McLellan here:
MCLELLAN VOLLMAN D 2014-15
McLellan had a tough-minutes/zone start pairing in Marc-Edouard Vlasic and Justin Braun, he won't have that here but Mark Fayne did play a similar role this past season in Edmonton. Finding someone for the Vlasic role will be a big part of the procurement department's job and the answer may not arrive this summer.
MCLELLAN'S VOLLMAN F 2014-15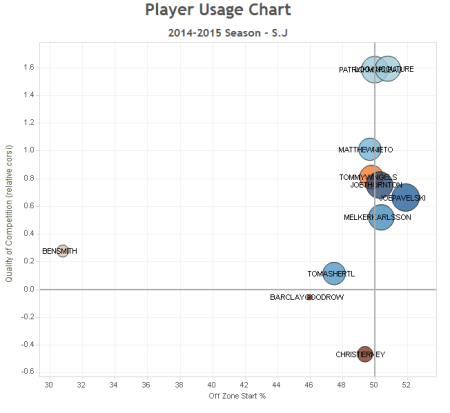 Here is McLellan's forward roster on a line from this past season. Hard for an Oilers fan to imagine a row of ZS's at 50% for the season. Incredible. I'll monitor this story this afternoon and update as information comes available.
This. Is. Amazing.