A major day in Oilers history, as Todd McLellan arrived in the city and was announced as Edmonton's new coach. There is much to get to this afternoon, so let's get started.
Chiarelli on why McLellan? "Watching his teams over the years, he's taken teams with young players and taken them to a higher level, I've seen what he's done with those players. Taking young skill players and teaching them to play hard."
McLellan on why Edmonton? "Once I met with the people in this organization, I felt very comfortable with it. It fit for what I want to work for as a coach. Young players who want to win."
If this press conference was a song, it would be "The First Time Ever I Saw Your Face" by Roberta Flack. Trust me. The highlights for me?
A subtle moment when Todd McLellan was explaining his power-play success and made a point of explaining it was about the 'why' and the 'how'. It struck me as such a simple—but vital—insight into the way he probably communicates, and why he is well received.
I was also impressed by his awareness in terms of staying up to date both in communication and strategy. These are key points in business, no reason to believe they're less important in sports.
He spoke about Boyd Gordon and Andrew Ference, but also a need to have experienced and newer players in the battle together, meshed was a word I believe he used. We've heard 'disconnect' in the past, interesting McLellan's words were less confrontational and more positive.
Talked about McDavid and mentioned he was a stunning player but also made certain to talk about his youth and the fact he would need support. I thought that was a great answer.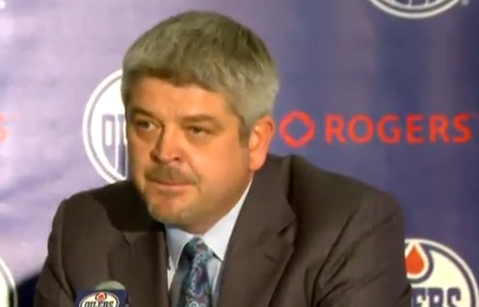 McLellan: "One of the things I did in Prague was spend some time with Sidney and I asked him what it was like as a young 18-year-old coming up that way and some of the hardships he may have had or didn't have; and some of the things he appreciated from his teammates or the organization that allowed him to blossom. It's tough to be that player in this world, especially in a Canadian market, but Connor will be fine. He'll get what he needs from the Oilers' organization, the coaching staff and his teammates. And he is just one piece on the team. It's going to be about the whole, not individuals, and that's how we're going to approach it." Source
McLellan said focus will be building a foundation not solely playoffs.Smart.For too long in Edm the end result was focus more than journey.

— Jason Gregor (@JasonGregor) May 19, 2015
The next step for Peter Chiarelli and Todd McLellan is to find the right group for the coaching staff and suss out the 2015-16 starting roster.  In regard to changes, we're all looking for clues but there are really none at this time. We shouldn't be surprised if the roster opening night has many of the same players we see now and this summer may also see a major change.
Chiarelli did speak with Holland about Babcock but never officially asked for permission to speak with him. Mclellan was the guy from day 1

— Ryan Rishaug (@TSNRyanRishaug) May 19, 2015
The chemistry must have been something.
McLellan: "It's going to go up. That's what the plan is, it's to take the organization and begin to climb the mountain. We have to chart our path to begin with, we have to determine what we want to be and how we want to look.  We have to find the players — within the organization right now, not looking outside — and put them in the right spots. With all of that there's pain. There's nights where we're not going to be pleased. But there's four teams playing right now that experienced that throughout the year too, they have painful nights, they just have fewer of them. We're trying to take those painful nights and diminish them throughout the years to the point where we can be at the top of the mountain." Source
If you and I were to sit down and fashion a paragraph that eased the worried minds of the fanbase and told them that logic, good sense and competent leadership had arrived to bring a new day, I doubt we could have done better with a month of Sunday's.