It's important to reiterate something that happened last month, and that's the verbal from the McDavid family. I don't know about you, but the anticipation of Connor McDavid arriving at the draft to be selected by Edmonton is rocket fuel for the soul.
Brian McDavid: "If he's selected first overall by the Oilers on draft day, it's going to be a big thrill for him." Source
I was lucky enough to be an Oilers fan when the all-time greats first rolled into town and believe me it's less a bolt of lightning in the early days and more like a promise of a change in the weather on the horizon. We know Connor McDavid is special, we know he'll change this city and organization forever, but what will it look like?
That's what I would encourage you to do at this point in time. Sit yourself down and get a really good feeling in your mind about what it's been like to be an Oilers fan these last years. Hold that thought in your mind, get a really good feel for it. And then next May revisit that feeling and see how it shines. I'll tell you, the day Edmonton drafted Kevin Lowe, Mark Messier and Glenn Anderson not a lot changed (not on that day) and we really didn't have any idea about Gretzky's impact either.

An amazing moment in history, but no hint of Stanley's in the news item that ran. I can tell you that John Short (then of the Oilers) met the plane at the airport and picked up the trio to take them to a hotel. Mio informed Short they'd refueled using his credit card, and was hopeful that could be repaid before his wife found out and went into shock. "The WHA" and "unpaid" met a lot in the same sentence back in the day.
Anyway, enjoy this please. At some point we had a sense of things being grand but you must remember the Oilers were getting screwed over left, right and center by the NHL during this time too (the Oilers and Winnipeg Jets were pummeled repeatedly during the expansion draft process). I probably remember the rage over losing Bengt Gustafsson (after being promised he could remain an Oiler) more than anything during that time.
Gretzky had 6 points in eight games with the Racers, but posted 104 in 72GP after arriving in our town. We were absolutely in love by Valentine's Day and that bond remains for player and city. As a fan, I hope McDavid and my city have a similar relationship over the next several decades.
Part of this thrill is the anticipation. Drink deep. This is the good stuff.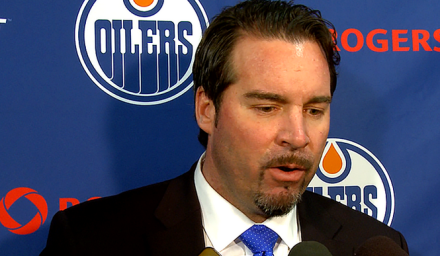 The Oilers have reportedly (via Elliotte Friedman) given Todd Nelson permission to check out the other 29 head coaching jobs to see if anything shakes loose. At this point, I imagine Nelson has some conflicting thoughts rolling all round his brain. Selfishly, I'd love to see him stay, helping with the transition from minors-to-majors for prospects like Anton Lander (the last six months of Lander's career scream Nelson's value).
That said, Todd Nelson has earned the right to coach his own team and I sincerely hope he gets it. Last season's performance must have had an impact in the industry and maybe there's a Carolina out there for him. Godspeed, Todd Nelson.
GM of #Avangard told TASS Vladimir Sobotka likely to stay in the #KHL #STLBlues #NHL

— Igor Eronko (@IgorEronko) May 22, 2015
If that's the case, St. Louis may be convinced to move him during the coming season, possibly at the deadline. Chiarelli once sent Sobotka away (in a terrible deal at about the same time as the Oilers were drafting Tyler Pitlick), would love to see him make it right by getting the talented forward for the Oilers.
Jim Rutherford is looking for a first-round pick and the Penguins are a team I can see Chiarelli doing business with at the draft. I doubt Olli Maatta or Derrick Pouliot are available, however.
25 years is a long damn time. How long? Forever.
I tracked some numbers for Mathew Barzal, Jansen Harkins, Mitch Stephens & Denis Malgin from CAN vs SWI at the U18's http://t.co/6YIx4BTasb

— Todd Cordell (@ToddCordell) April 28, 2015
FIRST ROUND MOCK
Every Saturday, I post my draft list and every Saturday someone says "no way that happens" and then I post "this list isn't designed to predict the first round" and that tells me there might be some interest in what we all think in terms of what will actually happen. With that in mind, here's a mock.
Edmonton: C Connor McDavid. If they don't pick them, may the Hockey Gods fire them all into the sun.
Buffalo: C Jack Eichel. Stunning player, he was exceptional at the WHC's. Franchise player.
Arizona: C Dylan Strome. The desert dogs finally get their big skill C.
Toronto: R Mitch Marner. There's simply too much offense to pass on.
Carolina: D Noah Hanifin. Hurricanes get fantastic luck and nab the best D in the draft.
New Jersey: C Mathew Barzal. Incredible skater, tremendous vision. Cornerstone piece for the offense.
Philadelphia: L Lawson Crouse. I'm sorry, it's just too perfect.
Columbus: D Ivan Provorov. Instant offense from the blue, he's going to be special.
San Jose: R Nick Merkley. Dynamic offensive player, he'll shine on the coast.
Colorado: R Mikko Rantanen. Range of skills is too much to pass on despite needs elsewhere.
Florida: D Zach Werenski. The building of a monster blue continues.
Dallas: D Jeremy Roy. He falls into their laps and will impact the WC for years.
Los Angeles: R Timo Meier. A real straight shooter, impact offensive prospect.
Boston: C Pavel Zacha. Big man for the big plans of Cam Neely.
Calgary: L Evgeni Svechnikov. Big, strong and skilled. Buggers.
Edmonton: D Jakub Zboril. Oilers reach for a two-way defender because it's their way.
Winnipeg: C Anthony Beauvillier. Because the Jets are good at this stuff.
Ottawa: C Travis Konecny. They'll love the modern Bobby Clarke.
Detroit: C Jansen Harkins. A perfect Red Wing.
Minnesota: C Kyle Connor. Smart forward with skill.
Buffalo: R Brock Boeser. Power winger for the future.
Washington: D Thomas Chabot. Another quality defender off the list.
Vancouver: L Jake DeBrusk. Scoring winger spiked this past season.
Toronto: R Blake Speers. Fantastic skill winger.
Winnipeg: R Daniel Sprong. Because the Jets are run by smart people.
Montreal: C Filip Chlapik. Two-way C.
Arizona: D Mitchell Vande Sompel. Some kind of talent.
Philadelphia: C Nicolas Roy. Rugged two-way C.
Anaheim: C Colin White. Impressive two-way C.
Tampa Bay: C Joel Eriksson Ek. Two-way C.
Leaving an absolutely insane amount of talent for the top of round two. Crazy.