I guess I've been collecting draft stories forever, from the Pittsburgh Steelers burying the John Stallworth videotape to the Leafs overlooking both Bobby Orr and Brad Park in a two-year span. Favorite Oilers stories involve Glen Sather being impressed that Mark Messier was hammering on the head of Edmonton's No. 1 center, and Nuge's edges.
Stare at anything long enough and you begin to figure it out, know the subject and predict things about them. Joe Morgan, the great second baseman, used to talk about pitchers telegraphing their pickoff throws. It wasn't one thing, it was many, he said. Marriage is like that, if you hang with it long enough and are the sort to bother noticing habits and changes in the weather.
The Oilers have a bunch of tells at the draft table. Peter Chiarelli will change things, but how quickly? Going by the old mission statement, we could predict a lot about Edmonton's 2015 draft. We could predict a few things:
Connor McDavid goes No. 1
A defenseman taken at No. 16 unless the pick is traded OR Timo Meier or Evgeny Svechnikov fall; the defenseman would be Jeremy Roy or Thomas Chabot
They would take a goalie (probably Mackenzie Blackwood) with the pick at No. 33.
Math and NHLE fans would feel the club's picks at 57, 79 and 86 projected as better value selections.
LOWETIDE TOP 30, 2015 DRAFT
(1) C Connor McDavid, Erie Otters (OHL) ALJ. 0-60 in one heartbeat.

(2) C Jack Eichel, Boston U (NCAA) Big, strong, elite. Complete skill set.
(3) R Mitch Marner, London Knights (OHL) Growing belief he'll go inside top 4 overall.

(4) D Noah Hanifin, Boston College (NCAA) Best D in a deep class. Across the board skills.

(5) C Dylan Strome, Erie Otters (OHL) Cornerstone in Toronto?

(6) D Ivan Provorov, Brandon Wheat Kings (WHL) Quality offensive player, good defender.

(7) C Mathew Barzal, Seattle Thunderbirds (WHL) Solidified ranking with quality U18's. Fantastic skater.

(8) R Mikko Rantanen, TPS Turku (SML) Has a wide range of skills, good size.

(9) D Zach Werenski, Michigan (NCAA) Terrific offensive defender. Good size.

(10) R Nick Merkley, Kelowna Rockets (WHL) Impressive offensive player.
(11) R Timo Meier, Halifax Mooseheads (QMJHL) Tremendous talent, NHL-ready?

(12) L Evgeni Svechnikov, Cape Breton (QMJHL) Big, strong and skilled. Magic hands.
(14) C Travis Konecny, Ottawa 67's (OHL) Impressive player with range of skills. Modern Bobby Clarke.
(13) D Jeremy Roy, Sherbrooke Phoenix (QMJHL) Offensive D, has ability as a defender.
(15) C Anthony Beauvillier, Shawinigan Cataractes (QMJHL) Small, elite skills. 5.16 shots/game.
(18) C Kyle Connor, Youngstown (USHL) Smart two-way forward.
(21) L Lawson Crouse, Kingston Frontenacs (OHL) Power forward with some offensive skills.
(22) C Pavel Zacha, Sarnia Sting (OHL). Big, physical center with average offense. Solid U18's.
(16) C Jansen Harkins, Prince George Cougars (WHL) Two-way center, skilled.
(20) L Jake Debrusk, Swift Current (WHL) Goal-scoring winger with speed.

(17) R Blake Speers, SSM Greyhounds (OHL) Two-way W, good speed. Terrific player.
(28) D Oliver Kylington, Farjestad (SHL) All over the map, high risk/reward pick.
(19) D Mitchell Vande Sompel, Oshawa (OHL) Undersized two-way defender. Substantial skills.
(26) D Jakub Zboril, Saint John Sea Dogs (QMJHL) Two-way D, solid offense.
(23) R Daniel Sprong, Charlottetown Islanders (QMJHL) Quick, skilled first-shot scorer
(24) C Joel Eriksson Ek, Farjestad (SEL) Skill C with size, speed.
(25) C Filip Chlapik, Charlotteteown Islanders (QMJHL) Two-way C, range of skills

(37) D Thomas Chabot, Saint John Seadogs (QMJHL) Fine passer, solid defender.
(40) F Colin White, USNTDP (USHL) Fine skater, two-way player.
(34) R Zach Senyshyn, SSM Greyhounds (OHL) Terrific speed, no fear. Skilled.
Projected Oilers selections (based on the old ways):
No. 1: C Connor McDavid
No. 16: D Jeremy Roy
No. 33: G MacKenzie Blackwood
No. 57: L Ryan Gropp
No. 79: C Alexander Dergachyov
No. 86: D Gustaf Bouramman
Projected Oilers selections (if Chiarelli is changing the draft culture and is about to seize the day:
No. 1: C Connor McDavid
No. 16: R Timo Meier
No. 33: C Anthony Beauvillier
No. 57: R Blake Speers
No. 79: D Noah Juulsen
No. 86: L Vladimir Thachev
Blow your brains out. I know the Oilers would get trashed (undersized skill) but if ever there was a draft to just keep on taking high-end skill guys this is the one. Draft the offensive players who may be difference makers and find your defensemen in the second round or via trade. If Beauvillier turns out, Edmonton is going to be able to trade from strength to address weakness. If Beauvillier is there at No. 33, Edmonton should take him and forget about the goalie.
The first four picks should be 'shoot the moon' and Peter Chiarelli has a golden opportunity. There's so much talent here, take it all dammit. Figure out how to deploy the riches after they're secured.
Félicitations Alexis Loiseau! Contrat 1 an 1 volet dans le club école des Oilers d'Edmonton! http://t.co/I6Hg6clvnR pic.twitter.com/d2SxP37Ii2

— Océanic de Rimouski (@oceanicrimouski) June 1, 2015
FINAL BARONS SIGNING LOOKS LIKE A GOOD ONE
It was reported during the Memorial Cup championship game that the OKC Barons signed C Alexis Loiseau from the Rimouski Oceanic. This is a substantial player—a center, 20, 6.01, 180 and he scored 96 points in 68 QMJHL games in 2014-15. And with that, it also apparently signals the end of the Marco Roy era in Edmonton, as the club hasn't signed him and this is deadline day. It'll be interesting to see if Roy signs an NHL contract with any of the 30 teams. As mentioned above, the Oilers have been spending a lot of time in Quebec province, suspect Loiseau isn't the only prospect coming from the Q.
 ROY VERSUS LOISEAU, 2014-15

Loiseau is 298 days older than Roy and he's absolutely a better offensive player. I'd still sign Marco Roy if I'm the Oilers, but this Loiseau fellow is  legit talent, that much is clear.
COMBINE
Traditionally the Oilers value the NHL combine highly, although only one of their six picks attended last season (I wrote about the invite list this season at Oilers Nation and the list is here). Among the unusual names are three WHL players that are on the list and we should be aware of in regard to the Oilers (later on):
D Andrew Nielson, Lethbridge Hurricanes. Big two-way defender. He can pass the puck well and play defense. 6.03, 207. I had him No. 23 on my WHL list.
D Chaz Reddekopp, Victoria Royals. Moved up from No. 199 to No. 82 in the final rankings, he's described as a big body defender who spiked as a prospect after November.
D Connor Hobbs, Regina Pats. Two-way D with a funky skating style and big shot from the point. Quite likely Edmonton has him on their list. Cody Nickolet of WHL From Above has more on Hobbs and all of the dub kids. Splendid article.
McCrimmon is talking to Leafs and @TSNBobMcKenzie mentions other NHL teams. McCrimmon has ties to Oilers Bob Nicholson and Todd McClellan

— gary lawless (@garylawless) June 1, 2015
Kelly McCrimmon would be very useful to the Oilers organization on all kinds of levels, including draft and Oil Kings. With the Wheat Kings poised to be a power in the CHL over the next three seasons, I wonder if he'll go to Toronto (or Edmonton) now? Very successful on the junior level.
CAM TALBOT, BY LARRY BROOKS
Brooks: It is unlikely that Edmonton or Buffalo, two teams with a pair of first-round picks in the upcoming draft that are seeking a goaltender, would be willing to yield one for Cam Talbot. Unless the Blueshirts can get that sort of a premium in return for their backup, they are far better served by keeping him rather than dealing him, even if he is heading into the final year of his contract. Source
I think the Oilers could get Talbot for No. 33 overall, and I'd be willing to make that trade (and believe me, there's zero doubt these early picks have extreme value). We'll see, and there is danger (he's one year from UFA) but Talbot looks like a perfect fit for Edmonton at this time. Woodguy's fine work in this area suggests Talbot and Jonathan Bernier are the top targets, securing Talbot (while also retaining a second, later second-round pick) would be an astute move by Peter Chiarelli.
.@Drat_29 is the 2015 @MCMemorialCup MVP! pic.twitter.com/g4IBwRNTRJ

— The WHL (@TheWHL) June 1, 2015
Leon had a fantastic season, despite the wonky decision-making by the Oilers front office. As was the case with Anton Lander, the Oilers decided he was ready and that was moved, seconded and passed into law without any thought about the possible implications. Fast forward to end of December, and MacT finally turned the rig around and got Leon to junior. Where he proceeded to work hard and help his team win hockey games, and they won enough of them to get into OT at the Memorial Cup final game. I think Kelowna may have been the better team, but it's a coin flip (that's the nature of the tournament) and congratulations to the Oshawa Generals. That kid who scored twice is a nice player.
A quick note on Leon in regard to next season. The Oilers have a nice situation in the fall, with Connor McDavid joining a trio of NHL centers (Nuge, Lander, Gordon) and some interesting options (Leon among them) in the bubbling under category. I think the Oilers will try to send Draisaitl down to Bakersfield but there's every chance he'll beat the competition for the 3L spot and end up playing with Lander. We'll see, but there's not close to enough quality imo to keep him off the roster unless the Oilers decide to send him down no matter how well he plays.
I think it's also possible we see Boyd Gordon dealt at the draft. Now, before you go crazy, let's remember that Todd McLellan didn't employ a shut down line with punishing zone starts, preferring instead to roll the four lines equally in terms of ZS. If that is the plan, then Gordon's main use will have been neutralized and a team like Vancouver (who are shopping Eddie Lack) may become interested. As you'll recall, Vancouver was interested in Gordon at the time Edmonton signed him.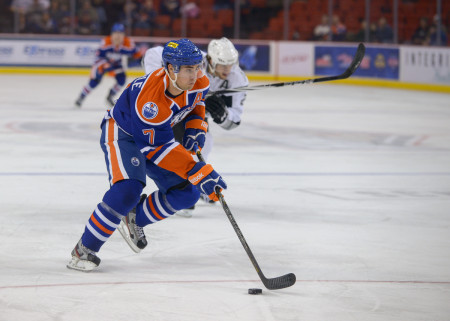 LOWDOWN WITH LOWETIDE
A packed show today, TSN1260 beginning at 10 this morning. Scott Burnside is on a plane, so we'll talk to him tomorrow morning at 11. Scheduled to appear today:
Chris O'Leary, Edmonton Journal. Is it June yet? Eskimos TC underway, and an Alabama CB has been signed.
Patricia Teter, Artful Puck. We begin our 'say goodbye' series with Patricia. We'll talk about the best memories and she'll give us her all-time Barons team.
Todd Cordell, Hockeybuzz. Todd has been breaking down fancy stats for the Memorial Cup, we'll get a good look at Leon Draisaitl, Nick Merkley and others.
Dennis King, Oilogosphere Icon. NHL and NBA playoffs, plus the Oilers summer.
Bob Weeks, Score golf. A monster June awaits in the world of golf.
Dave Jamieson, TSN 1260. Dave was at day one of the Eskimos camp, we'll chat about the team and the season ahead.
10-1260 text, @Lowetide on twitter. See you on the radio!