It's NHL combine week and there's plenty of information for fans to sift through. Among the most interesting? WHY are some of these kids invited? The short answer is that NHL teams have requested the outliers, the players who don't appear on Central's top 75 and get invited because there's significant interest. Any NA prospect outside No. 100, or Euro outside top 20, is an intriguing invite. Here's the Invite list with NHL Central Scouting ranking.
D Nicholas Boka, No. 117NA. Plays for the USNDTP in the USHL, has average size, can move the puck and is a good skater. His major crime appears to be that he doesn't possess any outstanding skill.
D Caleb Jones, No. 115NA. Same team, USNDTP in the USHL. More of a defensive defender, he's a mobile player and has average size for the pro game (6.0, 194). He is Seth's brother, interesting prospect.
R Mathieu Joseph, No. 125NA. Hard working two-way winger. Scored 21 goals for Saint John of the QMJHL last season.
D Justim Lemcke, No. 137NA. A big two-way defender, decent speed, his offense isn't enough to get him PP time. I had him No. 25 on the OHL list for this draft.
L Hayden McCool, No. 147NA. PF with speed, enough skill to be interesting. I have him No. 117 overall.

C Brett McKenzie, No. 120NA

. Two-way C with skill. I have him No. 98 overall.
G Luke Opilka, No. 12NA G. This is quite the outlier, his SP in the USHL was .888. Interesting story.
C Chase Pearson, No. 123NA. Scott Pearson's boy, he's a center with size who plays a checking game.
C Mitchell Stephens, No. 112NA. Speedy C had a massive U18's. I have him at No. 41 overall.
You know who had great interest in Girardi at last years deadline? Peter Chiarelli, aka Edmonton Oilers GM.

— Brandon Crandon (@brandoncrandon) June 1, 2015
We all have our favorites—and non-favorites too—but for me Girardi of the Rangers has some foot speed issues that take him out of the running. When we discussed possible options via free agency the other day, it really impressed upon me that signing a younger (Franson, Petry) UFA is really important. Craig MacTavish acquiring Mark Fayne and Niki Nikitin last season during the free-agent window didn't turn the organization around, but lordy I agree with getting a younger free agent.
Feel like I am late to Party but apparently #Canucks looking to move Lack so Markstrom can play NHL next year. I like Lack would do MTL pick

— Supernova (@romanmaximus1) June 1, 2015
Great point by Supernova here. Lack would be a nice get (doubt Vancouver does business with EDM) and the Montreal pick (late second round, No. 57 overall) should be in play. I'd go No. 33 for Talbot, but Lack is a nice goalie too.
Josh Winquist might turn some heads next season. Kid has great hands & a creative mind. Color me impressed. #OKCBarons

— Neal (@tweetneal) April 12, 2015
If the Oilers are going to set Marco Roy free, and today was the deadline, I hope it means Josh Winquist gets an NHL contract. The young winger spent extended periods in a feature role with the Barons and delivered quality offense. A good way to reflect those periods is via monthly scoring totals in OKC:
December: 9GP, 1-1-2
January: 7GP, 3-3-6
February: 10GP, 0-0-0
March: 12GP, 3-5-8
April: 8GP, 1-2-3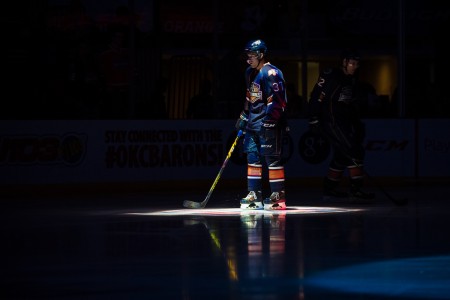 (Josh Winquist, by Rob Ferguson. All rights reserved)
Winquist is a smart player and a talented one. The Oilers depth chart at LW (among signed players) looks like this currently:
Taylor Hall
Benoit Pouliot
Matt Fraser (RFA)
Matt Hendricks
Luke Gazdic
Ryan Hamilton (No. 1 AHL LW)
Anton Slepyshev (recently signed)
Curtis Hamilton (RFA)
Mitch Moroz
Kale Kessy
The concerns are 3L at the NHL level and whether or not to sign Curtis Hamilton (I think they'll walk him, but as a fan I'm hopeful). If the Oilers add Winquist in there, he's the No. 3 scoring option in Bakersfield and maybe Slepy plays RW. Winquist has a scorer's pedigree, as reflected by his NHLE's over the years:
Age 18 (2011-12) 82GP, 7-8-15
Age 19 (2012-13) 82GP, 12-13-25
Age 20 (2013-14) 82GP, 17-17-34
Age 21 (2014-15) 82GP, 8-10-18
Did he show enough? We'll find out soon.