We are 23 days from the NHL Entry Draft and the power and the glory. Peter Chiarelli is working hard, Todd McLellan is running through reams of foolscap figuring out lines and pairings, and fans are dreaming of winning on opening night. The sun shines often enough for life to be good and we're staring a summer holiday straight in the face. Things are well in our northern town.
Connor McDavid about his combine interview with the Oilers: "It was exciting and obviously that's the kind of team you want to be with if you are drafted No. 1. [Chiarelli] was saying all the right things. He was intense and he's definitely looking to win. He's not going to settle for mediocrity. I just want to make an impression with teams I talk to, make sure they understand what kind of guy I am and what I can bring to their team. Other than that I just want to make sure they know I'm doing all the right things, working hard in the gym, and maybe they'll put together a decent score for me." Source
It's very difficult to contain excitement and we're three weeks away. I'm like a day away from 'giants walk among us' and 'will he score 90 or 120 points as a rookie?' but pledge to you that the hyperbole will be (slightly) less here than Kardashian level. Poor McDavid, when he does his pre-draft visit to Edmonton it could get crazy. Connor McDavid appears to be a typical teenager, but Edmonton is ready for Beatlemania. It'll be fine.
THE SUMMER OF TODDS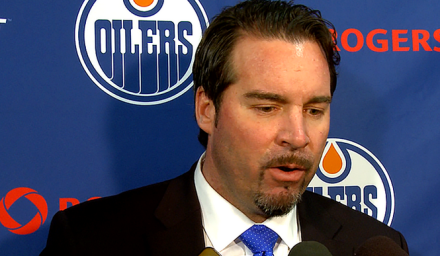 There appears to be a chance that Todd Nelson will be part of the Todd McLellan coaching staff. Aside from hilarious moments at the office ("Todd, line two, it's urgent and they need to talk to only you!") it's also a good idea for Edmonton.
For at least next season, having Nelson around would be beneficial for all kinds of players. From Lander to Marincin to Brandon Davidson and Laurent Brossoit, Nelson would have a story and know the abilities of each player. Hope this happens. One thing we're going to see, and I'm pretty sure on this, is a major culling of the coaching staff. I'm not sure who is a coach and who is a vice-president at this point, but man o man (60's phrase) there's a boatload of them.
ANDREJ SEKERA OFF THE MARKET SOON?
Dean Lombardi on Sekera's situation: "I think we have the parameters of a number. Up until late last week, often times it's hard to get even a number to see if you can plug it in. So I think we'd have to arrange that it would take. Now, have we been countered with an offer yet? No. That's all I can say on that one now. I would say that I don't think his number's outrageous. He'd like to stay here, and so by virtue of that, he ends up in some of your schematics." Source
It could be stark on July 1st, it looks like Godot's dream of Franson might be the only reasonable option. Folks, this is looking more and more like a trade summer. The cost of Cody Franson and Mike Green just went up and I don't think anyone believes Edmonton has the assets to trade for a top 4D and a starting goalie. Back in the olden days, the Oilers would trade two picks for Jason Smith or find Steve Staios for just money, but that kind of thing doesn't happen for the Oilers nowadays. The current D depth chart (Nikitin, Fayne, Ference, Klefbom, with Marincin and Schultz RFA) is so far away from adequate the mind boggles at the job ahead.
What would you do? Seriously. Petry is signed, it sounds like they're going to take a run at Sekera in Los Angeles. MacT put this team in a helluva spot and it's going to cost more than just money to get back to even (and that was no screaming hell). Ghastly decision, effectively wiping away the progress made in other areas and stapling Chiralli's first summer to the bottom of the sea. That's a whole lotta awful, folks. You know what doesn't work in the modern NHL front office? Stubborn. The more I look at this, I like the idea of trading for the right to negotiate with Cody Franson. Thoughts?
DRAFT OPTIONS
Evilas had a good idea in the comments section yesterday, saying "Regarding draft predictions, I think it would be more interesting to pick 5 players that the Oilers might be targeting per pick. Given the depth of this draft, I predict that there will be a lot of deviation this year. So, to use 5 players/pick would provide a better cushion from this. I too have a sense that Chiarelli will be picking Crouse at 16, if they keep the pick and if he is still on the board."
So, let's try that for the first four (these need to be top dead center):
No. 1 overall: C Connor McDavid
No. 16 overall: R Timo Meier, L Evgeni Svechnikov, D Jeremy Roy, C Pavel Zacha, D Thomas Chabot
No. 33 overall: C Anthony Beauvillier, R Blake Speers, D Oliver Kylington, R Brock Boeser, G MacKenzie Blackwood
No. 57 overall: D Ethan Bear, L Ryan Gropp, D Noah Juulsen, L Jordan Greenway, D Matt Spencer
The Oilers should come out of the first two rounds with some outstanding bets. IF they draft Blackwood and go off the board for Dennis Gilbert, we'll know that analytics didn't breath any air in the war room. However, if Edmonton plucks McDavid, Svechnikov, Beauvillier and Bear? Music! There are teams that are going to come out of this draft with Getzlaf—Perry levels of fantastic, pray baby Jesus we are one.
LOWDOWN WITH LOWETIDE
A busy show with a variety of guests, it's going to be fun. TSN 1260 this morning at 10. Scheduled to appear:
Bruce McCurdy, Cult of Hockey. Bruce wrote an informative piece on Justin Schultz yesterday, we'll talk about areas that Schultz could be useful on a winning team.
Jimmy Quinlan, Edmonton Rush and Co-director, Vimy Lacrosse. Edmonton Rush on the verge of a championship, we'll talk to Jimmy about the long road to glory.
Scott Burnside, ESPN. We didn't get our Monday chat, but Scott will help tee-up the SCF's as they begin tonight.
Neal Livingston, Tend The Farm. Our final look at the Barons, with Neal offering his all-time team.
10-1260 text, @Lowetide on twitter. Talk soon!