I'll have my final draft list up on Saturday, June 20. That's less than two weeks from today and I still don't think Oilers fans (me included) have grasped the enormity of the lottery win. Sidney Crosby is two weeks away from being an Oiler! The mind struggles to comprehend it. The initial rush of excitement has been replaced by an adjusted lens, a change in focus, almost exactly what happened to me years ago in the moments after seeing Howard Hughes' Spruce Goose (incredulous, followed by wonder, and then 'hey, it's  cool old plane, but I'm hungry').
LOWETIDE TOP 30, 2015
Current number (Last week) (Bob McKenzie's final ranking)
(1) (1) C Connor McDavid, Erie Otters (OHL) 6.0 (and a half), 188 pounds at the Combine.

(2) (2) C Jack Eichel, Boston U (NCAA) Buffalo Sabres get franchise center. Amazing luck. Seriously.
(3) (4) R Mitch Marner, London Knights (OHL) He'll go No. 4 or No. 5

(4) (3) D Noah Hanifin, Boston College (NCAA) Arizona has first shot. Do they draft him, then deal OEL?

(5) (5) C Dylan Strome, Erie Otters (OHL) I think he goes No. 3 or No. 4 overall.

(6) (8) D Ivan Provorov, Brandon Wheat Kings (WHL) Quality offensive player, good defender.

(7) (9) C Mathew Barzal, Seattle Thunderbirds (WHL) Fantastic player. If he falls, EDM grabs him.

(8) (10) R Mikko Rantanen, TPS Turku (SML) Has a wide range of skills, good size.

(9) (11) D Zach Werenski, Michigan (NCAA) Terrific offensive defender.

(12) (18) L Evgeni Svechnikov, Cape Breton (QMJHL) Big, strong and skilled. Magic hands.
(11) (12) R Timo Meier, Halifax Mooseheads (QMJHL) Tremendous talent, NHL-ready?
(10) (17) R Nick Merkley, Kelowna Rockets (WHL) Impressive offensive player.
(13) (15) C Travis Konecny, Ottawa 67's (OHL) Impressive player, range of skills. Modern Bobby Clarke.
(14) (29) D Jeremy Roy, Sherbrooke Phoenix (QMJHL) Offensive D, has ability as a defender.
(15) (43) C Anthony Beauvillier, Shawinigan Cataractes (QMJHL) Small, elite skills. 5.16 shots/game.
(18)   (6) C Pavel Zacha, Sarnia Sting (OHL). Big, physical center with average offense. Solid U18's.
(17)   (7) L Lawson Crouse, Kingston Frontenacs (OHL) Power forward with some offensive skills.
(16) (13) C Kyle Connor, Youngstown (USHL) Smart two-way forward.
(19) (30) C Jansen Harkins, Prince George Cougars (WHL) Two-way center, skilled.
(20) (28) L Jake Debrusk, Swift Current (WHL) Goal-scoring winger with speed.

(24) (14) D Jakub Zboril, Saint John Sea Dogs (QMJHL) Two-way D, solid offense.
(22) (24) D Oliver Kylington, Farjestad (SHL) All over the map, high risk/reward pick.
(21) (72) R Blake Speers, SSM Greyhounds (OHL) He may be my modern Marc Pouliot.
(28) (25) D Thomas Chabot, Saint John Seadogs (QMJHL) Fine passer, solid defender.
(29) (16) F Colin White, USNTDP (USHL) Fine skater, two-way player.
(25) (33) R Daniel Sprong, Charlottetown Islanders (QMJHL) Quick, skilled first-shot scorer
(26) (23) C Joel Eriksson Ek, Farjestad (SEL) Skill C with size, speed.
(30) (40) R Zach Senyshyn, SSM Greyhounds (OHL) Terrific speed, no fear. Skilled.
(36) (42) D Travis Dermott, Erie Otters (OHL) Undersized, mobile defender.
(27) (39) C Filip Chlapik, Charlotteteown Islanders (QMJHL) Two-way C, range of skills

In a mock draft on Saturday that included qualified people (bloggers of note, some msm) I came away with McDavid at No. 1 and Svechnikov at No. 16 (Paul Almeida chose Merkley at No. 16). If the Oilers keep the pick, and I believe they will, this is going to be a draft to remember. The first round could take care of 33% of Edmonton's top 6F for a decade. Seriously.
DRAFT FOR NEED
Drafting for need is a mistake at No. 57, you can imagine how I feel about it at No. 16. Here are the top prospects in the system, by position:
G: Laurent Brossoit, Eetu Laurikainen
D: Darnell Nurse, Joey Laleggia, Dillon Simpson, William Lagesson, Brandon Davidson, Jordan Oesterle, David Musil, Ben Betker
C: Leon Draisaitl, Bogdan Yakimov, Kyle Platzer, Jujhar Khaira
L: Anton Slepyshev, Josh Winquist, Mitch Moroz, Kale Kessy
R: Iiro Pakarinen, Greg Chase, Andrew Miller, Tyler Pitlick
If the Oilers select (with their top four selections) Connor McDavid (a center), Evgeni Svechnikov (LW), Blake Speers (RW) and Ethan Bear (D), that would represent both terrific value and address need. If they end up with McDavid, Svechnikov, Eriksson Ek and Chlapik—three C's and an L—we should rejoice, for we will know the Oilers have learned slash are listening to the right messages.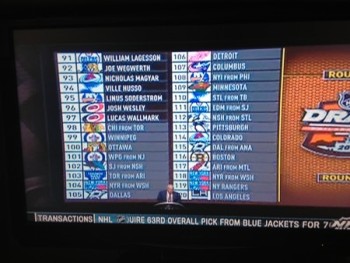 WILLIAM LAGESSON, SMART FELLOW
This is the time of year when unusual information usually comes to the fore and this tidbit fits. An article on the weekend from THN details the kids who played with Dubuque of the USHL and graduated high school.
GM/Coach Matt Shaw: "To be honest, I think Lagesson's grades might have been the most impressive, just because his command of the language wasn't that great when he got here last fall. But he approached school the same way he plays hockey. He worked at it and really grinded it out. His lowest grade was a C-plus, which is pretty good when you consider the language barrier and the fact that our (hockey) schedule can be pretty demanding at times and the guys occasionally have to miss school." Source
Oilers do like smart kids, if you go back years it'll be clear they do put high importance on grey matter. Lagesson had (from what I've read) a good season, it'll be interesting to see how he performs in college hockey this fall. While I'm at it, Jonas Siegel has an interesting article about what the Leafs are doing with their spring and getting ready for the draft. The Leafs, always a sleeping giant, appear to be waking up.
DEPTH CHART!
Lots of comments on yesterday's depth chart, with one item being mentioned a lot: McDavid needs a veteran winger. So, allow me this possibility:
Hall—McDavid—Justin Williams
Pouliot—Nuge—Eberle
Draisaitl—Lander—Purcell
Hendricks—Gordon—Klinkhammer
Klefbom—Schultz
Marincin—Fayne
Nurse—Nikitin/Ference
Talbot—Scrivens
Thoughts?
LOWDOWN WITH LOWETIDE
A busy Monday, 10 this morning TSN1260. Scheduled to appear:
Scott Burnside, ESPN. SCF, will McDavid be as good as Crosby?
Andrew Bucholtz, 55-Yard Line. CFL training camps are flattening depth charts. Eskimos in some trouble after yesterday.
Dennis King, Oilogosphere Icon. Holy hell Lebron.
Bob Weeks, Score Golf. wth Tiger?
10-1260 text, @Lowetide on twitter. Talk soon!