Let's go back to the beginning of the off season and have another look. We know Peter Chiarelli will be bringing in a starting goalie, and our list (the one we gave MacT) was fairly straight forward.
SUMMER SHOPPING LIST
Win the Lottery.
A No.1 goaltender.
A veteran top-pairing defenseman.
A replacement for Jeff Petry.
A 2line C with experience and the ability to play a two-way game.
That's Chiarelli's list now, and the No. 1 item (incredibly) has been accomplished. The rest of this list is enormous—it's doubtful PC can get everything done before September—but that No. 1 G should help a lot. Let's go to the Vollman.
VOLLMAN SLEDGEHAMMER, DEFENSE 2014-15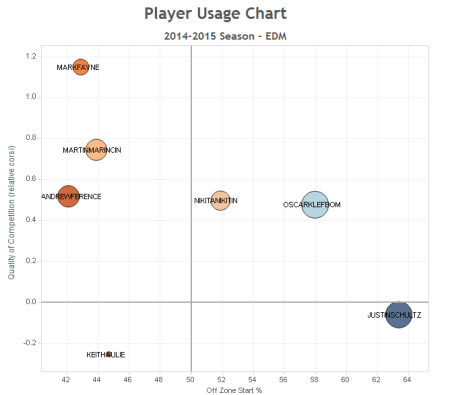 Todd McLellan has Mark Fayne, who was Stone Alone in death valley most nights this season. Getting Fayne some help would be job two (after the G) for Chiarelli and that player isn't on the roster. The Oscar Klefbom—Justin Schultz pairing is the most likely to return and should be successful at 5×5—at least in terms of possession—if they're gifted monster ZS's as they were a year ago.
Todd McLellan ran a tough minutes shut-down pairing in San Jose (Vlasic—Braun) and Chiarelli might be trying to get Andy Greene for his new coach as we speak. If MacLellan gets a chance to see these men in TC, he might be able to find a role for:
Martin Marincin

. I'll go to my grave believing MM said or did something the coaching/management staff didn't like and the Oilers, being a losing organization, may cut off their nose to spite their face. If McLellan, who has in fact successfully deployed defensemen who aren't physical types, gets a chance to use Marincin during 2015-16 my guess is we see the big man here through the rest of the decade in a top 6D role.

Andrew Ference

. The captain had the most difficult ZS's on the team among defenders and was unable to push the river, despite playing secondary opposition. My bet is he ends up as a third-pairing/pressbox option and is given far less severe ZS's plus easier opposition. He should look better in that role and of course would be better off with a useful partner.
I don't think Niki Nikitin can help, but there are others who do believe it. The Oilers would be far better off without Schultz, Ference and Nikitin (that's big money, over $10 million, on defensemen who aren't helping enough) but that isn't an option currently. If McLellan finds a role for Marincin—and I honestly don't think that's a difficult item—and can hide one of Ference or Nikitin (I'll take Ference, at least he'll show up ready in TC), then we may see less bleeding by the blue.
VOLLMAN SLEDGEHAMMER, FORWARDS 2014-15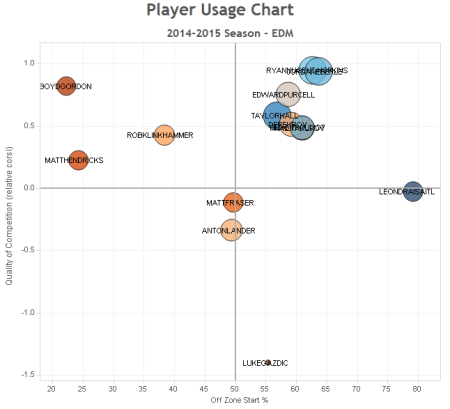 The Oilers have some splendid forwards, McLellan is going to run Nuge, Hall, Eberle, Poulior, Purcell the same way as Eakins/Nelson did (or similar), as long as those men are back in the fall. He'll also be able to run McDavid with the pack, and in San Jose he didn't appear to use a Boyd Gordon hell-line trio.
POSSIBLE CONCLUSIONS
I think there are some things we can gather from these graphs, especially when applying Chiarelli and McLellan to the group. We know Craig MacTavish suggested small progress before he was replaced, but Chiarelli may (suspect he does) see some opportunity to improve this roster markedly in some important spots. If Boyd Gordon no longer plays tough opposition with poor ZS's, will his offense improve? Yes, but I don't think he'll help in this area. Can Anton Lander fill that 4line role if the ZS's aren't severe? Yes, I think he can. So, McLellan might be able to run a center depth chart of Nuge-McDavid-Soderberg-Lander if Chiarelli can secure the former Bruin. That would allow the team to deal Gordon in a trade for the new Jeff Petry.
Win the Lottery.
A No.1 goaltender, possibly Cam Talbot.
A shut down partner for Mark Fayne, possibly Andy Greene.
A 2line C with experience and the ability to play a two-way game (Carl Soderberg)
A replacement for Jeff Petry (using Boyd Gordon and other assets).
I think we can get a good goalie to Edmonton without breaking the bank but the defensemen (I'm picking Andy Greene here, and betting the Petry replacement is Marincin) who can help and grow with the group  is going to cost some of these assets:
Nail Yakupov
No. 33, 57 overall picks in 2015
first-round pick in 2016
second-round pick in 2016
The Oilers are McDavid's team the moment he's drafted (another reason No. 16 and No. 33 are so important). Young D like Nurse and Klefbom will mature in front of that group, becoming the Keith—Seabrook portion of the plan. The Chiarelli list then, is slightly more involved than the MacT list and we can agree it might take more than the summer.
CHIARELLI'S LIST
Find a quality goalie option (Talbot, etc)
Acquire a legit partner for Fayne (Andy Greene, suspect this costs Yakupov)
Sign a more offensive two-way C (Soderberg)
Sign a veteran Pisani (Justin Williams)
Ignore MacT re: Marincin
Offload Gordon (unless McLellan decides to use a shut down, severe ZS line)
PROJECTED 2015-16 ROSTER
Hall—McDavid—Eberle
Pouliot—Nuge—Justin Williams
Draisaitl—Soderberg—Purcell
Hendricks—Lander—Klinkhammer
Greene—Fayne
Klefbom—Schultz
Marincin—Ference/Nikitin
Talbot—Scrivens
Lots of change and not one damn chance he'll get it done in one summer. One team I think we should pay close attention to:  Boston Bruins. Joe Haggerty has a column in which he quotes Joe Haggerty on things like Dougie Hamilton and Milan Lucic. If there's any possibility that Hamilton is available, one guesses Chiarelli will be aggressive.
I think our man Nail, Marincin, one of this year's second-round picks and next year's second-round selection are all in play for Talbot and a veteran defenseman. If the club gets a puck mover, we might see Martin Marincin in that role with Fayne, but only if Peter Chiarelli looks beyond the advice from the incumbent management group.
Yesterday, we saw the club re-sign Andrew Miller and Brad Hunt, moves that come under the Chiarelli regime but are certainly MacT moves. At some point this summer, we'll see Martin Marincin either traded, re-signed, or moving off to Europe. The window is tight and you can see how a player can get lost in the flood, but Peter Chiarelli can't afford to be robbing Todd McLellan of potentially useful players.
Martin Marincin is such a player.
ABOUT NAIL
Peter Chiarelli will have to give in order to get, and as mentioned above I believe Nail Yakupov is in a tough spot. If Chiarelli can deal our Russian to a team badly in need of a feature winger (New Jersey) and get something of value (Andy Greene) it sets up the team to be better—especially if they can attract a free-agent Pisani like Justin Williams.
The Oilers have two things (young, exceptional talent and $) that have value and they are going to trade some of them in an effort to address weakness. As we get closer to the draft, I think Nail becomes more and more vulnerable. We can see it now, in that first round, a player like Svechnikov may be NHL-ready a year from now.
The Oilers need to trade a young impact talent, and I fear the answer is Nail Yakupov.
LOWDOWN WITH LOWETIDE
Busy show, this morning at 10 on TSN1260. Fluid guest list, confirmed so far:
Jonathan Willis, Cult of Hockey. Draft, free agency, trades. Oil.
Grant McCagg, head scout for McKeens Hockey. A variety of questions, you're welcome to chime in.
Chris O'Leary, Edmonton Journal. Oh, those Eskimos were getting hurt on Sunday.
10-1260 text, @Lowetide twitter. Talk soon.