I love the math of hockey (baseball fan here) but will tell you true a good scout will describe the future with stunning clarity if you listen.
Mike Remmerde about Justin Schultz
Strengths: Excellent skater. Big time shot from the point.
Weaknesses: Soft – no physical presence. Slight build and will need to bulk up. Not aggressive with the puck.
Outstanding skater with a smooth stride and good pivots. Doesn't use his speed. Good asset on the PP – loves to shoot the puck and can his shot on net consistently. Shot is hard and he gets it away quickly. Good overall hockey sense, but

doesn't seem to move or carry the puck real well

. Decent decisions in defensive zone, but just does not even try to use his body.
Summary: Lacks some zip in his game. With all that skating and puck skill, I'd like him a lot more if he had more confidence or aggressiveness offensively.
Target/Want: Wouldn't consider until 3rd. Some teams seem to have a very high interest in this player. Probably will go in the 2nd round.
Remmerde wrote that in June of 2008 and Anaheim did in fact take him inside the second round. There are some quibbles (where did that big shot go?) but Remmerde did an outstanding job of describing Justin Schultz. I underlined the part about moving the puck because that's where I began to distance myself from Schultz as a part of the future.
I don't know why Ebs looks so pissed.. These rings are pretty sick. pic.twitter.com/Fha4gPRhg1

— Taylor Hall (@hallsy04) June 10, 2015
The back and forth between these two on twitter and elsewhere is a lot of fun. I hope one day they're wearing matching rings with an Oilers logo on them, and for the first time in forever there's hope we'll see these two gents in an NHL playoff game in the next few seasons. Cannot wait!
man, i like me some kari lehtonen. man, i don't like 6.25M in net. #stars #oilers

— Jeff Chapman (@NewWaveOil) June 9, 2015
Chapman's tweet reflects what many feel based on what I'm reading. The problem with Lehtonen, aside from his most recent season (poor poor) is that he's 32 in November. Even if you trade for him and he has a good season, then what? You're a young team with an aging goalie. The cap world makes every dollar committed a big damn deal and Lehtonen's $5.9 million times three is a scary item. I like Lehtonen and if Dallas were to sweeten a potential deal (as in give up something very good for a meh return) maybe there's a deal. From here, it looks like Niemi is a somewhat better bet who can also be acquired for just dollars. I remain thrilled to hear rumors about Chiarelli pursuing men like Talbot. He's looking in the right place.
JACKMAN SLEDGEHAMMER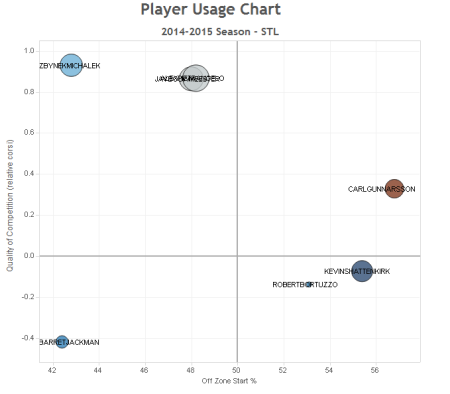 Word this morning the St. Louis Blues will move on from Barrett Jackman. Now, there is going to be a LOT of conversation from Oilers fans and media about Jackman, because he's a tough defender and a physical presence on the blue. The Vollman sledgehammer screams two things about this situation:
Barrett Jackman filled a role (tough ZS, easy opposition) that does not warrant a $3M+ pay day.
We should be talking about Zbynek Michalek if we're chatting UFA Blues blue.
I'm confident the Edmonton Oilers will keep their powder dry on the Jackman front. The Michalek conversation should be an interesting one on Kingsway. Peter Chiarelli has some ghastly free-agent options available to him, can he avoid another horrible contract given to a UFA D? The Hamilton offer sheet rumors should serve as a reminder the Edmonton Oilers are under new management.
LOWDOWN WITH LOWETIDE
Back in the studio today, 10 this morning TSN1260. Scheduled to appear:
Dennis King, Oilogosphere Icon. SCF, NBA and we won't be able to ignore the difficult days ahead for Shane Doan.
Jeff Krushell, Krush Sport. Hey, those Blue Jays are getting pitching! Mirage?
Sarah McLellan, Arizona Republic. Sarah will give us the lowdown from the desert on a bizarre night in Glendale.
Paul Almeida, SSE. Paul helps us set the stage for tonight's World Cup game for Canada at Commonwealth.
10-1260 text, @Lowetide on twitter. 90 minutes!