Peter Chiarelli poked a hole in the Eastern Conference 36 days after taking over as Bruins' GM. By plucking Zdeno Chara in free agency, he effectively changed the decade for two teams and impacted all of the clubs pushing for Stanley. Now, almost one decade later, he's looking for an impact blue to puncture the other conference and set free Edmonton's department of youth to plunder California and the rest of the west.
If the Oilers are looking to Boston for a defenseman, it's going to be way easier to pluck one of Zdeno Chara or Dennis Seidenberg from Peter Chiarelli's old team than find a way to acquire Dougie Hamilton. Question: Is Chara worth it?
BRUINS VOLLMAN SLEDGEHAMMER (d)
Chara is the class of the group, no doubt. He's also older now, slowing and the injuries are piling up. Seidenberg? Well, he had the tough zone starts that's for sure and it was second-pairing opposition. However, he's also an older gent, slowing and the injuries are really piling up.
OILERS VOLLMAN SLEDGEHAMMER (d)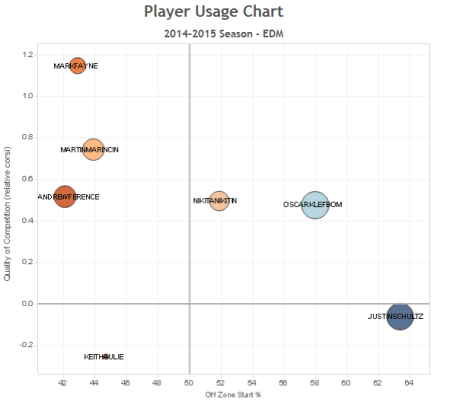 Interesting to see the similar roles for Marincin and Hamilton here, of course with differing levels of success. Ference was (basically) playing the Seidenberg role for Edmonton last season, I don't believe either of them should be getting those tough ZS's at their respective ages. Chara is a different matter, he could be helpful in several areas:
Providing a terrific shutdown partner for Mark Fayne
Serving as a mentor for Oscar Kledbom, Darnell Nurse and the good lord willing Martin Marincin.
Giving Edmonton a bona fide veteran to rely on until the kids can carry the load.
Is it worth $6.917 times three? I don't think it is, not for a team like Edmonton—Chara's not a guy who you bring in for a rebuild, he's a guy you bring in to put you over the top. Man he'd be a nice add for next season, though.

It's a wonderful thought, Chara against the Western Division circus and the jackals of the Pacific Division. Sadly, he's not for the Oilers, who are destined to contend at the end or after Z's current contract ends. He might not be in Boston for long, though.
Mike Zeisberger, Toronto Sun: Will he have a chance to achieve that goal while wearing a Bruins jersey? With former GM Peter Chiarelli having been replaced by ex-Bruin Don Sweeney, all bets are off. Stay tuned. Source
If the Bruins were to send Chara over in exchange for just cap room? I suspect someone will come along with a better offer. Hell, Detroit may trade for Chara and get a decade out of him. Seriously.
BOB GREEN SAYS…
I've done my due diligence and EVERYTHING that comes back to me about Bob Green is positive. His procurement track record is splendid (in terms of WHL acquisitions) and it's probable the Oilers are about to add several quality prospects if Green, Stu MacGregor and Scott Howson can cobble a strong list together and have the courage of their convictions. Jason Gregor's article at ON on Green and the draft is a must read. Two items:
Green: "For Scott, and Stu, and I we've really concentrated on the top forty to fifty players and we've basically watched them extensively in the last four months. I think it's really helped us in knowing these kids."
Meaning the first four or five picks will come from Bob McKenzie's first two rounds (suspect there are players on Edmonton's list that didn't make McKenzie's but that's par for the course). I think it's completely reasonable to assume the top four picks will be risk averse (say McDavid, Svechnikov, Dermott, Pilon) and inside normal based on McKenzie's list. I don't think the Oilers should give one damn pick to a "scout with a passion for a player" ever again, and by God if the team picks a BCJHL kid he better be bloody good.
Green: "I think that everybody puts a premium on size and you want to find big guys who can play. Unfortunately, they go fast in the draft but we know that as a team we have to get bigger and stronger to compete in this conference and it's kind of the way that the game is being played right now. But as everybody knows the guys still have to be able to make plays with the puck. And a lot of it comes down to the competitiveness of the players and their ability to make plays with the puck and their ability to play in tough situations. There's big guys at camp that don't play well in all situations and sometimes there are smaller guys that do but it's just something that we've got to deal with, sort through all of that stuff and make sure that ultimately we have guys that are going to be able to compete."
Amen to this. If you look at the Oilers drafting 2008-2014 there's a lot of size that simply could not play (Hesketh, Abney, Moroz, Khaira) with skill. That isn't the fault of the player and I'm willing to accept the scouts may have been delivering what the GM wanted (some evidence here as MacT's addition to the puzzle found the team drafting Nurse, Yakimov, Slepyshev, Draisaitl as their 'size' additions) but the results simply weren't there. Of course we know there's a difference between saying 'you want to find big guys who can play' and doing it, but at least we're seeing some verbal that matches reality. There are some players inside the McKenzie top 60 who look to have the kind of skill/size combination or projectable size Edmonton may be looking for when it's their turn. We may see Svechnikov (6.02, 199) who looks like a horse, or young Joel Eriksson (6.02, 180) who can probably add some weight and plays the kind of style Edmonton will be attempting to acquire.
Gorab Stubb, Dir. of European Scouting, on Eriksson: "He is a very competitive, powerful center with great speed, a good strong shot and excellent puck-handling. He is creative on the offense while reliable on defense. Likes to go to the net to create scoring chances." Source
I'll have my top 120 up tomorrow morning, adding in overagers and players from the hinterlands. It will be pretty close to the final list (not much will change) but I'm still trying to track down the NHL combine vital stats and that may impact things.
LOWDOWN WITH LOWETIDE
A busy Friday morning on the show, starting at 10 on TSN1260.
Steve Lansky, Big Mouth Sports. We'll chat SCF and the bubbling trade rumors that are arriving daily.
Antony Bent, FC Edmonton. Canada gets a draw against New Zealand and lead their pool but there's work to do Monday against the Dutch.
Matt Dunigan, TSN. We'll preview the Ft. Mac showdown (Esks-Riders) and talk about Mike Reilly as an emerging impact QB.
Paul Almeida, SSE. Soccer, Oilers and we'll preview the Saturday show.
10-1260 text @Lowetide on twitter. Talk soon!