The Edmonton Oilers offices must be having some bewildered conversations these days. I can imagine a wry smile from Todd McLellan and Peter Chiarelli as they discuss how to improve the defense, with several naughty punch lines available depending on who else is in the room. The Oilers under Kevin Lowe, Steve Tambellini and Craig MacTavish went to market with the best of intentions each July 1 and came home from the forest with some very ugly Christmas trees. Remember Cam Barker? That was a mellua hess as you'll recall.
Oilers' GMs enter into the fray willing to pay a million more and tack two years onto a deal and NHL agents annually shoot fish in a barrel when it comes to negotiations. "My client will come to Edmonton, but he needs two more years and another million" might go the conversation, and that's how you get where we are today, ladies and men. Of course, it doesn't help when your AGM talks you into $9 million on a faulty saloon door, as happened around this time last spring.
Peter Chiarelli is going to have a very difficult time keeping Darnell Nurse in Bakersfield for longer than a cup of coffee. The club's blue line is fractured—and as an added bonus, wildly expensive—with only (it appears) the passage of time as its friend. Let's look at the Oilers defense as it was deployed and performed from January 1 to season's end (all numbers via War-on-Ice, explaining the TOI).
OILERS DEFENSE 2015-16, JANUARY 1+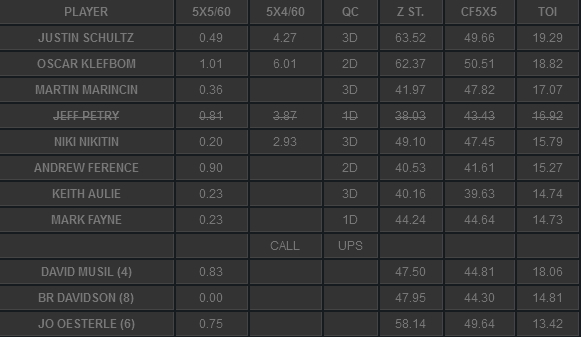 This is sorted by time-on-ice and there's a lot in here so allow me to point out a few things.
When we talk about Justin Schultz and his possession number last season (basically 50%) it's important to see the role he played. Best ZS on the team (which is fine) and he didn't face the tough opposition either. His 5×5/60 ranks behind Klefbom and Ference, plus a couple of the callups. This is only January 1 through season's end but the production here—in almost 20 EV minutes a night—simply isn't enough to warrant another contract. More on this in a minute.
Klefbom looks like a million bucks here, but it's also important to point out his ZS push and his role outside 'shutdown' for the period we're looking at here. Is Klefbom an offensive defenseman or a complete defenseman? Important distinction and I suspect one of the things Todd McLellan may do is place Klefbom in less of a feature role. Just my opinion, but a second-pairing job with more normal ZS's and a veteran partner would seem to be a more rational approach.
Marincin looks like a guy you'd sign and keep, with an idea to possibly helping Mark Fayne on that shutdown pairing. Marincin's faults are famous, the organization practically took out ads telling people, but I pray to baby Jesus someone in that crazy organization is telling Chiarelli and McLellan about the crazy kid who can't spell nutrition and has the wingspan of a condor. There's a player here, the numbers say it—and you know what? They always have. For all the talk of analytics and progress, Edmonton appears blind to Marincin's gifts while also being famously awed by Schultz. Dear lord, please let someone testify.
I left Jeff Petry on this chart because that ghastly handling of a fine player should be remembered. Whatever else the Edmonton Oilers were before Peter Chiarelli arrived, the handling of Jeff Petry should be remembered and told to the next generation for time eternal.
Niki Nikitin. What to say? $4.5M for a guy who doesn't turn well, has poor defensive acumen and addled offense. He's in the porridge part of the graph and he's not even that. Peter Chiarelli should buy him out and Scott Howson should pay back the money. Good lord what an idiotic move.
Andrew Ference was playing way too high on the depth chart and facing too many DZone sorties. That's partly a reflection of Nikitin, who served as a fantastic door on many defensive plays and was unable to be a man to count on, but it's also true that the Oilers did have younger options and were unwilling to use them. I suspect Ference is on the team next season and would hope for his sake (and ours) it's third pairing.
Mark Fayne didn't make the kind of difference hoped for but part of that came from just how bad this team was a year ago. I'm completely happy with the idea that Fayne (and another veteran) spend the season in a shutdown role. We also know Todd McLellan did employ a shutdown pairing in San Jose, so Fayne's role would appear to be obvious next season.
As for the others, Aulie remains unsigned and the three Barons are likely to play in both Edmonton and Bakersfield this coming season. I will say that all three showed some signs of being capable at the NHL level, specifically Brandon Davidson. If Chiarelli deals Martin Marincin—a mistake—it's Davidson or Nurse for that role next year.
FREE AGENT OPTIONS

I left Jeff Petry on this chart because that ghastly handling of a fine player should be remembered. Whatever else the Edmonton Oilers were before Peter Chiarelli arrived, the handling of Jeff Petry should be remembered and told to the next generation for time eternal.
From the group we see here (these are full season numbers) I'd most like to have Sekera and Franson. Martin's numbers are superior but he was playing with Crosby, Letang and some damn good extra's.
Mike Green is an interesting possibility. Why? Chiarelli would have to move Justin Schultz in order to make that move and in a real way that's one of my goals for this organization during the summer. Teams can get stubborn on players because they're part of the furniture—Pittsburgh with Fleury being an example—and Schultz is a guy who may end up playing for years in Edmonton without really helping.
I have always liked Christian Ehrhoff and he did play for Todd McLellan once upon a time. The worry is concussion.
I think the Oilers should:
Buy out Nikitin.
Walk away from Schultz.
Sign Marincin.
Sign Franson.
Sign Sekera.
PROJECTED 2015-16 LINEUP (BLUE)
Sekera—Franson
Klefbom—Fayne
Ference—Marincin
Brandon Davidson
The key here is retaining Martin Marincin while getting out from under Justin Schultz. Davidson might force Ference to the pressbox by Christmas, Darnell Nurse first callup, still bet he gets less than a full cup of coffee in Bakersfield. Thoughts?