The Chicago Blackhawks won it all for the third time in six seasons. As a hockey fan, I've enjoyed two similar runs: The Orr Bruins of my youth won two Stanley's in three years and the Glory Oilers won five in seven when I was a young man. I remember both runs well, these many years later. I'm in my 50's now, don't expect another run like that—although you won't hear me bitching if it happens!
The Chicago Blackhawks' management group wakes up today with one giant piece of silver and two big problems in the millions. Jonathan Toews and Patrick Kane have matching $10.5M albatross deals beginning this fall and it's going to be extremely difficult for Chicago to overcome the massive piece of the cap pie those two contracts gobble up.
'HAWKS SIGNED PLAYERS FOR 2015-16
Goal: Corey Crawford ($6M); Scott Darling ($.588M)
Defense: Brent Seabrook ($5.8M); Duncan Keith ($5.551M); Niklas Hjalmarsson ($4.1M); Trevor VanRiemsdyk ($.925M)
Center: Jonathan Toews ($10.5M); Teuvo Teravainen ($1.344M); Andrew Shaw ($2M)
Left Wing: Patrick Sharp ($5.9M); Bryan Bickell ($4M)
Right Wing: Patrick Kane ($10.5); Marian Hossa ($5.233M); Kris Versteeg ($2.2M)
14 players (nine to be added, including three D, 1C, 3L, 2R)
$64,641,000 for those 14 players
$6,359,000 available for final nine players
Add to that the RFA's (Brandon Saad, Marcus Kruger, Joakim Nordstrom, David Rundblad) plus UFA's (Brad Richards, Antoine Vermette, Daniel Carcillo, Andrew Desjardins, Johnny Oduya, Michael Rozsival, Kimmo Timonen) and this is your basic nightmare. Let's say the 'Hawks trade awat Patrick Sharp ($5.9M) and Bryan Bickell ($4M), effectively offloading $10 million. That would give Chicago 11 holes to fill but they would have $16M to do it. Getting Saad signed is job one after dealing off Sharp and Bickell but there's plenty of work to be done.
A few observations about a very smart hockey team:
Chicago has already added a few potential pieces to next year's puzzle. They signed the best free agent out of the KHL (Artemi Panarin, $925,000) and former Oilers draft pick Erik Gustafsson ($667,500). College man Kyle Baun could help out down the line.
The minor league Rockford IceHogs have prospects knocking on the door like C Mark McNeill, C Phillip Danault, R Ryan Hartman, D Ville Pokka and G Antti Raanta.
If the Oilers are going to call about about Patrick Sharp or Bryan Bickell, the Blackhawks will be asking about men like Martin Marincin, Bogdan Yakimov, possibly the newly signed Anton Slepyhev, that kind of player.
When Seabrook is paired with Timonen, CHI's been setting up the NZ forecheck so that Seabrook defends nearly every zone entry.

— Jen LC (@RegressedPDO) June 16, 2015
I don't see a way for Chicago to sign Seabrook to the deal it will require ($7M?) in order to get a new deal by next summer. I also don't see any possible way for the 'Hawks to let him go. Seriously. How can Chicago part with Toews, Kane, Keith, Seabrook? I don't think they can.
The Oilers are miles behind Chicago but small victories are big steps. Edmonton's hockey team has been making news great and small since the end of the season and the cumulative effect is that they're going in a very good direction. Not every bet works but they should be defensible—something you couldn't say about any GM since Sather. Peter Chiarelli is bona fide qualified and this should be a very strong summer. Here's a quick review of what has happened so far:
April 2: Anton Lander signs a two-year deal at a good number ($987,500) for Edmonton. It's all about getting useful regulars for low dollars and Lander should be a value deal over the next two winters.
April 13: Nail Yakupov signs a two-year deal that pays $2.5M a season. It's a nice number that could turn into a fine value deal if the young Russian can score 20 or more goals.
April 18: Oilers win lottery. Bettman's expression is awesome. There's no single thing this century—not even the Pronger deal—that will have more impact on the Edmonton Oilers than winning the lottery. It's Everest.
April 24: Named Peter Chiarelli GM. I was not enthused about the Nicholson forensics but whatever process allowed him to find Chiarelli is fine by me. The Oilers' new GM has a solid track record (with some notable errors) and should be a major upgrade on everything since 2006 spring.
May 12: Eetu Laurikainen signs a contract. A .933SP in the SM-Liiga is worth talking about and the 22-year old signed a $640,000 times two year deal with Edmonton. It's a good bet—no assets out, low money, solid resume—need more like it.
May 19: Todd McLellan announced as coach. This is a big damn day for the organization, the first established coach since Tom Renney and a man highly regarded league-wide for his work in San Jose. Cream of the crop, No. 1 free agent. Fantastic.
May 27: Anton Slepyshev gets a three-year, $575,000/yr contract to come over to NA and play. The young Russian says he's willing to earn it by way of Bakersfield and there's a job (Matt Fraser's) available this fall, although one would think Connor McDavid and Leon Draisaitl end up with the rookie slots.
June 8: Andrew Miller and Brad Hunt (both $575,000) sign one-year deals with the Oilers. It's easy to disregard these signings but with a new coach coming in and a clean slate, both men could end up higher on the new depth chart. It's certainly possible Todd McLellan finds Hunt's offensive ability useful on his (likely) high octane power play.
The Oilers have miles to go in terms of becoming a contender but the addition of Chiarelli, McLellan and the Godsend lottery win should mean this team is in the game from day one. As we've been saying forever, there IS talent here, that talent has to be ground into a useful unit—and that means more attention to the defensive side for every player. It's going to be a painful process and some of our favorites are going to be in other NHL cities, but the wins should come more often and there's genuine hope for reasonable bets over curious decisions.
OILERS PLAYERS SIGNED FOR 2015-16 (AND MCDAVID)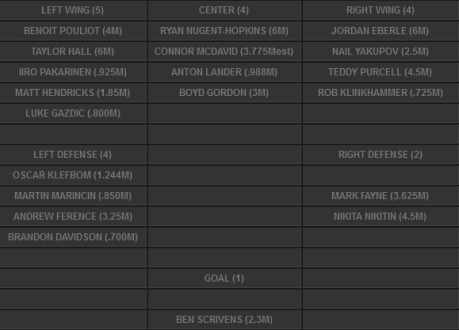 20 players (three to be added, including No. 1 G, 1D, 1F)
$57,532,000 for those 20 players
$13,468,000 available for final three players
CHIARELLI'S LIST
Draft McDavid (and sign him)
Find a quality goalie option
Acquire a legit top pairing blue
Sign a more offensive two-way F
Procure a veteran Pisani
Ignore MacT re: Marincin
Offload Gordon (unless McLellan decides to use a shut down, severe ZS line)
This gets us here:
Hall—McDavid—Justin Williams
Pouliot—Nuge—Eberle
Pakarinen—Soderberg—Purcell
Hendricks—Lander—Klinkhammer
Klefbom—Seabrook
Marincin—Fayne
Ference—Nikitin
Talbot—Scrivens
ABOUT DELLOW
Based on what we're hearing Tyler Dellow will remain with the Oilers organization but has been reassigned to the hockey ops side. That probably means delivering information on potential free agents and trade acquisitions—something Dellow would be extremely valuable doing (you may recall the Nikitin story on Sportsnet). I'm very happy for Tyler because this is his dream and he's pursuing it, and I'm delighted he'll be trying to help the Oilers this summer. The only real issue then, is will the hockey men listen to the man of math? We'll know soon enough.