The 2015 draft, when it comes down to it, is about skill skill and more skill. NHL teams are going to walk away from Sunrise with great riches, and the teams that max out will be rolling 7's on skill men. Does Peter Chiarelli draft skill players?
2014 BRUINS DRAFT
No. 26 overall: R David Pastrnak. Terrific skill winger, undersized and brilliant. Red Line compared him to Mike Cammalleri.
No. 56 overall: C Ryan Donato. Skill C with soft hands and a hair slow. Red Line compared him to Sam Gagner.
No. 116 overall: F Danton Heinen. A BCHL player who graduated to college and then kicked ass. Skill player.
No. 146 overall: L Anders Bjork. Pegged as a checker with skill on draft day, he's related to Ottawa's Erik Condra.
No. 206 overall: D Emil Johansson. Smooth skating puck moving defender, one service compared his style to Jonas Brodin.
Chiarelli had a better draft than Craig MacTavish despite choosing lower. If we rank these players alongside Edmonton's 2014 draft, just last season's performance, we get this:
David Pastrnak: 46GP, 10-17-27 (NHL) and 28 points in 25 AHL games.
Leon Draisaitl: 37GP, 2-7-9 (NHL) and 81 points in 51 junior games (including playoffs)
Danton Heinen: 45 points in 40 games for U. Denver
William Lagesson: 16 points in 52 USHL games
Emil Johansson: 35GP, 0-1-1 in the SHL
Ryan Donato: 10 points in eight USHL games
Tyler Vesel: 23 points in 39 games for Nebraska-Omaha
Anders Bjork: 22 points in 41 games for Notre Dame
Zach Nagelvoort: .906SP with Michigan
Liam Coughlin: 60 points in 54 BCJHL games
Keven Bouchard: .885SP with Val d'Or
Your mileage may vary and I believe Leon is the most talented player in the group, but Pastrnak had the better season. ALL of Heinen, Johansson and Donato appear on track, I'd suggest Lagesson is the only player who would go higher among Oilers picks in a re-draft (maybe Vesel). I do think the Oilers will draft some players with size/grit in this draft (candidates may include Evgeni Svechnikov, Joel Eriksson Ek, Jonas Siegenthaler, Erik Cernak, Gabriel Carlsson, Alexander Dergachyov, Nicolas Roy) but they'll also be able to play. That's key.
Francis again said Canes could consider trading down in first round of draft but said it likely would be a "draft-floor decision."

— Chip Alexander (@ice_chip) June 17, 2015
The Hurricanes choose No. 5 and if Noah Hanifin is still available the Oilers should move heaven and earth to get him. I know, you're saying 'why lose assets who can help now for a prospect who can't help in 2015?' but it's important to remember the center of the cluster is McDavid—the instant he arrives. A blue depth chart with Hanifin, Nurse and Klefbom would be sensational, and I'm not sure it's going to take Hanifin two years to get here. It's worth  phone call for sure. Also, don't sleep on Provorov, he could also be a target.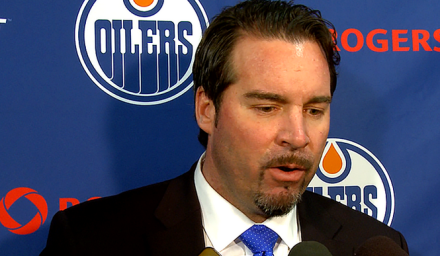 SAIL ON, PRINCE ALBERT RAIDER
Todd Nelson has a new job, with the Detroit Red Wings. I'm seeing a lot of twitter comments wondering why he'd make a sideways move but I don't see it like that. The Oilers do NOT have Detroit's reputation for quality and that alone gives them the edge. The club is certainly more high profile in the industry and they're absolutely drunk (as always) with prospects. I wish him the best, and thank him for his work Petry to Yakimov and back again. It didn't end like anyone thought or hoped but Nelson was in the spotlight for a few months and he should get a chance to be an NHL head coach in the future. Edmonton got the best available, Nelson will hopefully get his chance soon.
NELSON'S HEROES (OKC BARONS & THEIR NHL GAMES)
Jeff Petry 314
Magnus Paajarvi 228
Justin Schultz 203
Colin McDonald 138
Anton Lander 132
Mark Arcobello 119
Chris VandeVelde 118
Martin Marincin 85
Linus Omark 79
Oscar Klefbom 77
Teemu Hartikainen 52
Will Acton 33
Tyler Pitlick 27
Colten Teubert 24
Iiro Pakarinen 17
Brad Hunt 14
Brandon Davidson 12
Taylor Fedun 11
Andrew Miller 9
Jordan Oesterle 6
David Musil 4
Darnell Nurse 2
Phil Cornet 2
Bogdan Yakimov 1
Laurent Brossoit 1
Curtis Hamilton 1
Tyler Bunz 1
Milan Kytnar 1
It's easy to forget about the impact Todd Nelson had on this organization, and we will. That's on us. There are names here that will sustain the Oilers and other organizations for a decade or more. When we see Jeff Petry, or Anton Lander, or Mark Arcobello or Andrew Miller, we won't think of Todd Nelson and that's okay, we're fans. Men like Todd Nelson do tremendous work in the name of their organization and the young people they work with in the minors and we would do well to give them their due from time to time. Godspeed Todd Nelson. You're a good man.
DRAFTING A GOALIE IN THE FIRST ROUND
A Peter Chiarelli team has done it before (Malcolm Subban) so we have to assume it is possible for the Oilers to use No. 16 overall on Ilya Samsonov. I don't think it's wise, but it's also true I'll be thrilled if he's on the ice and playing like a champ in an Oilers uniform three years from now.
Craig Button via Matty: "I would seriously consider it. I think he's got No. 1 written all over him, like a Varlamov. He's got the style of a Varlamov or a Braden Holtby. Maybe not Vasilevskiy because he was a little tighter in his technique than Samsonov at a younger age but he reminds me of Varlamov and Holtby. He's top-notch." Source
I think Craig Button is a helluva scout (did good work in Dallas, including Jarome Iginla No. 11 overall) but he had Zach Fucale in the top 10 in 2013 and goalies are voodoo. I wouldn't make that pick, don't believe it's value. We'll see.
LEHNER?
Garrioch on Lehner's price: League sources say the asking price is simple: A top six forward and a pick. Now, that could change as the Senators get closer to the draft, especially if Murray and his staff aren't getting what they want in return. For now, the Senators are trying to sell high because they believe they've got a good asset here. Source
There's no damn way, unless 'top-six forward' is Teddy Purcell and the draft pick is something outside the top 60. Lehner has concussion issues—even if Edmonton trades for him there will be question marks in regard to the goaling—so I can't see a deal that involves real assets. That article also mentions Edmonton has had serious convo with the NY Rangers about Talbot and that's my current bet for Oilers goalie man.
I think we're now in the range where we could see major moves at any time, so a reminder I'll have posts up as it happens.