Todd McLellan knows the feeling of dread associated with Taylor Hall bearing down as he crosses the blue line and he knows Jordan Eberle is money in tight. I imagine he knows what a gift he has in Ryan Nugent-Hopkins and the impressive future of man-child Oscar Klefbom. Here's a question: What DOESN'T he know about the Oilers, their young players and the talent he'll see in the fall? Answer: Plenty! Here's a list of players currently in the system who may jump past several more established players and make the opening night roster this fall—and the reason they'll get noticed.
Darnell Nurse is a nasty blue. Nurse is a shocking player for Edmonton fans because he's wired to initiate contact. I like his range of skills, including an impressive wingspan, good foot speed and passing ability. Let's not overrate that, he isn't Erik Karlsson as a passer, but Nurse isn't going to club the damn puck square either. I think he'll be a 35-point player consistently in the NHL and with his other skills that's an impressive NHL blue.
Leon Draisaitl is smoooth. McLellan got to see Leon a couple of times last year, including a pretty nice game in San Jose (December). I think it's going to be damn near impossible to send Leon or Darnell to Bakersfield unless Chiarelli has a summer to remember, but if LD plays with skilled men through training camp he's going to shine, shine, shine. Fantastic passer and being a year older should help.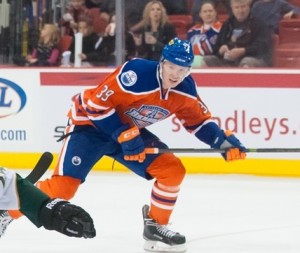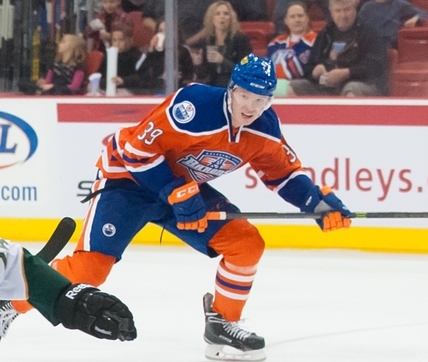 Bogdan Yakimov's size. He's huge! He didn't score a ton in the AHL but there was much adjusting to do and Yakimov did have a nice run going before an injury ended his season.

Rick Carriere, Oilers Sr. Director of Player Development

: "He had a lot of confidence with the puck as we saw in development camp and in the rookie games. He wasn't afraid to try and stick handle over the blueline or try to go through one or two defenders. There were examples this season in Oklahoma City where he was able to do that just with his sheer size. His foot speed is a little bit deceptive in that you don't think he's moving as fast as he is but he's like a locomotive when he gets going. He does get a step on the defenceman. It's hard to defend him because he's so strong and can turn the corner and take the puck to the net." Source
Anton Slepyshev can score. In viewing him during KHL games, he looks fast and has the kind of pro size Edmonton lacks with many of their skill players  (he is 6.02, 194). The Oilers traded David Perron and replaced him with Matt Fraser, and we call that an opportunity the approximate size of the earth. It could go to a veteran acquired over summer, or Leon. Or Anton Slepyshev.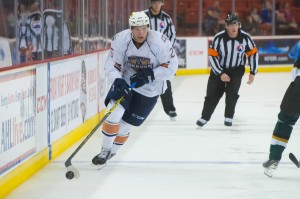 Iiro Pakarinen is a rugged Finn! I'm not sure how much he'll score, but Pakarinen plays an aggressive game and he gets in there. He showed flashes of offense and if that's something that could grow into 10-15 goals a year, he'll eat Klinkhammer's lunch by Christmas.
Greg Chase is an agitating maniac! I think this guy has a real chance to get noticed by the new coach. Chase is a good hockey player full stop, but if he can become a consistent and reliable player (that's a tough thing for young players, even top picks) then he'll have a career. Miles more natural talent than some of the kids Edmonton took way higher.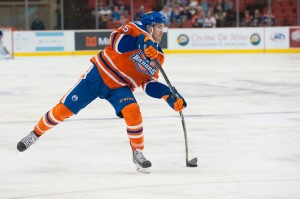 Jordan Oesterle is fast, fast, fast. It's easy to overlook him because he was undrafted and remains relatively new but the man can flat out move on the ice. There's a learning curve, but McLellan did keep some interesting players in SJS over the years. I think he has a chance.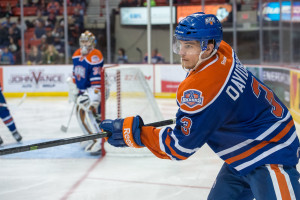 Brandon Davidson is boring—in a good way! One of the thing we'll have to keep an eye on is veteran D and injury/ineffective play. McLellan isn't tied to Niki Nikitin or Andrew Ference and if they're flagging, the callup is generally the player who is less prone to making errors. That's Davidson, who surprised with his effective play when recalled by the Oilers.
Plus McDavid. Stand back, we don't know how big this thing is going to get!