Peter Chiarelli appears to be fixing the Oilers in a measured, logical manner. His quick media avail today delivered an enormous amount of information and it's worthwhile taking a few moments discussing some of the significant things he mentioned
#Oilers amateur scouts Brad Davis & Kent Hawley, pro scout Dave Semenko, Director of Coaching & Special Projects Billy Moores also relieved.

— Edmonton Oilers (@EdmontonOilers) June 22, 2015
We knew about some of these things on the weekend, Semenko and Moores were made public today. In Moores case, I would have hoped the club would have quietly announced in August he was stepping away (again) to enjoy the quiet life and write books. Billy Moores earned that kind of an exit, I believe.
"We have to get better drafting and developing players." #Oilers GM Peter Chiarelli on today's scouting decisions pic.twitter.com/Vze6YtqO3q

— Edmonton Oilers (@EdmontonOilers) June 22, 2015
Amen. I understand the need to move on today but would like to point out:
Keeping Anton Lander in the NHL fall 2011 had nothing to do with the scouts
Not signing Tobias Rieder isn't a reflection of the scouts, that was a significant pick.
People have been saying all day that Tyler Pitlick is the only Oilers pick second round or below who was on the team. Does NO ONE remember Martin Marincin? Anton Lander?
We'll never really know, but based on anecdotes I'm prepared to suggest several early picks came over the top of the scouting department and were directed by the GM at the time.
"It's a tool in my toolbox… I wouldn't rule out using it." #Oilers GM Peter Chiarelli on offer sheet potential pic.twitter.com/HpykeSqedB

— Edmonton Oilers (@EdmontonOilers) June 22, 2015
God bless you, Peter Chiarelli. A Dougie Hamilton offer sheet would tighten Jeremy Jacobs' sphincter to 11 and cause Cam Neely to shake uncontrollably. It might ruin poor Don Sweeney. As a Bruins fan, I'm worried. As an Oilers fan, I'm thrilled! I suspect Boston finds a way to match but the fact Chiarelli expressed it confirms the club is in fact thinking about it. Jacobs will go nuts.
"It's really exciting… You don't want to get too far ahead, but these players only come around once in a while." Chiarelli on 1st pick

— Edmonton Oilers (@EdmontonOilers) June 22, 2015
It's mammoth. A monster. McDavid is going to change the world—in an Oilers uniform!
"I would think we'll have two assistant coaches in place by Friday." #Oilers GM Chiarelli on Head Coach Todd McLellan's support staff

— Edmonton Oilers (@EdmontonOilers) June 22, 2015
Interesting. McLellan's staff in place before the draft is a solid bit of work, let alone the other things accomplished.
Chiarelli on a goalie: "We're in a bit of a buyer's market."
Major, major item. Recognizing the market is a big damn deal, especially with goalies. Of all the things Chiarelli said today, this is the one that resonates most for me. Fantastic quote. He also mentioned getting a goalie with a small sample size but didn't seem married to it over other options and did say he'd like to have something done by the draft. Talbot for No. 33 and a conditional pick in 2016, the condition being Edmonton's ability to sign Talbot beyond 2015-16. That's my guess.
"There is going to be a really good player at that pick. Instinctively, you want to keep that pick." – #Oilers Chiarelli on 16th overall

— Chris Wescott (@TheChrisWescott) June 22, 2015
We've discussed this all spring but it's so very true. The McDavid cluster needs players, and Svecnikov, Meier, Roy and others will be very attractive at No. 16 overall. My guess is the Oilers keep it.
"We've discussed a variety of duties, but we need to sit down and decide on actual titles." Chiarelli on MacTavish and Howson. #Oilers

— Jason Gregor (@JasonGregor) June 22, 2015
I think Howson fits in with Bob Green on the amateur side. The Jackets were reasonably effective under Howson as GM (Ryan Johansen, Boone Jenner, Ryan Murray, John Moore, David Savard, Matt Calvert, Cam Atikinson, Dalton Prout) and that may end up being an area he spends significant time for the 2016 draft.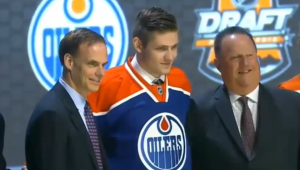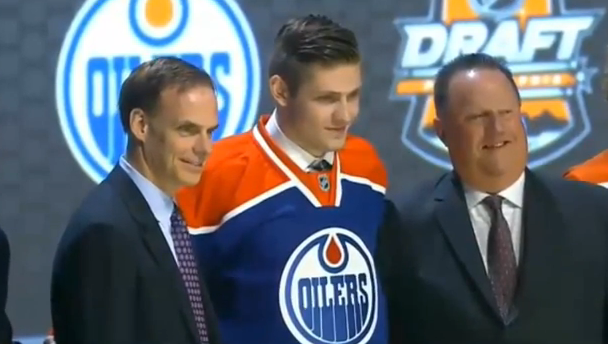 Chiarelli also mentioned Leon possibly seeing time on LW this fall in training camp. Interesting avail.