NHL teams received their ceiling/floor cap numbers today, and it's harsh but not as stifling as we'd hoped for back in the old pre-McDavid days. Bottom line: There will be pain among the big spenders and bargains will happen. Edmonton being a part of the action remains unwritten but they have an chance.
NHL salary cap for next year will be $71.4-million. Floor will be $52.8-million. So full escalator was used.

— James Mirtle (@mirtle) June 23, 2015
Let's start with the Oilers roster as it currently stands.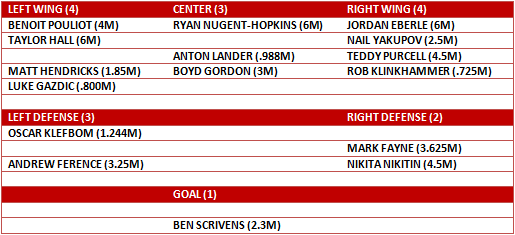 16 players (seven to be added, including No. 1 G, 3D, 3F)
$51,682,000 for those 16 players
$19,618,000 available for final seven players
There ARE players who can be added based on the current roster. UFA's Justin Schultz ($3.675M cap hit last year) and Martin Marincin ($870,000) may be renewed, which would bring the totals to 18 players, $56,350,000 (est) leaving $15,050,000 for five players.
Connor McDavid (with bonuses) would be $3.775M and Leon Draisaitl (without bonuses) would be $925,000; that would bring us to 20 players, $61.05M (est) leaving $10,350,000 for three players: Starting goaltender, No. 1 defenseman and Carl Soderberg. That's how I see this going, and if Cam Talbot ($1.45M) is the goalie coming in, there could be almost $9 million dollars for the No. 1 defenseman and Soderberg (and Edmonton could pay some of the Leon bonus this season, instead of burying him in the AHL to start the season in order to make sure the bonuses can't be met—by the way, he can't win the Calder).
DEFENSE
When Peter Chiarelli was talking yesterday, there was a brief period where he specifially discussed defense.
Chiarelli: We're going to play better defensively, we hoped to improve our defence. Our defensemen will improve, the defensive lay will improve. Source
That just about sums it up. No matter how we've sliced it this spring, the defense looks ghastly. At $71.4M, I think the Oilers might have $4-5M to spend on a number one blue, more if they can find a way to rid themselves of a big contract. The problem for Peter Chiarelli: MOST of the contracts we're talking about here come off the books next year, no strings attached. Peter Chiarelli may be wise to grab a goalie, add the best defenseman he can afford via free agency and keep his powder dry for next summer.
It isn't sexy, but it's the right play here unless an NHL team comes calling with something too good to refuse.