I think we've reached a point in the summer where one should take new information, divide it in half, throw it down the stairs, let the dog play with it, and then mull it over.
Darren Dreger: "I think, honestly, if Edmonton were going to make a deal, they would choose in this order: It would Talbot. It would go Jones. And then might go Robin Lehner of the Ottawa Senators. But if you're Martin Jones, do you sign a contract with the L.A. Kings? And what does that contract look like? Well, chances are it's a shorter term, say two years. Probably around $1-1.3 million. Right? Well, that's backup money. If the Edmonton Oilers make a trade for Martin Jones, and I use Edmonton as my example, he's probably going to want to sign a better contract (laughs) as a starter in the NHL than two years at (somewhere in the range of) 1.1, 1.2, 1.3. The goalie market is a hot one, but it's complicated too." Source
I've always liked Martin Jones, but would go Jonathan Bernier, Cam Talbot, Eddie Lack and then I might be tempted to wait in order to talk to Enroth and Neuvirth, but Jones is an interesting name all the same. I do think we have to agree that, while the truth is out there, it may not be public at this time. There was a response to the rumor from the LAK side, it is here.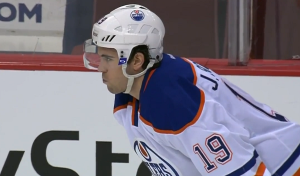 NOTE: Speeds is a brilliant observer of the CBA, free agency and offer sheets. He has a very informative post up here. Very timely for Oilers fans.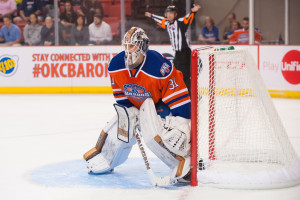 The Bakersfield Condors continue to sign players for 2015-16, adding defender Nick Pageau to the fold today. He's a 27-year old defender with plenty of experience in Bakersfield and some games up top in the AHL (OKC). Story is here. He joins several young prospects (G Ty Rimmer, LW Braden Christoffer, LW Connor Rankin, C Alexis Loiseau) as possible AHL options for 2015-16.
POTENTIAL CONDORS 2015-16
G Laurent Brossoit. He should be the 1G and this is his time to shine.
G Eetu Laurikainen. A terrific bet, got lost in the excitement.
G Ty Rimmer. Depth signing, but he keeps hanging around. Not on 50-man.
D Darnell Nurse. I'm not sure he plays in Bakersfield, we'll see how the summer rolls.
D Brad Hunt. A big part of the Condors offense, could see some NHL time.
D Jordan Oesterle. College man now has experience, lordy he can wheel.
D David Musil. Should be a big part of the Condors blue next year.
D Dillon Simpson. Turned a corner later in the season, will build on it.
D Martin Gernat. I have no idea where he's going to end up.
D Ben Betker. Big and has speed, a fun combination.
D Joey Laleggia. Highly skilled, should get PP time in 2015-16.
D Nick Pageau. Two pro seasons gives him value may see significant ECHL time.
C Leon Draisaitl. Ideally he spends most of the season in Bakersfield.
C Bogdan Yakimov. I can't wait to see his year over year progress, encouraging rookie year.
C Alexis Loiseau. AHL deal. He's 21, 6.01, 180, he scored 96 points in 68 QMJHL games.
C Jujhar Khaira Looks like he has a future as a checking C.
C Travis Ewanyk Tough checker who will probably play a big role in PK department.
L Ryan Hamilton He'll be the veteran hand in the  minors helping to guide the kids.
L Anton Slepyshev. Recently signed and very skilled. He should impact the AHL in 2015-16.
L Kale Kessy. He was emerging as an AHL regular when injured, should build on that in 2015-16.
L Mitch Moroz. Didn't get close to enough at-bats this season.
L Connor Rankin. Bakersfield signing, scored 32 in the WHL.
L Braden Christoffer. Tough winger with skill, 5.10. Bakersfield signing.
R Andrew Miller. A strong option for NHL time in 2015-16.
R Iiro Pakarinen. Should be a quality AHL regular in 2015-16, could get called up.
R Greg Chase. Really looking forward to seeing his progress next year.
R Kyle Platzer He'll push his way up the depth chart. Center, I've moved him here.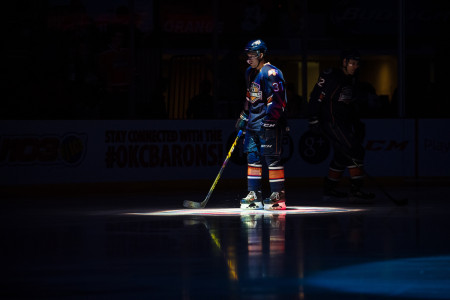 What about Josh Winquist? Well, he's part of the group who may or may not be signed but for all of the RFA's patience is required. The NHL RFA's (I'll count Justin Schultz, Martin Marincin, Keith Aulie, Matt Fraser, Tyler Pitlick) should find out first and maybe we see one of them dealt this weekend. The AHL guys (Curtis Hamilton, Brandon Davidson, Tyler Bunz, Kellen Lain) are later decisions and I think we can make the call now (Davidson in).