The Edmonton Oilers reached into the free-agent pool and signed a fantastic option: Andrej Sekera.
Edmonton Oilers close to signing Mark Letestu to a 3 year deal. Edmonton also on verge of long term deal with Andrej Sekera #TSN

— Aaron Ward (@TSNAaronWard) July 1, 2015
TOP FREE-AGENT OPTIONS (DEFENSE)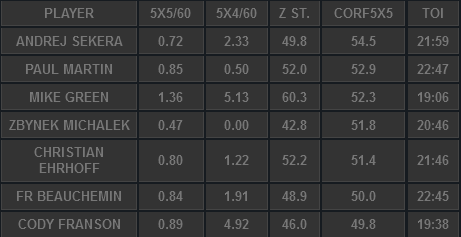 Fine numbers across the board and he's a legit option for the top pairing (and may be paired with Mark Fayne).
CHIARELLI'S LIST
Draft McDavid (Done)

Find a quality goalie option (Cam Talbot)

Acquire a legit top pairing blue (Andrej Sekera)
Sign a two-way F (Lauri Korpikoski)
Ignore MacT re: Marincin (Or trade Marincin for real value) Eric Gryba

Veteran two-way center (Letestu)
Looks like some goalie activity too. LOTS of comments this morning about the pairings, I think (based on McLellan's preferences) that NYC Oil's idea of a tough minutes tandem of Klefbom—Fayne and then a second duo of Sekera—Schultz may resonate more with the new coach. More to come.
SEKERA'S VOLLMAN SLEDGEHAMMER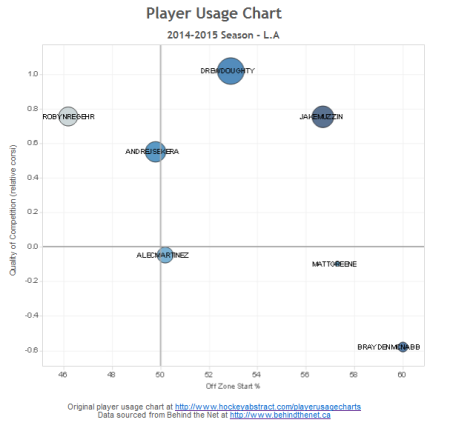 This is a nice bubble and a great signing. I like this option and believe Peter Chiarelli had to go out and get this player. He's going to play a lot and it'll be interesting to see how much power play time he gets in the coming season.
CURRENT ROSTER (46)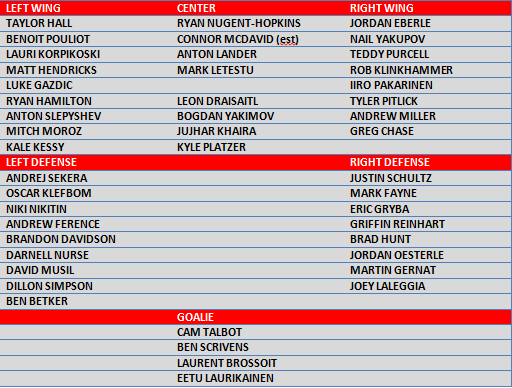 Letestu steps in at center and gives the team several things: good in the faceoff circle, he's experienced and kills penalties a lot.
VOLLMAN SLEDGEHAMMER, LETESTU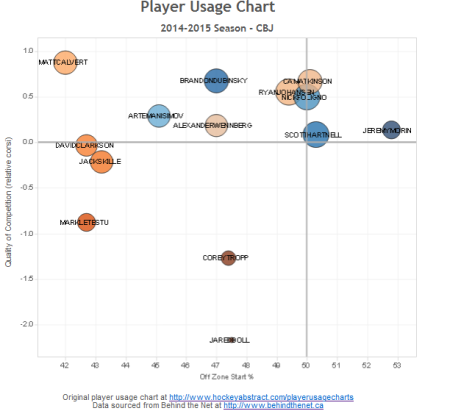 Looks Gordon like, really. His skill set suggests more offense, I wonder if McLellan runs him with less harsh ZS's and sees what he can do. Interesting signing, we'll double back later on him.