Peter Chiarelli owes it to Todd McLellan. The Oilers owe it to their fans. The organization owes it to Connor McDavid. The Edmonton Oilers have to turn north, next season. The new GM has added a goaltender, two defensemen, a speedy checker and Connor McDavid, but he needs to add more. There's talk of tweaking, but beginning today Chiarelli will need to search the market for a top defender—and then pay the price when the opportunity arises. In his first full season as Boston Bruins' GM, Chiarelli added Andrew Ference, Aaron Ward and Dennis Wideman via trade. Later, the club acquired Johnny Boychuk and Dennis Seidenberg. That's a lot of defensive talent and of course they drafted Dougie Hamilton, signed Zdeno Chara and Torey Krug as free agents during Chiarelli's time in Beantown. He'll need to accomplish similar to make the Oilers hum and he'll need to add something significant as soon as the market allows. That's my opinion.
OILERS CURRENT ROSTER (50-MAN)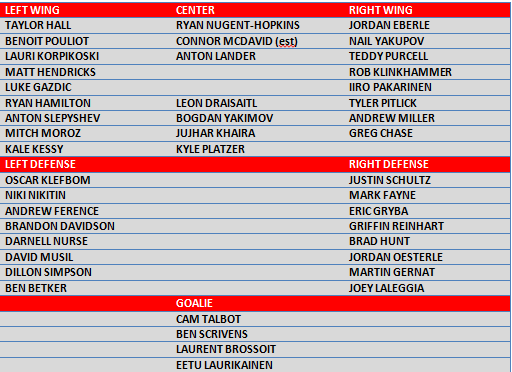 The Korpikoski signing gives Edmonton another fast winger, a veteran who can play a two-way game. I feel like we've been talking about getting a Pisani forever, and remain perplexed by the group that did play this role over the years (Ryan Jones, Lennart Petrell, Matt Fraser) because none of them had the two-way game to accomplish the goal. Put another way, for the last five seasons (Jones was a regular in 2010-11) Edmonton used the 3L as an 'extra bat in the lineup' position and the impact was profound. I'm not absolutely convinced on Korpikoski (his last two seasons have been wobbly) but am pleased that his reputation includes speed and a solid knowledge of hockey away from the puck.

Korpikoski's 12-13 season was the best in recent memory and he played with veterans David Moss and Antoine Vermette. This past season, he was most often part of a trio that included Sam Gagner and Kyle Chipchura, although his possession numbers weren't strong with any forward in 2014-15. Korpikoski turns 29 in July, so the injury issues he had this past season shouldn't derail his career and his foot speed from all reports remains a strength. I'm in a bit of wonder about his even-strength performance last season (one EV goal) and would strong suggest that's going to filter back to the norm. I like Korpikoski, and especially like the balance and structure he (potentially) gives the roster. He fits better (imo)  with a McLellan team because there's something of the Swiss Army knife to him (can play all three FWD positions and in all three disciplines) so for me this is a justifiable trade and a good bet. It solves one of the Chiarelli issues but adds another.
CHIARELLI'S LIST
Draft McDavid (Done)

Find a quality goalie option (Cam Talbot)

Acquire a legit top pairing blue (Sekera, Franson, Ehrhoff)
Sign a two-way F (Lauri Korpikoski)
Ignore MacT re: Marincin (Or trade Marincin for real value) Eric Gryba

ADD: Veteran two-way center
So, that's the list and we'll see how it rolls. Chiarelli has a player not on my list (quality D prospect in Griffin Reinhart) but I think that had more to do with getting another blue who was older than McDavid (while still being under control for years) and that's a very good idea. Remember last night when I mentioned the idea that Chiarelli would stand pat on D was ridiculous? Well, he's going to be aggressive:
The Oilers will try for a UFA d-man today, they've already contacted camps for the likes of Franson, Sekera, Green, among others…

— Pierre LeBrun (@Real_ESPNLeBrun) July 1, 2015
Oilers looked hard into trade market for top end dman, but not a lot there right now so UFA route seems most likely as per @Real_ESPNLeBrun

— Ryan Rishaug (@TSNRyanRishaug) July 1, 2015
I like the list, although Green's price scares the hell out of me. He would qualify as a Chiarelli target under the 'Chara plan' but they are not similar talents (Chara had more to give defensively, by some margin). Sekera is the best target in my opinion, let's see how this works out and I wouldn't discount a trade either (Burns, Shattenkirk, et cetera).
POSSIBLE TARGETS 2015 (BLUE)
D Andrej Sekera (The best available)
D Cody Franson (His numbers suggest this could be a brilliant buy)
D Christian Ehrhoff (Concussions a worry, I like him enough to take the risk)
D Mike Green (So very expensive, so very famous)
D Paul Martin (He would be a solid transitional defenseman)
D Zbynek Michalek (Strong defenseman, would be a find addition)
D Johnny Oduya (I like him, he was a mess for a stretch last season)
D John Moore (I'd add him along with someone else on this list)
D Barrett Jackman (I'll bet money they're all over him)
POSSIBLE TARGETS 2015 (CENTER)
C Eric Fehr (Clicks off all the boxes: C, size, offensive ability. A nice option)
C Mike Santorelli (I like him as a plug and play, short term option)
C Riley Nash (He's good in the FO circle, has some offense, good size. Nice option)
C Mark Arcobello (Go to hell, he's a good hockey player)
C Kyle Brodziak (A reasonable depth option)
C Shawn Horcoff (His wheels won't turn, but I'll gladly go down with the ship)
My winger list from yesterday applies and of course if they grab a goalie I'd be surprised but you never know. Peter Chiarelli waited until draft weekend to make his moves, and since then he has added:
Cam Talbot (Starting goalie)
Griffin Reinhart (NHL-ready blue)
Eric Gryba (Third-pairing defender)
Lauri Korpikoski (Two-way winger)
Connor McDavid (Generational talent)
He gets no credit for McDavid (but does benefit from CMD's presence) and it's interesting to note that ENTERING free agency the Oilers will have turned over 22 per cent of their roster. Peter Chiarelli isn't sitting back, he's aggressively pursuing what is available in the market. We're not going to like every move, or every price, and some of this isn't going to work out. Lauri Korpikoski may fail in the 'new Pisani' role, but I'm genuinely heartened the Oilers are at least trying to pursue balance on the roster. Remake/Remodel? Chiarelli's not taking it all down to the studs, but the hammer is in motion.