I think Darnell Nurse is going to have a say this fall and there are going to be tough decisions to make on Kingsway. I've said many times (here and on the Lowdown) that Edmonton would have to make multiple moves in order to force Nurse to No. 7 on the current depth chart. They haven't done it yet. Before the draft, in a post called The Gap, I wrote the following:
I don't think Nurse spends much if any time in Bakersfield, California. The Oilers would need to add two legit pieces in order for anyone to reasonably argue that Nurse was the No. 7 option for the club. I suspect he'll be third pairing opening night LH side for the Oilers and maybe that's where we should start the conversation. Source
They have added three pieces (Andrej Sekera, Eric Gryba and Griffin Reinhart) and Nurse remains (imo) inside the top six options for 2015-16. The Oilers depth chart is completely out of time if we list the group by cap number:
Andrej Sekera $5.5M
Niki Nikitin $4.5M
Justin Schultz $3.675M (est)
Mark Fayne $3.625M
Andrew Ference $3.25M
Griffin Reinhart $3.213M (includes bonuses)
Darnell Nurse $1.713M (includes bonuses)
Eric Gryba $1.25M
Oscar Klefbom $1.244M (includes bonuses)
The Oilers have three veterans (Nikitin, Fayne and Ference) making $11.375M and two youngsters (Schultz, Reinhart) who could make $6,888,000 (or more) if they can cash all the bonuses. The possible "value" contracts in this group are Darnell Nurse, Eric Gryba and Oscar Klefbom, with Andrej Sekera the lone veteran seemingly poised to earn his keep this winter.
CHIARELLI'S PLANS
Chiarelli spoke highly of Sekera as a potential top pairing guy if need be, but a "linch pin" on the 2nd pairing. He's not done. #Oilers

— InsideTheRink (@InsideTheRink) July 2, 2015
IF the Oilers could count on Schultz, the pairings might look like this:
Klefbom—Fayne
Sekera—Schultz
Ference—Nikitin
Gryba
That's an awful defensive seven and yet the players excluded on the original list (Nurse, Reinhart) are the ones who can be sent down without waivers.
NUMBERS, 2014-15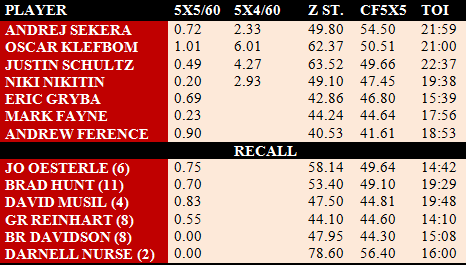 This is sorted by Corsi For 5×5 % and also includes ZS's and scoring, along with average TOI per game. Looking at these numbers, I think the idea of Sekera and Klefbom as 1-2 LH blue makes the most sense (as above) but the right side might need a little shake up. What about this?
Sekera—Fayne (sub 50% ZS's)
Klefbom—Schultz (ZS push)
Nikitin—Gryba (the rest)
Ference
Among callups (and you can see by the GP this is very small sample size, it looks like Reinhart might be first choice for drastic ZS's and maybe Musil and Davidson would also be candidates for that role. Nurse was used for only two games, but I'd say his role may also be more defensive, which (for me) suggests that the third pairing might be the best plan for tough ZS's. We know Darnell Nurse had a shut down role at the WJ's and in the OHL and we know from reports he played (and played well) in the big minutes of the game in OKC:
Sekera—Fayne (top opposition and tough ZS's, McLellan's "Vlasic" pairing)
Klefbom—Schultz (Soft parade and ZS push when possible)
Nurse—Gryba (Tougher ZS's, try to keep away from the impact F's of the WC)
Ference
Peter Chiarelli can do us all an enormous favor by making another deal, but for me Nikitin is the logical choice for odd man out, and Darnell Nurse might be the best choice for rookie to keep. I'm not sure that fits well with anyone reading this, but welcome your input.
As an aside, have I ever mentioned a three-for-one deal?