The Edmonton Oilers have an enormous number of talented kids in town this weekend, giving fans like you and me a chance to observe greatness at the very beginning. You know I'm not one to tell you what to do, but if you get a chance—and especially if you have young ones—this is one of those "remember when?" moments for our town and that's a nice event for all families. Kids are on the ice every morning through Sunday and then Monday night there's the 'Billy Moores Cup' and public is invited. One of the highlights of summer, no doubt, it's all at Rexall. The kids are on the ice 9:30-12:30 noon today, schedule and roster is here.
ORIENTATION CAMP ROSTER AND NOTES
D Darnell Nurse. Big, strong, mobile defenseman is a big part of the future. Even AFTER the additions I'm not certain they can keep him off the opening night roster if they decide things on merit.
D Joey Laleggia. Small, skill defenseman who delivered a terrific college career and now embarks at the pro level. Magician with the puck but the key will be what he can do without it. If he can play defense in pro hockey, Laleggia should have a significant career.
D William Lagesson. Two-way defender with good speed and mobility, his size (6.02, 196) and mean streak make him intriguing. I have read he's prone to mistakes with the puck when pressured but it's early days.
D Caleb Jones. Two-way defender with a range of skills, he doesn't have one dominant trait. A good passer, needs to be more consistent defensively but his skating is a big plus and that's a big deal.
D Ethan Bear. Looking forward to seeing Bear, who is a smart passer and plays a rugged game. His big shot from the point may help him put up big numbers in the WHL next season. Powerful skater, so the scouts say.
D Ben Betker. Big man is a good skater and played heavy minutes in junior. A concussion derailed him as things approached mid-season but he's a promising stay-at-home type.
D John Marino: Another two way defender with speed, he's a player with some skill, too. Played at a lower level last season, no real idea about where he is although most of the verbal is positive (and more available than, say, info on Troy Hesketh).
D Loik Leveille. Fascinating defenseman (6.00, 223) that Red Line calls "a burly rearguard (who) is built like a tank and likes to use his thick, stocky frame to play a physical game." He also has a big shot and chaos. Sounds fun!
D Kevin Davis: Cody Nickolet of WHL From Above says Davis is "an efficient puck-moving blueliner,  owns an extremely smooth and comfy skating stride. Solid positionally."
D Josh Healey. Former Sherwood Park Crusader is an effective college defender for Ohio State. Reportedly has some puck moving ability but most of what I've read concentrated on defensive play.
C Connor McDavid. Beatlemania—Oilers edition begins now. He honestly seems to good to be true, on and off the ice. It's incredible, he's as obsessed with hockey as we are! Fantastic luck, pure heroin insanity.

C Leon Draisaitl. One of the players (along with Yakupov) I worried over being traded this spring, Leon's combination of size and skill remains unique on the roster. I think they're going to have a helluva time keeping him down on the farm.
C Kyle Platzer. Massive improvement season over season and he earned a pro contract. I'm not sure what he'll be as a pro but if the offense falters, there's enough here to project him into another role (very rare for a player taken late). Love to see prospects blossom, he's nowhere close to an NHL career right now but his resume has some nice bullet points.
R Greg Chase. Similar to Draisatl in that Chase can look down the depth chart on any Oilers team or affiliate and realize he's unique. The thing for Chase is to be consistent, find the sweet spot in his game that allows him to agitate without getting a penalty, and drill that zone like a jackhammer. Cheering like hell for him and he has more than a puncher's chance.
F Tyler Vesel. Long shot pick from the Alfred Hitchcock draft (2014), Vesel showed some real skill with 23 points in his debut NCAA season (39 games with Omaha). I think he might be a legit prospect, will be fun to see how he looks in this group.

L Evan Campbell

. HF's scouting report tells us he's an average skater and "a big powerhouse center with a gritty playing style" but I've ignored him since he was drafted, preferring to see him do something worth noticing. He did this past season, remains a long shot for NHL duty.
R John McCarron. Kirk Luedeke talked about him a couple of years ago on the radio show: "He's another one of those raw guys, pretty hard nosed for college. Nothing flashy, meat and potatoes north-south type player his production was pretty good. He's got a chance to be a bottom 6 player, at very best he would be a fringe third liner or solid fourth liner." Has to be signed or set free this summer.
C Tyler Soy. Unsigned skill center, he's a very good hockey player, but speed appears to be his issue. Cody Nickolet calls him 'quick' but I've also read about some issues in that area. Great stickhandler and passer, might be a guy Edmonton considers drafting next season.
L Braden Christoffer. Guy Flaming tells me he's a hard worker and a blue collar type. 5.10, 185 and 147 pims, he also scored 26 goals so has some skill. Most of the videos available involve fighting, although he's not a heavyweight.
C Alexis Loiseau. Oilers have him on an AHL deal. He's 21, 6.01, 180, he scored 96 points in 68 QMJHL games. Scouting reports have him as a versatile, skill forward.
L Connor Rankin. Bakersfield signing, scored 32 in the WHL. Old scouting reports have him as a reasonably fast winger, that makes him an interesting pro prospect.
L Cole Sanford. Undersized winger with a plus shot, foot speed is average.
C Lane Bauer. Smart, skill center who has all the tools but foot speed and that's going to impact his chances of having a pro career. Excellent passer, creative.
L Jacob Stukel. He's a fast skill winger who has had to overcome injuries. His boxcars don't look like much but his age (18) and speed make him a prospect of interest.
L Tyler Robertson. Bigger winger with some skating issues (he's awkward) but there are some good things about him. He can play with skill (complementary player) but hasn't blossomed offensively. A big year ahead for him.
C Mike Rebry. Former Penticton Vee (BCJHL) now hanging out at Western Michigan. He's 21, doesn't look like he's played much in college but he posted some nice tier two numbers.
F Luke Esposito. Harvard F is scoring at about .5/point-per-game, Doug Messier's grandson.
Zach Nagelvoort. Described as a decent goalie with the ability to consistently stay square to the puck. Very good glove, needs to work on rebound control. I have no idea what I'm talking about this is from ISS.
Miroslav Svoboda. A .942 SP at the WJC's is a fantastic number but he was only .917 in his own regular league. Interesting player, I never mind using a late pick on a G.
Jordan Papirny. A nice WHL goalie, I'm not sure why Edmonton didn't draft him in the seventh round but they must have their reasons. Hybrid goalie, standup mostly (courtesy Black Book).
Keven Bouchard. The man, the myth, the legend. Don't know much about him beyond that period he played in the Memorial Cup, but the good news is that's probably about what the Oilers have on him.
Players worth signing: Loik Leveille has a unique set of skills and it's easy to imagine Edmonton getting him under contract before he goes back to junior this fall. John McCarron is an Oilers draft pick and he must be signed by August 15 or cut loose, my guess is he doesn't get a contract. Tyler Soy is a high skill player, might be worth a contract depending on those skating issues. Jordan Papirny has stolen some junior games at Rexall, imagine the Oilers saw him good.
Sekera also the 47th best shot suppressor dman in the league at 51.0 CA/60. Better than Chara, OEL, Oduya, Vlasic. Sekera is a true #1 dman.

— Todd Kirkpatrick (@TKirkpatrickYLL) July 2, 2015
THE CURRENT 50-MAN (46)
G Cam Talbot (As Casey Kasem would say 'a new No. 1′)
G Ben Scrivens (Pursuing a backup may mean trouble for Ben)
G Laurent Brossoit (AHL starter had a good year, needs another)
G Eetu Laurikainen (A great damn bet)
D Andrej Sekera (A massive add, Herculean add)
D Mark Fayne (A big part of next year's team)
D Oscar Klefbom (The future and the present)
D Justin Schultz (newly qualified)
D Nikita Nikitin (Growing sentiment that he's here for the year)
D Eric Gryba (Another D-zone blue with NHL experience to help Fayne, Ference)
D Andrew Ference (It's possible he won't play a lot)
D Brandon Davidson (Could be No. 7 or first callup)
D Griffin Reinhart (I predict he'll play 49 NHL games in 2015-16)
D Darnell Nurse (I predict he'll play 70 NHL games in 2015-16)
D Brad Hunt (He'll see NHL time)
D David Musil (Could get some NHL time)
D Jordan Oesterle (Fast and skilled, could surprise)
D Dillon Simpson (Probably a full season in Bakersfield)
D Martin Gernat (They may try to get him off the roster)
D Ben Betker (May need to spend some time in the ECHL if it gets crowded)
D Joey Laleggia (Can learn plenty from Hunt and Oesterle in Bakersfield)
C Ryan Nugent-Hopkins (Nuge is gonna shine)
C Anton Lander (With Gordon's exit, more will go to Lander)
C Mark Letestu (Strong option at C, he can play other positions)
C Leon Draisaitl (Man amongst boys in Memorial Cup)
C Bogdan Yakimov (Big C still developing, factor down the line)
C Jujhar Khaira (Solid checker, offense may keep him from NHL career)
C Kyle Platzer (New pro has two-way skills)
L Taylor Hall (The original teenage river pusher)
L Benoit Pouliot (Important player for next season)
L Lauri Korpikoski (Fast winger with experience, two-way skills. Mentor)
L Matt Hendricks (May see minutes on skill line)
L Luke Gazdic (How much will he play?)
L Ryan Hamilton (he'll be the veteran hand in the  minors helping to guide the kids)
L Anton Slepyshev (Can't wait to see him in TC)
L Mitch Moroz (Should see way more action in Bakersfield in 2015-16)
L Kale Kessy (Lost season to injury, another chance in 2015-16)
R Jordan Eberle (Top RW primed for a big year)
R Nail Yakupov  (He's still here, people!)
R Teddy Purcell (May lose minutes on skill line to Korpikoski, because speed)
R Rob Klinkhammer (4line RW, crash and bang)
R Tyler Pitlick (Newly qualified)
R Iiro Pakarinen (Has a chance to make the team)
R Andrew Miller (A strong option for NHL time in 2015-16)
R Greg Chase (His game should flourish in pro's)
No. 46 is Connor McDavid, he hasn't signed yet but I'm holding his spot in honor of his comments yesterday about wearing an Oilers jersey forever. It's going to be very difficult to hold our expectations of this young man at normal human levels if he keeps delighting us with his attitude and maturity.
Connor McDavid says he wants to play in Oilers gear for 'the rest of my life.' http://t.co/rEu6UJjuYd pic.twitter.com/mTNqWrNcBE

— theScore (@theScore) July 2, 2015
This is an epic photo. More brown shoes than one would think possible, Katz' boy has sprouted like a maniac, MacT hears a who, Katz with that fantastic camera savvy normally reserved for Mr. Magoo, and the teenager with all the things smiling back at us in THE moment of summer. Man. That's a photo, folks.
ARE THEY DONE?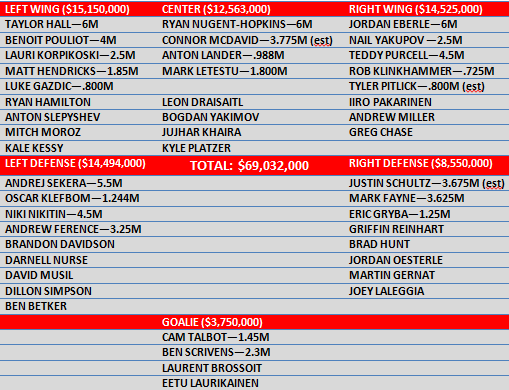 You'd love to see one more puck-moving defenseman back there, seriously. Chiarelli probably feels he's changed enough out here and will want to see how this thing looks rocking down the highway. Remember, he's aggressive DURING the season too, so that damnable inertia we have been experiencing for 15 years won't be as much of a factor (we hope).
Sekera is an excellent addition to the #Oilers. Here's his performance in HERO chart form (via @MimicoHero). pic.twitter.com/wJ2RJc5e25

— Sunil Agnihotri (@sunilagni) July 2, 2015
How much of what has happened here is McDavid? I mean, Bob Nicholson gets a lot of credit, Katz too really, but how much of Chiarelli, McLellan and Sekera is about the child that shall lead them all? I think the answer is most of it. Seriously. McDavid's a winner and in the NHL winning is the only thing.
SLATS
Glen Sather announced he was stepping away yesterday, and I can't let that moment slip by without jotting down a line or two. Sather's impact on the Stanley teams was massive and his imprint on this team's overall history remains Everest. Kevin Lowe, Steve Tambellini and Craig MacTavish followed but it feels like fresh air with Chiarelli (we'll see, early days). Thanks Slats, for the memories. I hope you have a wonderful retirement, but doubt it takes.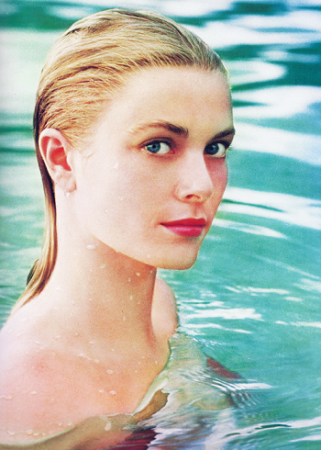 LOWDOWN WITH LOWETIDE
Lots to discuss today and a great guest list to do it. 10 this morning, TSN1260:
Scott Cullen, TSN. Free agency and I'll ask his opinion on recent Oilers deals.
Andrew Bucholtz, 55-Yard Line. CFL week two gets underway tonight, crazy crazy start to the year.
Dennis King, Oilogosphere Icon. We'll get King's input on the free agent and what's left to do.
Paul Almeida, SSE. Paul will drop in to talk about the impact of McDavid and changes made since the lottery.
10-1260 text, @Lowetide on twitter. See you on the radio!