Lots of talk last night about Brent Seabrook as an Oiler and for me that's a problem. I didn't like the payment for Griffin Reinhart but understood the idea. Seabrook is another matter.
…Brent Seabrook has been a vital cog to the 'Hawks dynasty. Will need an extension like the Phaneuf deal. Stud D and a leader

— Bob Stauffer (@Bob_Stauffer) July 8, 2015
IF you buy Seabrook, the assets required weaken the rebuild in a big way, robbing the team of useful assets for the future both in trade and in cap. The contract Seabrook will require (and Cam Talbot too, don't forget) sends Edmonton careening toward the cap. As quickly as Niki Niktin and Teddy Purcell come off the books, that money goes to a Seabrook for a long time. Years. Six years? Maybe more. When we talk about Seabrook, he does have some things going for him in the short term:
Seabrook is a veteran
He's righthanded
Any reasonable model of his career trajectory from now through the end of the decade involves several productive seasons
Chicago badly needs cap relief and may need to trade away multiple veterans for picks and useful youth.

This is Seabrook in a box and you can see he's a plus possession player while also getting a ZS push. We've talked many times about the Niklas Hjalmarsson pairing handling the heavy minutes and this shows Seabrook's load over the last several seasons is a more offensive usage. I don't like the Seabrook idea—not because he's a poor fit—but rather because he's going to cost a lot in assets and cap moving forward.
VOLLMAN SLEDGEHAMMER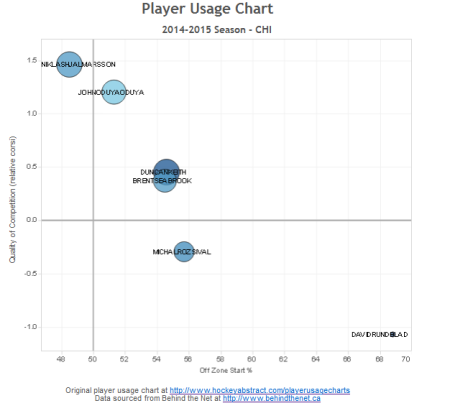 If the Oilers are going to acquire Seabrook, I imagine the cost will be a young NHL-ready defenseman plus a pick and maybe a veteran to even up the money (a little). How many NHL-ready blue do the Oilers have? Three. Do you want to review the names? Me either. One more thing: The guy Edmonton needs in the Vollman? Niklas Hjalmarsson.
We can be certain that the 'Hawks are capable of trading Seabrook, but the smart play (for them) is trading Patrick Sharp or Bryan Bickell. If Chiarelli is pushing hard and Chicago is listening, I'd have to think that the return ask is at least one young, inexpensive, flourishing NHL-ready defender. Step off, Chicago, step off.
The #Oilers off-season targets series continues with a look at a third line option, F Curtis Glencross: http://t.co/lRSMoL6T0I #yeg

— Alex Thomas (@Alex_Thomas14) June 4, 2015
GLENCROSS?
One name that's still out there in free agency? Curtis Glencross.

This is a nice player and he does in fact fit the Pisani role. I've listed him as RW, but he can play LW too. Good speed, veteran, can check and play with skill. Why hasn't he signed? Don't know. Didn't Edmonton already address this with Korpikoski? Yes. However, I love players who possess a range of skills, Glencross is a guy the Oilers could deploy on a skill line with all this youth.
OILERS CURRENT ROSTER
The roster looks fairly set at this point. Among the top 12 forwards (as listed above) the only F I have listed for my RE as less than 100% to be on the team is Rob Klinkhammer—and even that's a fairly certain spot. Among the bubbling under forwards, I'll have Leon Draisaitl, Iiro Pakarinen and Andrew Miller as the first callups from the forward group, maybe Yak 2.0 because centers are always in demand. On the blueline, it's a completely different story. I'm not at all certain Niki Nikitin will be here (buyout window) and remain confident Darnell Nurse is on the club opening night. Also expect substantial GP from Griffin Reinhart, Brandon Davidson and Jordan Oesterle. Four of the five goalies will probably see NHL action in 2015-16, with only the Finn on the outside looking in.
 YOU CAN'T GO FAST ENOUGH TO GET THERE EARLY
The Talbot bet. The Reinhart addition. The Sekera procurement. All of these moves are logical as part of a 'journey home' to the playoffs and a Stanley window of several years. All of them. From the drafting of McDavid to the selection of Ziyat Paigin, it's all one completely reasonable march (even if I object to the cost of Reinhart). Trading Boyd Gordon (31) for Lauri Korpikoski (28) fits the model, as does Anders Nilsson—in what I would suggest is the most unusual trade of the summer.
Brent Seabrook? He's 30, has over 750 hard games (plus 112 in the playoffs) of NHL play behind him and we know that NHL defensemen fade as they approach the 1,000 mark. So, that's what? Three years of good play? Maybe he's a freak and you get four. It's going to cost you six or seven years of six or seven million to get him signed PLUS it's going to cost you a very dear asset plus some other stuff.
Dubas "We're not looking at short-term. We're not going to try and fix things quickly. We want to do it right."

— Hope_Smoke (@Hope_Smoke) July 8, 2015
You can't go fast enough to get there early, and you can't buy Brent Seabrook at 25.
LOWDOWN WITH LOWETIDE
Big show today, moving parts so we'll see how she goes. 10 this morning, TSN1260. Scheduled to appear:
Bruce McCurdy, Cult of Hockey. Seabrook, summer, McDavid changed everything.
Chris O'Leary, Edmonton Journal. HUGE game tomorrow night for the Eskimos, REDBLACKS are a powerhouse this year (!!!!!).
Tom Lynn, Veritas Hockey. Former NHL AGM and GM, current agent. We'll talk about the free-agent crawl this summer, the cap and it's impact and what hundreds of hockey players across NA are doing right now.
10-1260 text, @Lowetide twitter. If they trade for Seabrook, the schedule is flattened.