The Edmonton Oilers are somewhat predictable in some areas of the draft. Example: NHL combine. With the exception of 2014 (as you'll see below) the Oilers and the combine walk arm in arm.The NHL invites 120 players to the combine (combination of the Central Scouting list and NHL teams requesting players outside Central's top 75) and since 2008 the Oilers have become more and more risk averse (2014 draft being the exception).
2008 Oilers draft
Jordan Eberle selected #22 overall, ranked #29 (attended combine)
Johan Motin selected #103 overall, unranked (attended combine)
2009 Oilers draft
Magnus Paajarvi selected #10 overall, ranked #10 (attended combine)
Anton Lander selected #40 overall, ranked HM (attended combine)
Toni Rajala selected #101 overall, ranked #50 (attended combine)
Olivier Roy selected #133 overall, ranked HM (attended combine)
2010 Oilers draft
Taylor Hall selected #1, ranked #1 (attended combine)
Tyler Pitlick selected #31, ranked #25 (attended combine)
Martin Marincin selected #56, ranked #71 (attended combine)
Curtis Hamilton selected #48, ranked 57 (attended combine)
Ryan Martindale selected #61, ranked 58 (attended combine)
Tyler Bunz selected #121, not ranked (attended combine)
Brandon Davidson selected #162, not ranked (attended combine)
2011 Oilers draft
Ryan Nugent Hopkins selected #1, ranked #1 (attended combine)
Oscar Klefbom selected #19, ranked #21 (attended combine)
David Musil selected #31, ranked #41 (attended combine)
Samu Perhonen selected #62, ranked #51 (attended combine)
Travis Ewanyk selected #74, ranked HM (attended combine)
Tobias Rieder selected #114, unranked (attended combine)
2012 Oilers draft
Nail Yakupov selected #1, ranked #1 (attended combine)
Mitchell Moroz selected #32, ranked #56 (attended combine)
Jujhar Khaira selected #63, not ranked (attended combine)
Daniil Zharkov selected #91, ranked #47 (attended combine)
2013 Oilers draft
Darnell Nurse selected #7, ranked #9 (attended combine)
Marco Roy selected #56, ranked #59 (attended combine)
Bogdan Yakimov selected #83 not ranked (attended combine)
Jackson Houck, selected #94 not ranked (attended combine)
2014 Oilers draft
Leon Draisaitl selected #3, ranked #4 (attended combine)
2015 Oilers draft
Connor McDavid selected #1, ranked #1 (attended combine)
Caleb Jones selected #117, ranked #130 ISS (attended combine)
Ethan Bear selected #124, ranked #78 ISS (attended combine)
John Marino selected #154, ranked #95 ISS (attended combine)
Lots of misses in there too, of course. However, it's interesting to see that Edmonton stayed with the combine group for the Stu MacGregor era (and began the Bob Green era in the same fashion). The other item? First round picks!
Defense: Oscar Klefbom, Darnell Nurse
Center: Ryan Nugent-Hopkins, Leon Draisaitl, Connor McDavid
Left Wing: Taylor Hall, Magnus Paajarvi
Right Wing: Jordan Eberle, Nail Yakupov
FASTH TRAIN
Word this morning that Viktor Fasth has signed in the KHL. I spoke to agent Tom Lynn yesterday on the Lowdown, he told me the Euro leagues make two 'sweeps' through NA each offseason (in May and right now). The first is to get in before NHL free agency and find players genuinely interested in going over (often going back home) and then the second run is during this soft period in free agency when NHL teams are going slow, making better decisions.
In the first eight days of NHL free agency (RFA and UFA) this summer, teams have signed 125 players. Edmonton has only two names on the list (Andrej Sekera and Mark Letestu) but there are a few RFA's (Justin Schultz, Brandon Davidson and Tyler Pitlick) plus possible UFA action.
Last year, 157 RFA and UFA's had been signed, meaning NHL teams are being far more patient this year. Edmonton? By this time last summer, the Oilers had signed Benoit Pouliot, Mark Fayne, Keith Aulie, Luke Gazdic and Jeff Petry. The club signed Richard Bachman on the ninth day (that would be today in this year's free agency).
COLLEGE MEN
Lots of college men have been invited to NHL orientation camps and it's always interesting to see how many of these players are finished with college and looking for work. Joey Laleggia has already signed with the Oilers, but John McCarron is unsigned and in mid-August becomes a full blown UFA (if EDM doesn't sign him). The complete list of invites is here.
CONNOR MCDAVID, OILER
During last night's discussion, we threw out line combination ideas, fun blue sky stuff for this time of year. One thing mentioned (SpOILer?) in regard to McDavid is protecting him early and that's something we should be mindful of in our chats. Road games especially, the youngster may see two war horses like Benoit Pouliot and Lauri Korpikoski, and it's not beyond the realm of possibility that McLellan lends the rookie a center (Letestu?) just to make sure the ZS's don't become an issue. At home, I think McLellan will want to unleash the hounds, so suggest this combination of lines:
Hall—McDavid—Eberle
Pouliot—Nuge—Korpikoski/Purcell
Draisaitl—Lander—Yakupov
I'm warming up to the idea of Korpikoski over Purcell on that line because of the Finn's footspeed and two-way ability. Purcell is a better player from the blue line in—a much better player, imo—but the Chiarelli/McLellan Oilers are going to be faster than the MacTavish group. If you put Korpikoski in this top 9F? Fast trains.
2016 DRAFT?
Yes. Early list is out, two BCJHL kids (they're very good) plus Sam Steel and Tyler Benson's draft. Early bird look is here.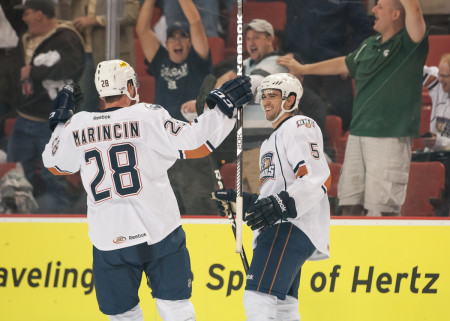 ABOUT JUSTIN SCHULTZ
Every once in awhile someone will email me about Justin Schultz, suggesting that my view on the player is skewed because of his contract status. OF COURSE it's skewed because of his contract status!!! Justin Schultz makes too much money, and that's fine if he's progressing. If you could promise me that Justin Schultz will pass the puck well, out of his zone, hit Nuge's tape (or CMD's or Lander's) on the fly 75% of the time this year, I'd write you a fabulous Justin Schultz preview. He's good in the offensive zone but those damn sortie-killing passes are going to be the death of me, and will cost him many millions of dollars. I'm serious.
Over at C&B a wonderful article from Sunil Agnihotri puts the passing metrics of each defenseman in context and gives us a fine view of Schultz as a player in this area.
Agnihotri: Based on the data collected, we see that Schultz was great at creating chances once he got into the offensive zone, but had a lot of trouble getting there. This might be why the Oilers gave him 62.9% of his starts in the offensive zone, which was the highest among all NHL defencemen. Source
Schultz is careless with the puck in his own zone, which increases his chaos. He sends the puck to an area where his center is skating but it rarely clicks. It should be a strength, it is a weakness. I'm not sure if it's a crisis of confidence or that he played so much last season he had no time to think. Either way, I'm going to let up on Justin Schultz, now that we know he'll be an Oilers defenseman next season (arbitration guarantees it, unless Schultz is traded), and we'll see how Todd McLellan handles him. Wonderful skater, gold on that move back side for goals in the offensive zone. Let's work with that and see if they can get him sorted out on the missile launches.
LOWDOWN WITH LOWETIDE
At 10 this morning, TSN 1260. A fun day ahead! Scheduled to appear:
Scott Cullen, TSN. CFL week three (Eskimos home opener!) plus Seabrook as an Oiler.
Jesse Spector, Sporting News. A trip around MLB and how hot are the Angels?
Dennis King, Oilogosphere Icon. Seabrook, defense without him, value contracts.
Brian King, NonStop Sports Picks. Eskimos home opener, are RedBlacks this good?
10-1260 text, @Lowetide on twitter. Talk soon!